Attending the conference also had leaders of the province, the Department of Agriculture and Rural Development of the two provinces of Long An and Tien Giang. On the side of Binh Thuan province, there were comrades: Nguyen Hoai Anh - Standing Deputy Secretary of the Provincial Party Committee, Chairman of the Provincial People's Council; Le Tuan Phong - Deputy Secretary of the Provincial Party Committee, Chairman of the Provincial People's Committee; Nguyen Van Phong - Vice Chairman of the Provincial People's Committee and leaders of relevant departments, branches and localities.
In Binh Thuan, dragon fruit is identified as an advantage and specialty tree of Binh Thuan province; Dragon fruit production plays an important role in the agricultural and rural economic development of the province, with more than 30,000 farming households participating in the production, purchasing, preliminary processing and export of dragon fruits, creating jobs every year for 70 - 80,000 employees. However, in 2021 up to now, the price of dragon fruit has decreased dramatically because of buying moderately of businesses, the price of white flesh dragon fruit in the garden is about 3 - 5 thousand VND/kg even though it is an off-season product.
As same as Binh Thuan, the consumption, and production of dragon fruit in Tien Giang and Long An province also faced many difficulties since the Chinese market tightened.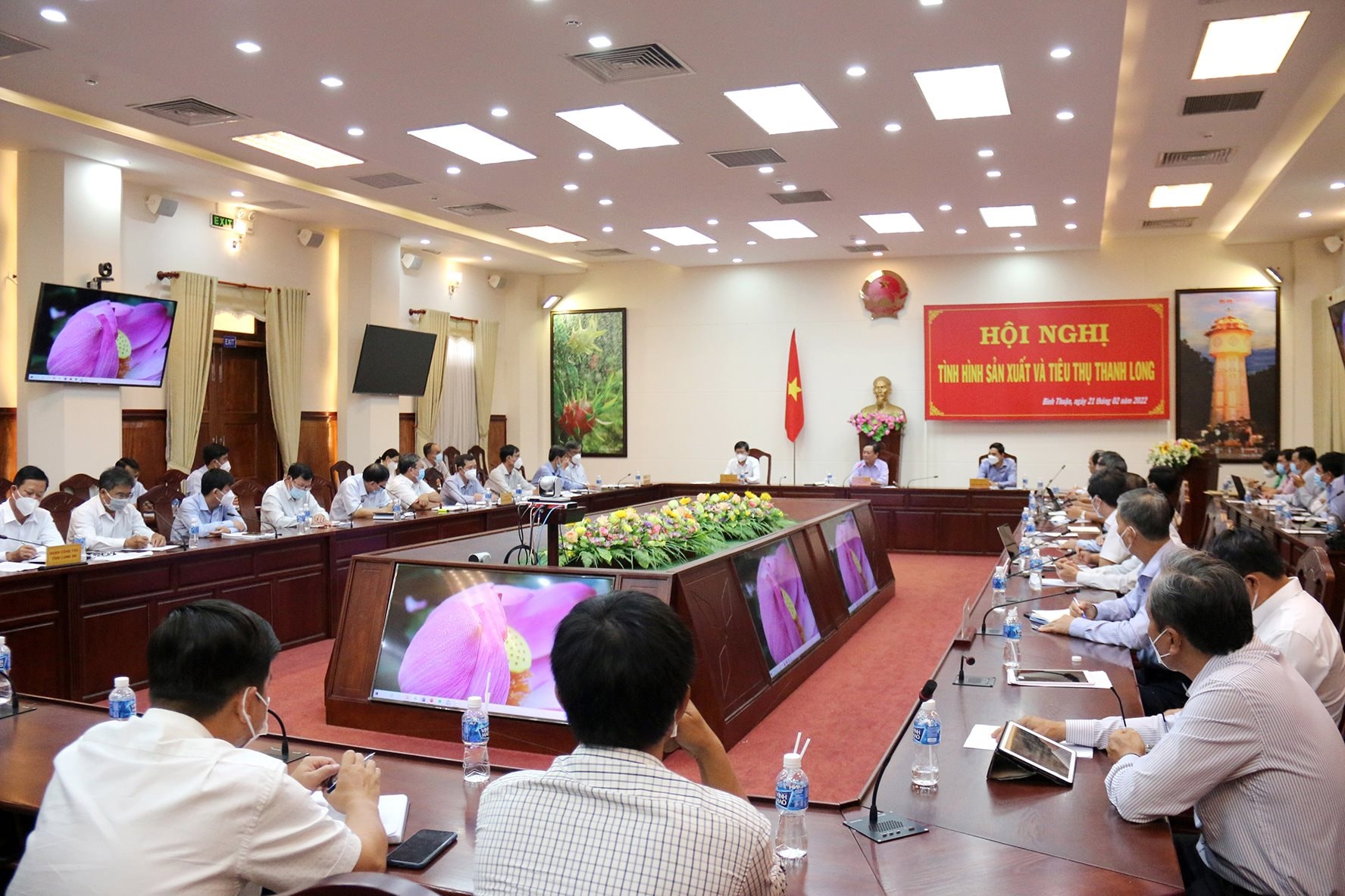 At the conference, the delegates proposed many solutions to solve the current problem of dragon fruit consumption as well as towards sustainable development in the future. Accordingly, to solve such urgent problem, the delegate said that the Ministry of Agriculture and Rural Development, the Ministry of Industry and Trade, and relevant units need to negotiate with the Chinese side to clear the border gate soon to boost dragon fruit consumption. The ministry also needs to have a plan and develop a plan to choose the official export method via sea and railway to reduce congestion on roads.
Chairman of Binh Thuan Provincial People's Committee - Le Tuan Phong also suggested that the Ministry of Agriculture and Rural Development need to include dragon fruit in the national staple tree group from which to develop strategies and policies for sustainable development as well as marketing strategies promoting dragon fruit at home and abroad; At the same time, develop a strategy to assess the potential and demand for dragon fruit consumption on the basis of scientific research, ensure the principle of supply and demand so that localities can have a basis for planning and development; In addition, direct functional agencies to update information and consumption policies in other countries to promptly disseminate to localities; orient to increase processing work, solve the backlog of goods; invest in cold storage at the border gates to store goods that are stuck.
Concluding the conference, Minister of Agriculture and Rural Development - Le Minh Hoan emphasized: "We need to change our approach, reorganize dragon fruit production and restructure the agricultural sector. Every change has its own difficult, but not changing is even more difficult in this current situation."
According to Minister Le Minh Hoan, for sustainable development, localities must reorganize dragon fruit production starting from the commune level in the direction of understanding production to know market needs, capture each market, partners, and competitors.
In addition, localities must make statistics and firmly grasp the area and the number of people producing dragon fruits, thereby propagating, mobilizing, and guiding farmers, units, and businesses participate in the production and consumption, avoiding the situation of doing things in a small and spontaneous manner; step by step transition from unofficial export to official quota.
The Minister stated that dragon fruit is a typical story, but we have many other agricultural products that are also facing huge challenges from external market as well as challenges inside the production, association, and cooperation. Therefore, localities and industries need to build their ecosystems for each commodity and agricultural product.