In 2023, Binh Thuan has had the honor to be chosen as the host of the event "Visit Vietnam Year 2023", the province has continuously affirmed its position in the domestic and international tourism map, striving to become the top choice of travelers.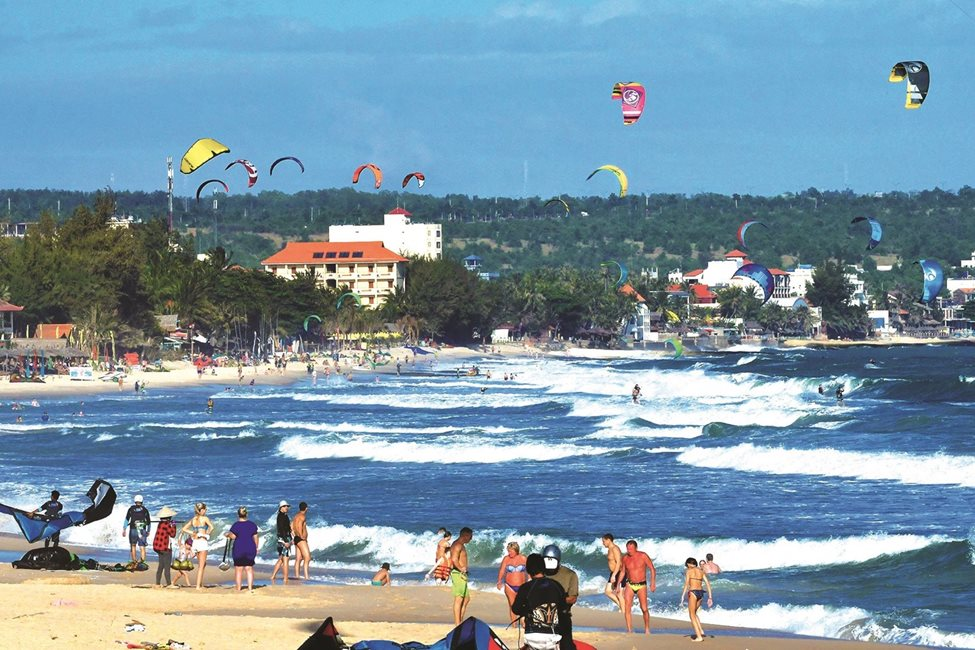 Ham Tien Beach, Phan Thiet. Photo: N.Lan
Exclusively charm of Binh Thuan
Tourists who have traveled to Binh Thuan can obviously see that the attraction of Binh Thuan is the natural beauty proven through the appreciation of most natural tourist attractions. Beside natural attractions such as the Buddha statue lying on Ta Cu mountain, beautiful beaches, Mui Ne sand dunes, Bau Trang - Hoa Thang, Tuy Phong 7-color stone beach, many recreational activities such as swimming, climbing, boating, and golfing are available to visitors.
Moreover, the province also owns many famous artificial attractions such as Po Sah Inu Cham Tower, Ke Ga Lighthouse, and Thay Thim Palace, etc. The beaches in Mui Ne are not only a peaceful place to relax, but there are also free tutorial classes at the many establishments along the beach for those who want to try Kitesurfing or windsurfing.
For tourists who love to experience daily lifestyle or local culture, Mui Ne Port-Hoa Thang Fishing Village is an ideal place for visitors to observe how people live, work, and play as well as enjoy the fresh seafood.
The Red Sand Dunes and White Sand Dunes near Mui Ne are the most popular tourist attractions, where locals provide skis, sleds, and all-terrain vehicle rental services. Ham Tien Ward is one of the bustling tourist areas of the province with many resorts, shops, restaurants, beach bars, and spas located along the 10km length of Rang Beach. In Ham Tien, there is also one of the most unique tourist attractions of Phan Thiet called "Suoi Tien". This place is also known as "The Great Canyon of Southeast Asia" since a small stream has been between a gorge over the centuries. It can be confirmed that with 192 km of coastline, stable weather, lots of natural and cultural tourist attractions, and tasty local dishes such as Banh Can, Vietnamese pancake, and "Lau that" hot pot, etc Binh Thuan is a place chosen by many tourists for their vacations, etc.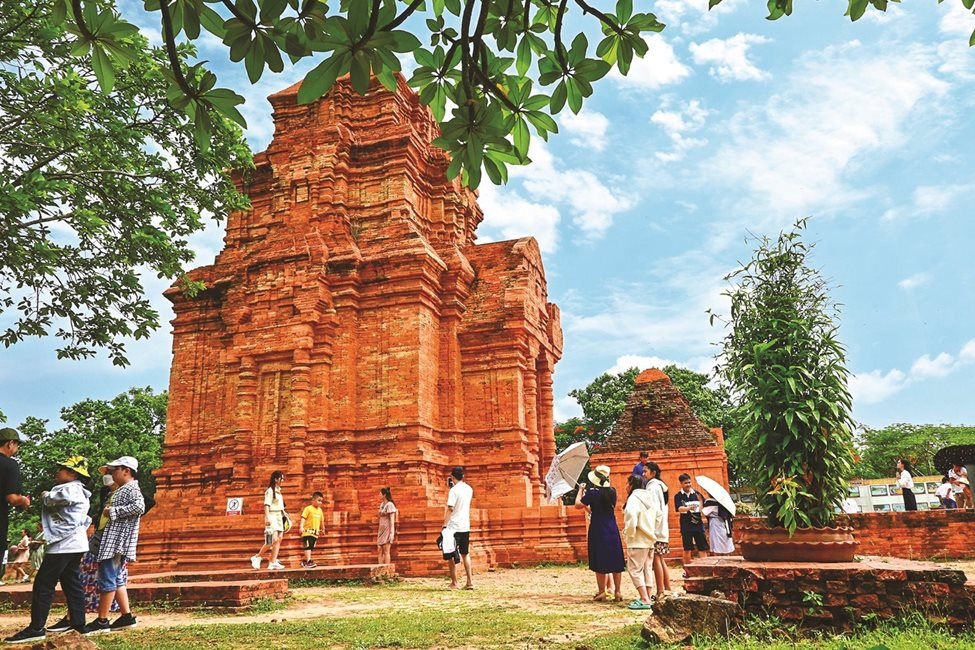 Position affirmation
According to Secretary of the Provincial Party Committee Duong Van An: "... In the long term, along with the process of developing the provincial planning for the period of 2021-2030, with a vision to 2050, Binh Thuan must re-plan the tourism space in a systematic way, avoid the small and low-caste investment, exploit the marine potential, natural landscape, and cultural characteristics more effectively to enrich tourism types, developed attractive tourism types such as marine sports, MICE, health and nursing care, adventure, agriculture, and ecology, etc. "
The advantage of Binh Thuan is that oriented by the Government to be a key locality in Vietnam's tourism development planning. Recently and in the future, the province is gradually becoming a key tourist area and Phan Thiet city has become a key tourist city. It is clear that when the North-South Expressway through Binh Thuan was officially operated, the travel time from other provinces to Binh Thuan was shortened a lot. This seems to be a great boost for the Binh Thuan tourism industry to take off. The latest data on tourists to Binh Thuan from the beginning of 2023 until now has reached more than 4.7 million arrivals (an increase of more than 86% compared to the same period last year), including 135,000 arrivals mostly from Korea, UK, USA, China...(up 5.41 times over the same period last year). Revenue from tourism is estimated at 11.3 trillion VND (up about 70% over the same period in 2022). In the future, when Phan Thiet airport is completed, the number of tourists to Binh Thuan will probably increase to an "unpredictable" number.
However, to affirm Binh Thuan's position on the domestic and international tourism map, and please tourists when choosing it as their first choice, the province needs to have more solutions in the developing process. Accordingly, the province "must re-plan the tourism space more methodically".
The appropriate authorities urgently and synchronously complete the internal transport system; Focus on environmental protection, especially waste management to minimize pollution to beaches and tourist attractions; strictly control and take measures to prevent and control natural disasters, climate change, and erosion that are taking place at beaches; strengthen the protection of main beaches to promote a green, clean, beautiful image and ensure safety for visitors.
Tourism management agencies need to focus on choosing activities and attractions to create a truly unique tourism ecosystem that can compete with other destinations in the world; concentrate on advertising and investment promotion to attract investors and tourism development projects; develop an effective financial strategy and call for investment in tourism from various sources; develop on recruiting, training, and fostering to acquire highly qualified human resources in parallel with developing high-quality services; create qualified human resources for the tourism industry with the mission of promoting the image Binh Thuan.
Along with the available brand, natural advantages, and logical development strategies, in the context of the competitive global tourism industry nowadays, it is hoped that Binh Thuan will soon become the first destination choice of domestic and international travelers.