Vinh Tan - Ca Na Strait
Vinh Tan - Ca Na Strait is more than 3 km long, and is considered one of the most beautiful beaches in Vietnam, with pure white sand strips being caressed and embraced by waves. This place attracts many tourists who stop to admire this magnificent beauty. There is the Truong Son mountain range protrudes close to the coast. Blue sea, white sand, rocky rapids, mountains, massive electrical industrial fortress... together they have created a beautiful Vinh Tan - Ca Na with many curving roads like an S shape along the coast.
Mr. Minke - a French professor once crossed the Vinh Tan - Ca Na Strait with us. When rolling down the car window to look at the sea, he had to exclaim praise in Vietnamese.
Visitors who go by road, rail or airway to travel along Vietnam can admire the beautiful scenery of Vinh Tan - Ca Na Strait because here is the place where roads, railways and waterways are located close to each other.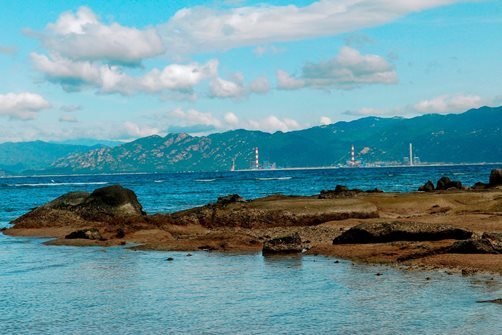 View of Vinh Tan Strait from Cu Lao Cau.
Looking out to sea from the Vinh Tan - Ca Na Strait is the image of a small island, locally called Cu Lao Cau, in Tuy Phong district. Although the island is uninhabited, there are many tourists who rent boats from locals to go picnic and explore the wild and rustic features of the small island. Visitors to the island often encounter bird nests in caves or tortoise eggs nestled under a thin layer of sand...
The most beautiful view is from Cu Lao Cau to the center of Vinh Tan commune where mountain scenery, seascapes, sky-high chimneys of thermal power plants, and large ships docking at Vinh Tan Port are clearly seen.
In the last days of August, Vinh Tan Strait is sunny, the sea breeze blows, the sound of waves lapping on the white sand beach... everything seems to blend into heaven and earth refreshing people's minds and souls. Vinh Tan - Ca Na strait has many mysterious caves such as Ong Phat Cave, Ong Nong Rapids, Duc Well... On the mostly rocky mountain slopes, there are occasionally yellow apricot trees blooming with a fragrant scent making people's hearts flutter every time they cross this strait.