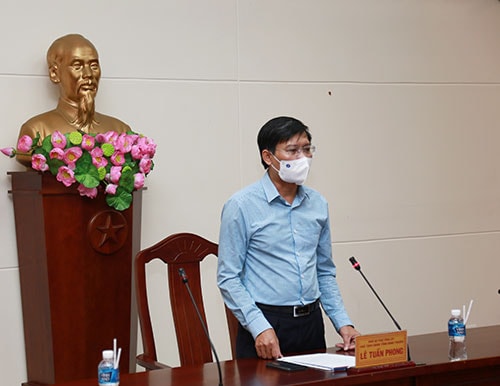 Chairman of the provincial People's Committee Le Tuan Phong
According to a report of Phu Quy district's People's Committee on November 12th, the island recorded the first 3 cases contracted with Covid-19. As soon as they were detected, functional sectors have quickly imposed a blockade on relevant locations to trace infectious sources and close contact with F0.
As of November 14th, functional forces have tested 943 people with 38 cases showing positive with Sars-CoV-2. The Island has brought all the F0 to the district's Medical facility and quarantined dozens of close contacts.
Through epidemiological investigation, Phu Quy district authorities have initially determined that the outbreak started at the boat repair area in Trieu Duong village, Tam Thanh commune, it then spread to Go May area (Trieu Duong village). Currently, the epidemic has spread to Tam Thanh commune and some schools (including teachers and students) and spread to Ngu Phung commune. Phu Quy district has activated a 75-bed treatment area.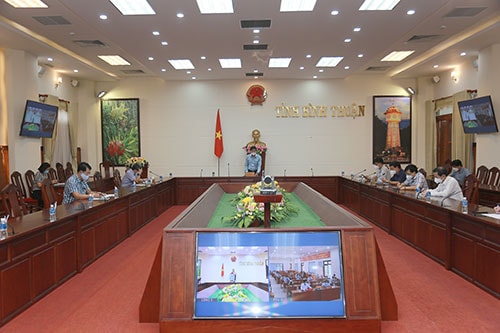 At the meeting
To curb the spread of the disease, Phu Quy District People's Committee has set up checkpoints to control the movement of islanders. According to the assessment of the functional sector, Phu Quy covers a small area, and the local people are often in contact with each other, so the risk of infection is very high. Phu Quy District People's Committee asked the province to support human resources and medical supplies to organize testing and screening for the entire population in the district.
Addressing the meeting, Chairman Phong asked the island to quickly separate F0 from the community, call upon the people to strictly obey the regulations on Covid-19 prevention, and control and manage all the travel activities on the island.
During the next 1 week, all indispensable activities are halted. Manufacturing facilities must follow three on-the-site regulations. It should focus on vaccination for the people and impose social distancing in the public areas. On the same day, the Department of Health has sent medical equipment and human resources to the islands in support of epidemic prevention.
Translated by My Thien (Source: Binh Thuan Online)