Affirmation of "Green Dragon"
Located in the southernmost region of Central Vietnam, dry weather all year round and next to the tropical sea is the factor that makes Binh Thuan dragon fruit more juicy, sweet, and nutritious and and unique flavor compared to other regions in the world. From an ordinary fruit more than 30 years ago, dragon fruit was first planted by the people of Ham Thuan Nam district, then widely planted in the other province's localities, and cared for in an organic way, so the fruit quality also gradually increased. Dragon fruit becomes the main crop of the province. The demand for this fruit is increasing day by day; many users enjoy this fruit because of its benefits such as controlling body heat and health with many vitamins, fiber, and mineral salts.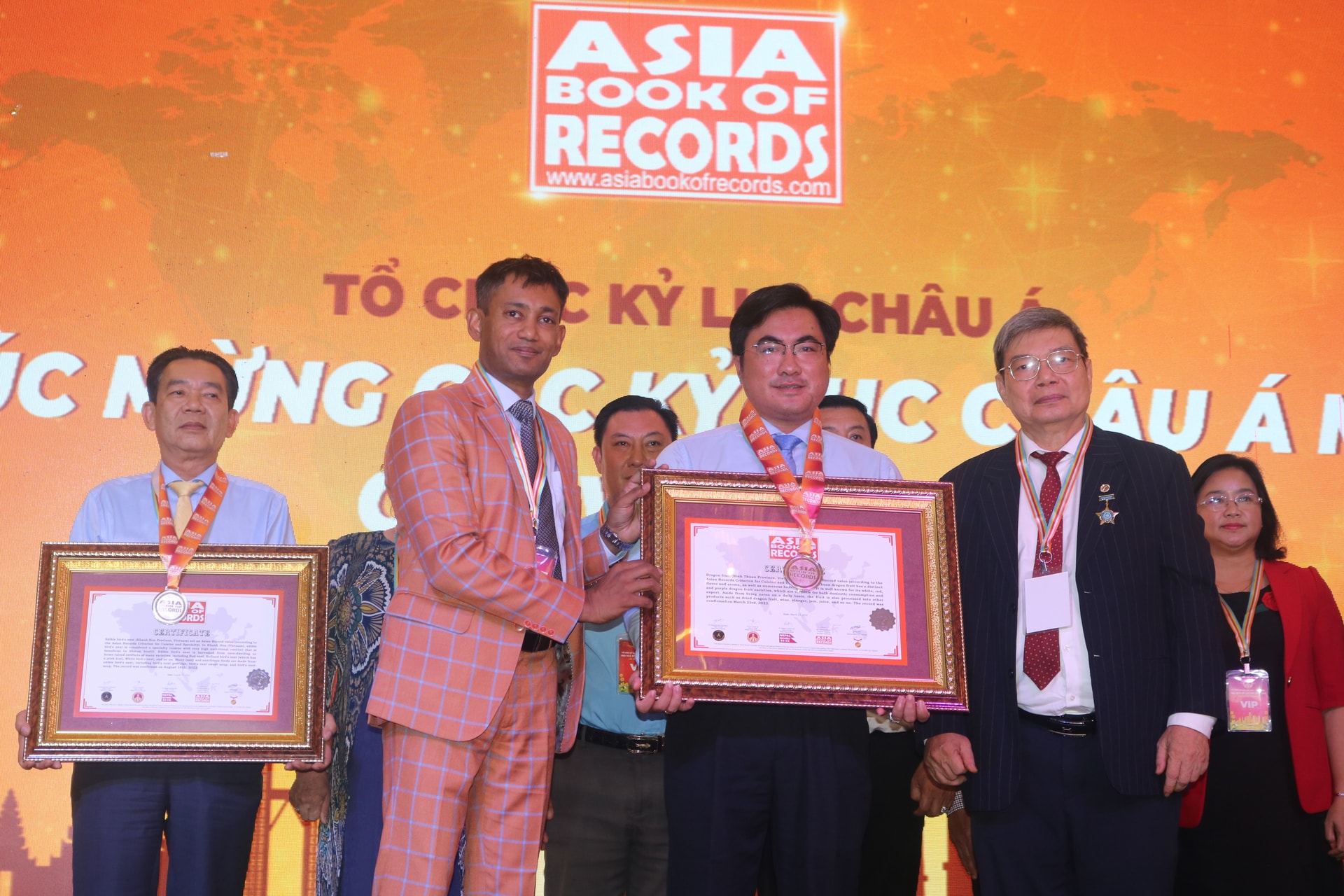 Mr. Nguyen Hoai Trung, Deputy Director of the Department of Science and Technology received the Asian Record certificate for Binh Thuan dragon fruit products
Currently, dragon fruit is grown in Binh Thuan, besides white flesh with pink skin, red flesh with pink skin, purple flesh with pink skin, and white flesh with yellow skin. Besides fresh fruit consumption, Binh Thuan has been promoting processed dragon fruit products for export to expand the consumption market such as Juice from dragon fruit, dried dragon fruit; vinegar; jam, marshmallows, and dragon fruit juice, etc.
Binh Thuan dragon fruit currently accounts for 90% of the country's exported dragon fruit output, certified with VietGAP standards. In addition, in the international market, Binh Thuan dragon fruit is protected in the form of a geographical indication in the countries of the European Union (EU). The trademark "Binh Thuan Dragon Fruit" has been protected by 13 countries and territories: England, France, Germany, the Netherlands, China, Japan, Korea, Thailand, Malaysia, Indonesia, Taiwan, the United States, and Singapore. In particular, Binh Thuan dragon fruit was approved by the Food Industry Department under the Ministry of Agriculture, Forestry and Fisheries of Japan to protect geographical indications on October 7, 2021. This is the second geographical indication of Vietnam being protected in Japan (after Luc Ngan Lychee).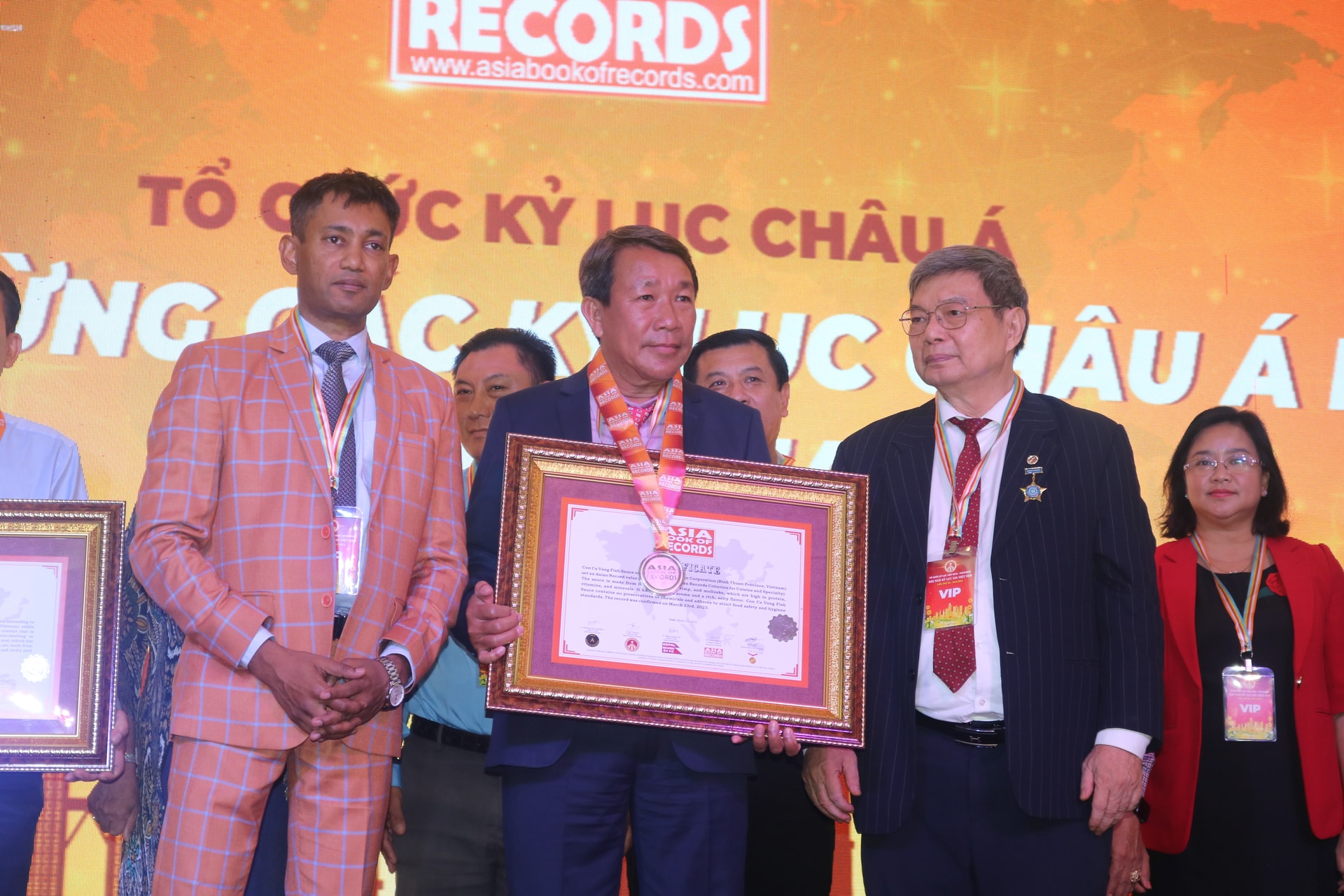 Mr. Le Tran Phu Duc, Chairman of the Board of Directors and Director of Phan Thiet Fish Sauce Joint Stock Company received the Asian Record Certificate for Con Ca Vang fish sauce.
Golden Fish Fish Sauce - Con Ca Vang Fish Sauce
Fish sauce is made from fermented anchovies that are aged in large wooden barrels for a long time, considered a condiment that makes Vietnamese cuisine unique. The special feature of Phan Thiet fish sauce compared to fish sauce from other regions of Vietnam is the straw yellow color (if the raw material is anchovies) or light brown color (scad fish); the fish sauce is clear and comparable, with a fragrant scent. Strong and sweet taste due to high protein content. Partly due to the fermentation process under sunny and windy weather - the average temperature of Phan Thiet is higher, the humidity is low - positively affecting the fermentation mechanism. Phan Thiet Fish Sauce Joint Stock Company specializes in the production of fish sauce, mainly bottled high protein fish sauce with the PT FISACO brand "Golden Fish Brand". The famous Con Ca Vang fish sauce of Phan Thiet Fish Sauce Joint Stock Company is made from traditional methods, the main ingredients are charcoal-striped anchovies and white grain salt that nature bestows on the waters of Binh Thuan. As a result, Golden Fish fish sauce is full of protein, vitamins, and minerals. The unit's fish sauce products are bottled with a capacity from small to large and a variety of proteins. They can be mentioned as Nhat Nong (110N), Nhi Loc (200N), Tam Tai (300N), Tu Tuyet (400N), and Nu Hoang (450N). Golden Fish fish sauce is not only known by the people of Binh Thuan but also by many people in the country. This brand has existed and developed for more than 30 years.
In the relevant framework of the 52nd Vietnam Recorders Meeting, the World Records Union (WorldKings) and the World Records Association (WRA); WorldKings and Vietnam Record Organization signed a strategic cooperation agreement. WorldKings promotes the opening of the world market, creating business networking opportunities for Asian Records, the community of Vietnamese record holders, and the Top 100th of 100-year-old companies operating in Vietnam. Thereby, Binh Thuan dragon fruit and Phan Thiet Con Ca Vang fish sauce are added more conditions for product development and overseas consumption markets.