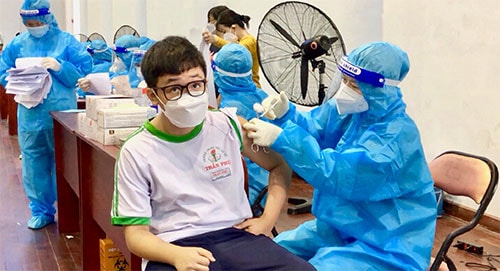 At the campaign.
According to Chairman of the Phan Thiet City People's Committee Phan Nguyen Hoang Tan: From November 27, the city simultaneously launched a campaign to vaccinate against Covid-19 for all children from 12 to 17 years old who are living and studying in the city. The route of vaccination is first for the age group from 16 to 17 years old, then gradually lower the ages. Due to the limited number of vaccines, this phase focuses on pre-vaccination for students of some schools with a large number, in high-risk areas. The city currently has 21,863 students aged 12 to 17. In two days (November 27 and 28), the city administered Covid-19 vaccines to 14,000 children at 11 high schools and junior high schools in the city. Phan Thiet, all is safe. In the next two days of December 4th  and 5th, the city will continue to provide the first jabs to 5,000 children. By December 5, the city will have 100% of high school students vaccinated against Covid-19; the remaining 2,863 junior students and non-students aged 12 to 17 will be vaccinated in the next batch when vaccines are allocated.
Chairman Tan asked the People's Committees of the relevant wards and communes to coordinate with Medical Centers to ensure the Covid-19 vaccination campaign for children to be safe and fast.
Earlier on November 27, Binh Thuan province deployed the first phase of vaccination with nearly 47,000 doses of Pfizer vaccine for children aged 12-17 as the locality strives for achieving the goal of increasing community coverage and proactively preventing the Covid-19 epidemic. In order to organize vaccination to ensure safety and compliance with regulations, the province has mobilized various forces to participate in the campaign, in which health is the core.
Translated by My Thien (Source: Binh Thuan Online)