In Binh Thuan, there are many diverse destinations that meet everyone's preferences and passions. Coming to Phan Thiet, there is the historical site of Duc Thanh School where Uncle Ho had taught before he left Vietnam and found a way to liberate the nation, Ong Quan Thanh De Quan Pagoda is famous for its sacredness; Van Thuy Tu Temple is a place worshiping the ancient whale with a whale's skeleton nearly a hundred meters long, Po Sha Inu tower (Ong Hoang's floor), Ong Dia rock beach, Mui Ne fishing village, etc Mui Ne national tourist area is a mix of many criteria such as the wild beauty of Mui Ne flying sand dunes, Hon Rom, fairy stream, Sea Link golf course, and nice beaches. This place is dubbed as "the resort capital of Vietnam", therefore visitors have many options for resort accommodation or participating in outdoor activities such as sandboarding, swimming, windsurfing, kite flying, shopping, and enjoying fresh seafood.
Waking up around 5-7 am then going to the sea, visitors could experience the dawn and watch the fishing nets pulled by the fishermen. The fresh sea creatures are caught and brought to the sandy shore in the morning which helps relax visitors' souls strangely.
Leaving Mui Ne, visitors can visit Tien Thanh - the emerging tourist area Novaworld and then go to Ke Ga to enjoy the old lighthouse standing proudly in the middle of the sea and sky for hundreds of years.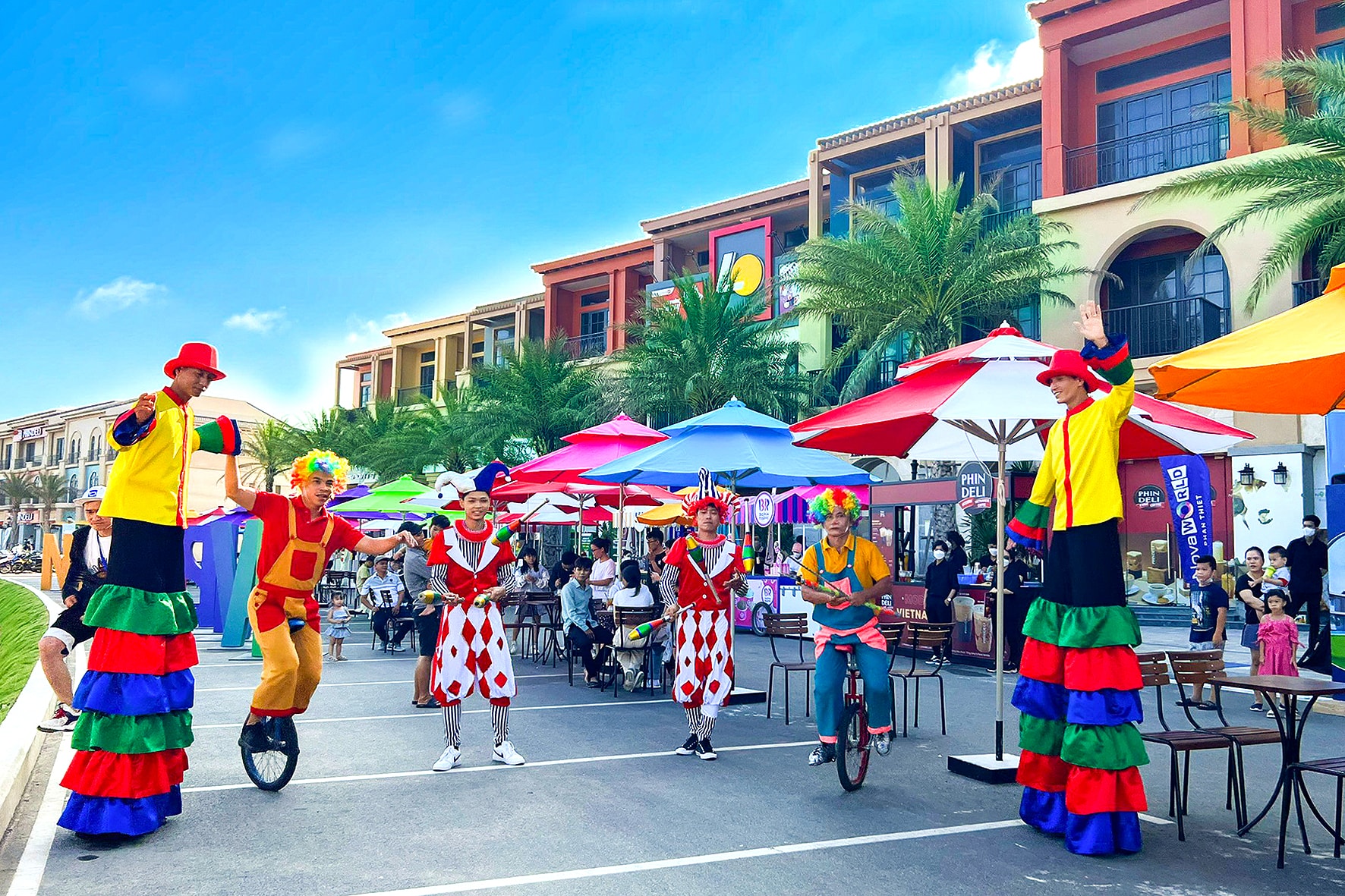 Novaworld - a new tourist destination in Binh Thuan.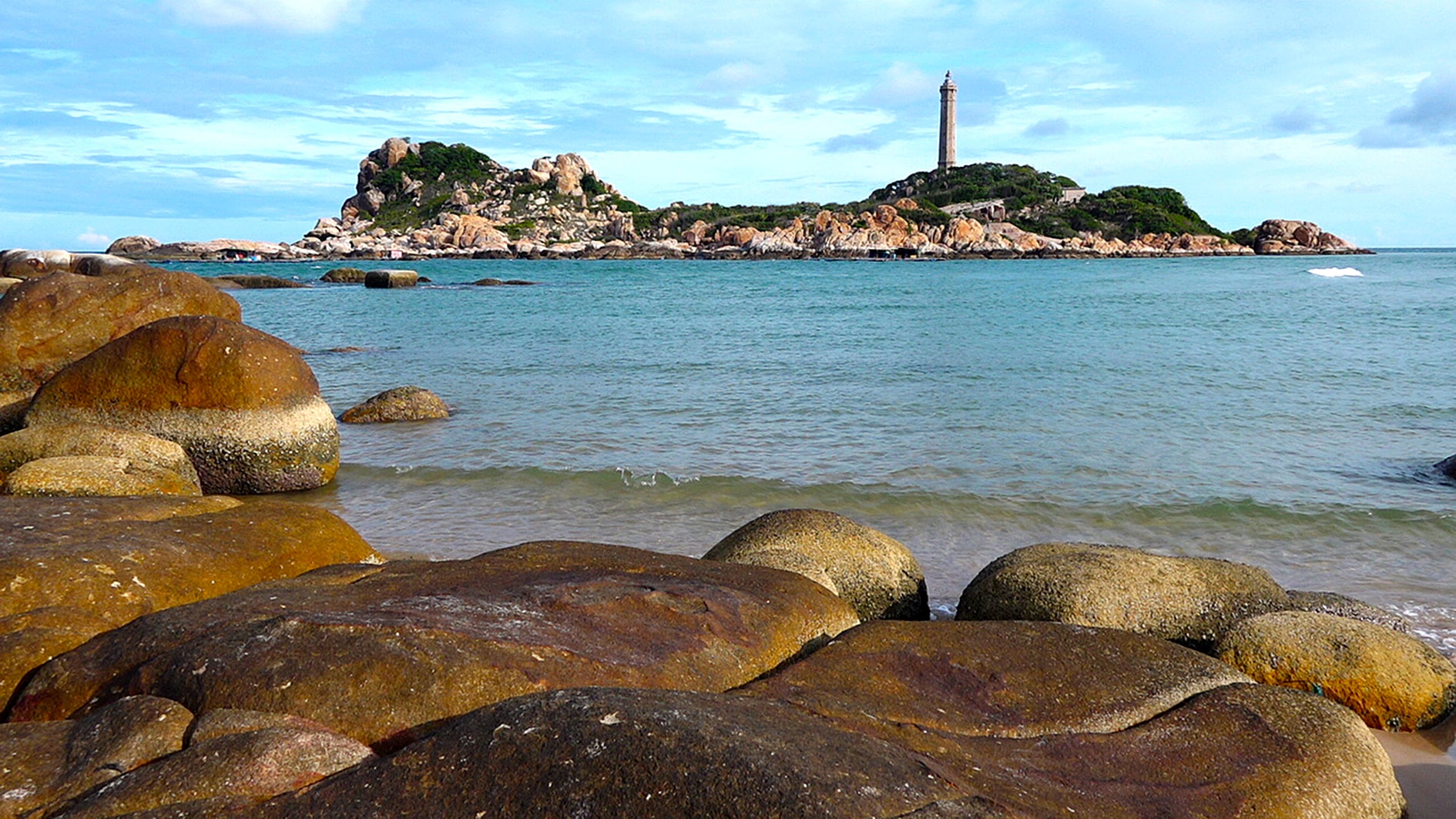 Ke Ga beach
Ta Cu tourist area is the best place for those who love mountains, forests, and pagodas. There is giant a Buddha statue lying on the longest mountain in Vietnam. Ham Thuan Nam, which is the "capital" of dragon fruit in Binh Thuan, has had many tours organized for tourists to have a picnic and see dragon fruit flowers blooming at night. The dragon fruit buds under hundreds of electric bulbs show off their shimmering beauty that captivates millions of hearts.
From Ham Thuan Nam district, it takes less than 30 minutes to reach the "muse" of Cam Binh beach in La Gi town - a pristine beach and long sandy beach. For those who like fishing and floating on a lake with deep blue water; there is Da Mi where a peaceful atmosphere and a cool temperature. Under the lake, there are many kinds of freshwater fish. Especially there is a sturgeon farming area, visitors have a chance to make some healthy dishes after hard working days. Nearby is Ba waterfall in Tanh Linh district, where visitors can take a dip in the stream and experience the specialty of strabismus fish cooked with wild bitter melon.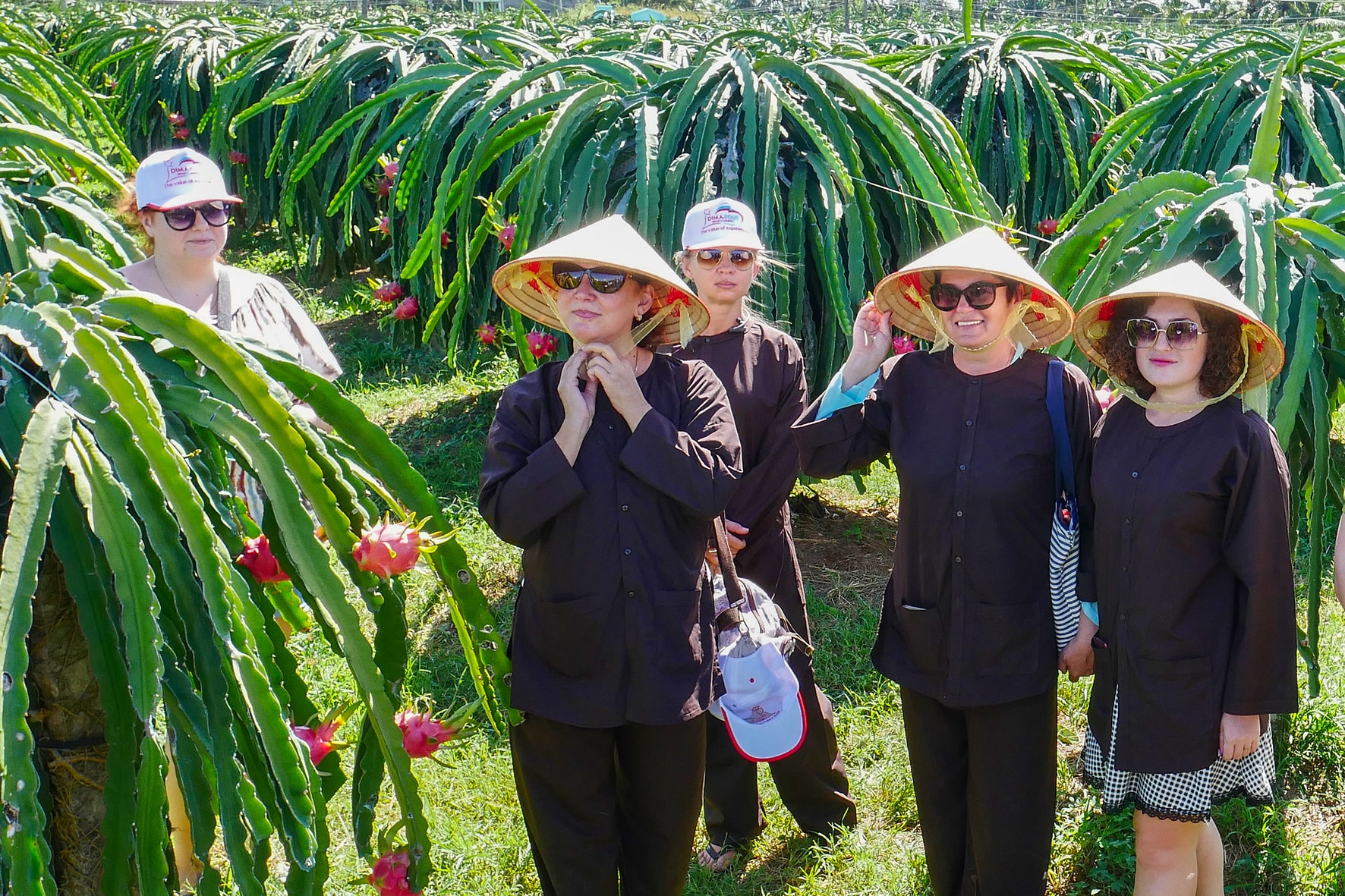 Tourists visit Ham Thuan Nam dragon fruit garden.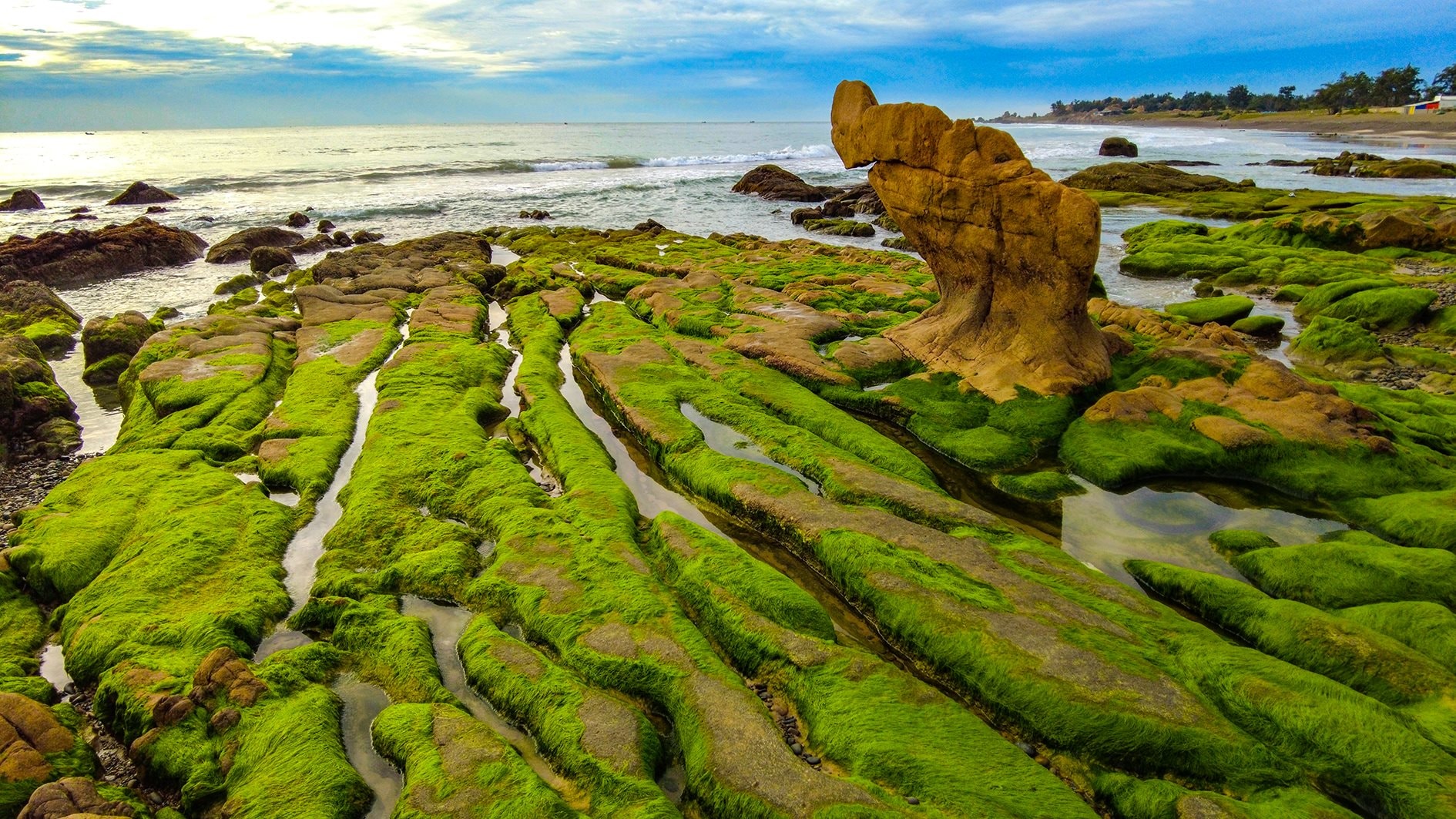 Moss season in Binh Thanh commune, Tuy Phong district.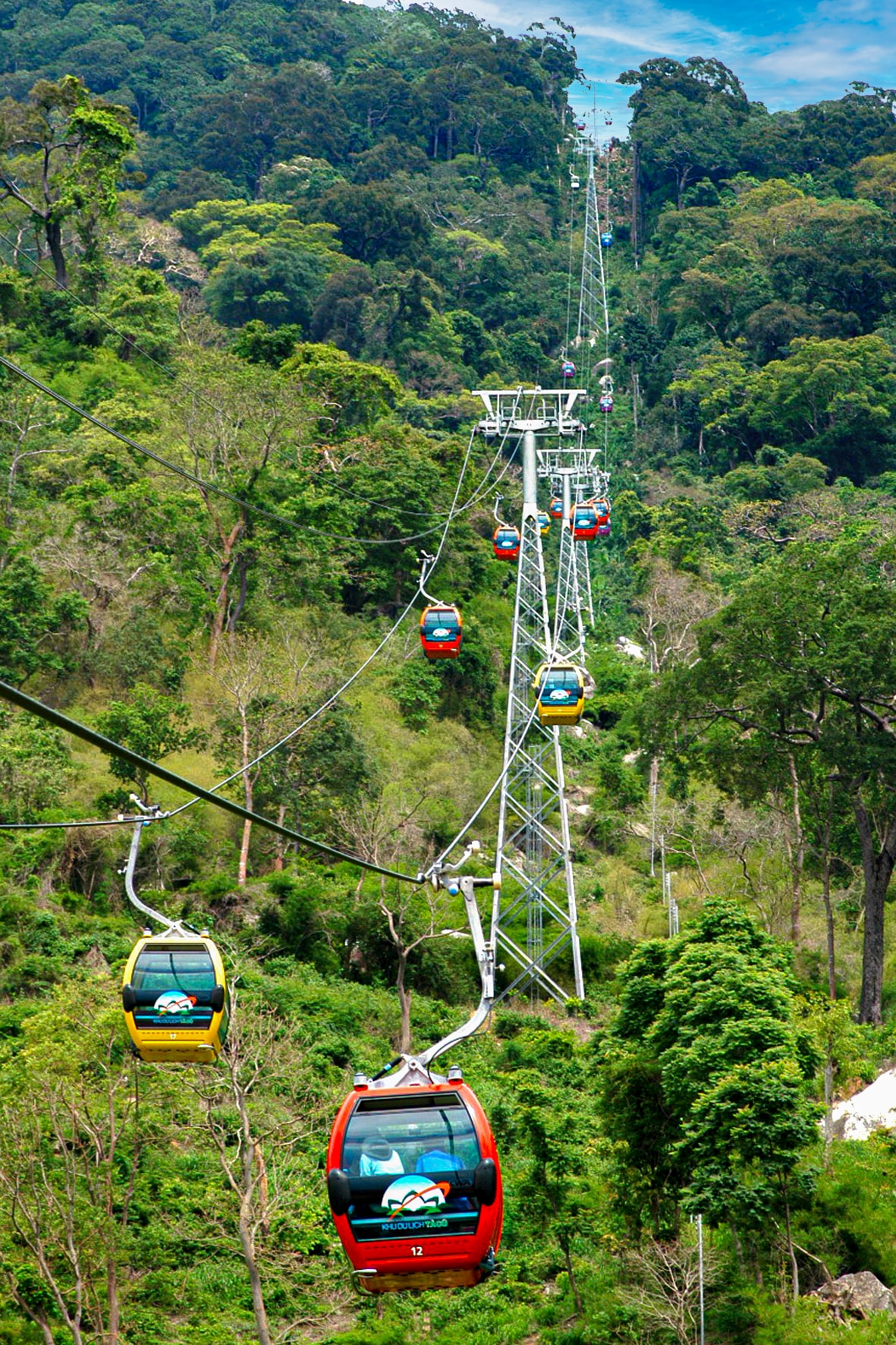 Ta Cu Cable Card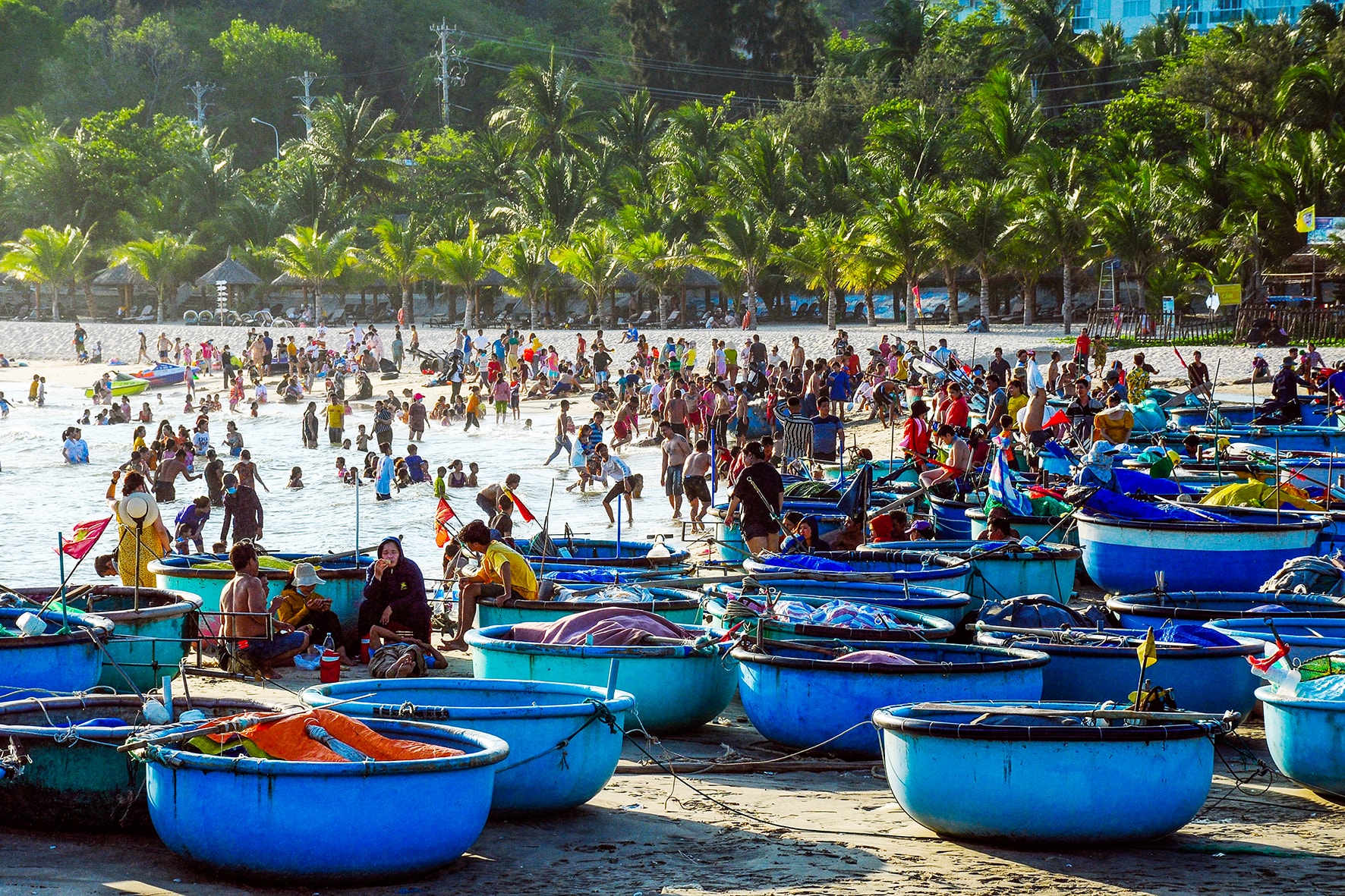 From Mui Ne, visitors can easily follow the "most beautiful road in Vietnam" DT716 to Bau Trang which have a freshwater lake located among the dunes adorned with blooming lotus flowers along the lakeside. In Bau Trang, there are outstanding golden Melaleuca flowers on the coastal route of Hoa Thang - Hoa Phu. Traveling further to Binh Thanh visitors can see the unique Cave Pagoda with a beach with thousands of "unique" colorful pebbles. Especially in the moss-covered season, the rocks and pebbles are covered with green moss, creating a beautifully natural picture. In Tuy Phong, there is another famous tourist attraction, Hon Cau, about 8 km from the mainland. Hon Cau is surrounded by thousands of limestone blocks of all shapes and fancy colors. Coming to Hon Cau, visitors can scuba dive and explore diverse ecosystems such as corals, aquatic species, and schools of sea fish swimming in all colors.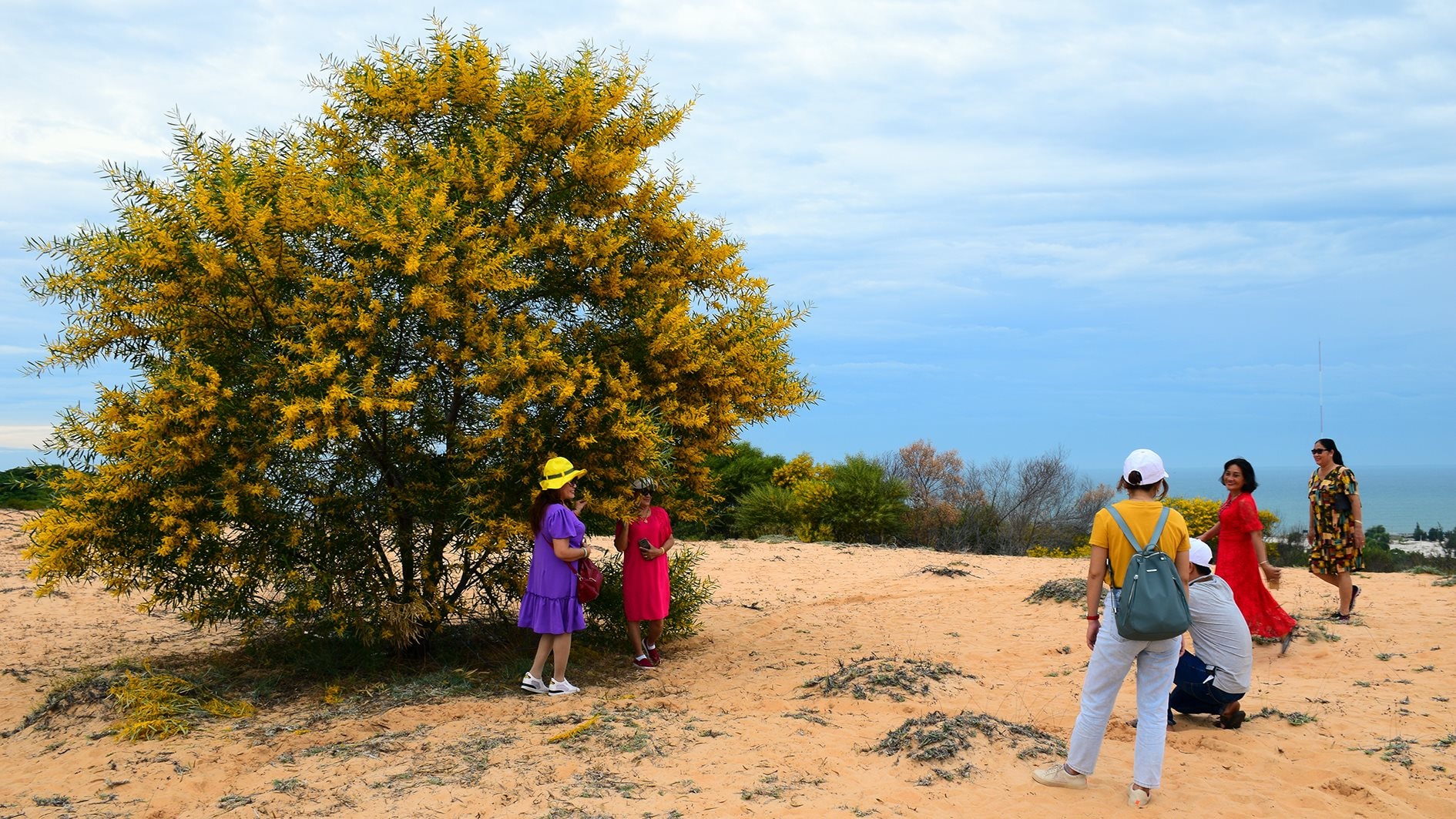 Melaleuca flowers on both sides of Hoa Thang - Hoa Phu road.
Recently, Phu Quy Island, also known as Cu Lao Thu, is a tourist destination chosen by many tourists because of many factors. First, the experience of the speedboat ride on the sea; visitors only take about 3 hours from Phan Thiet Port to reach the island in the Truong Sa archipelago. Phu Quy still has unspoiled beaches with clear blue sea water, fish can be seen swimming in the sea at a depth of 5 m. In addition, there are mountains with many strange-shaped rock formations, Linh Son pagoda more than 100 years old located on Cao Cat mountain is an interesting destination to visit.Moreover, Phu Quy has seafood resources that are very rich such as lobsters, snails, grouper, king crabs, etc., visitors can enjoy the taste of the sea.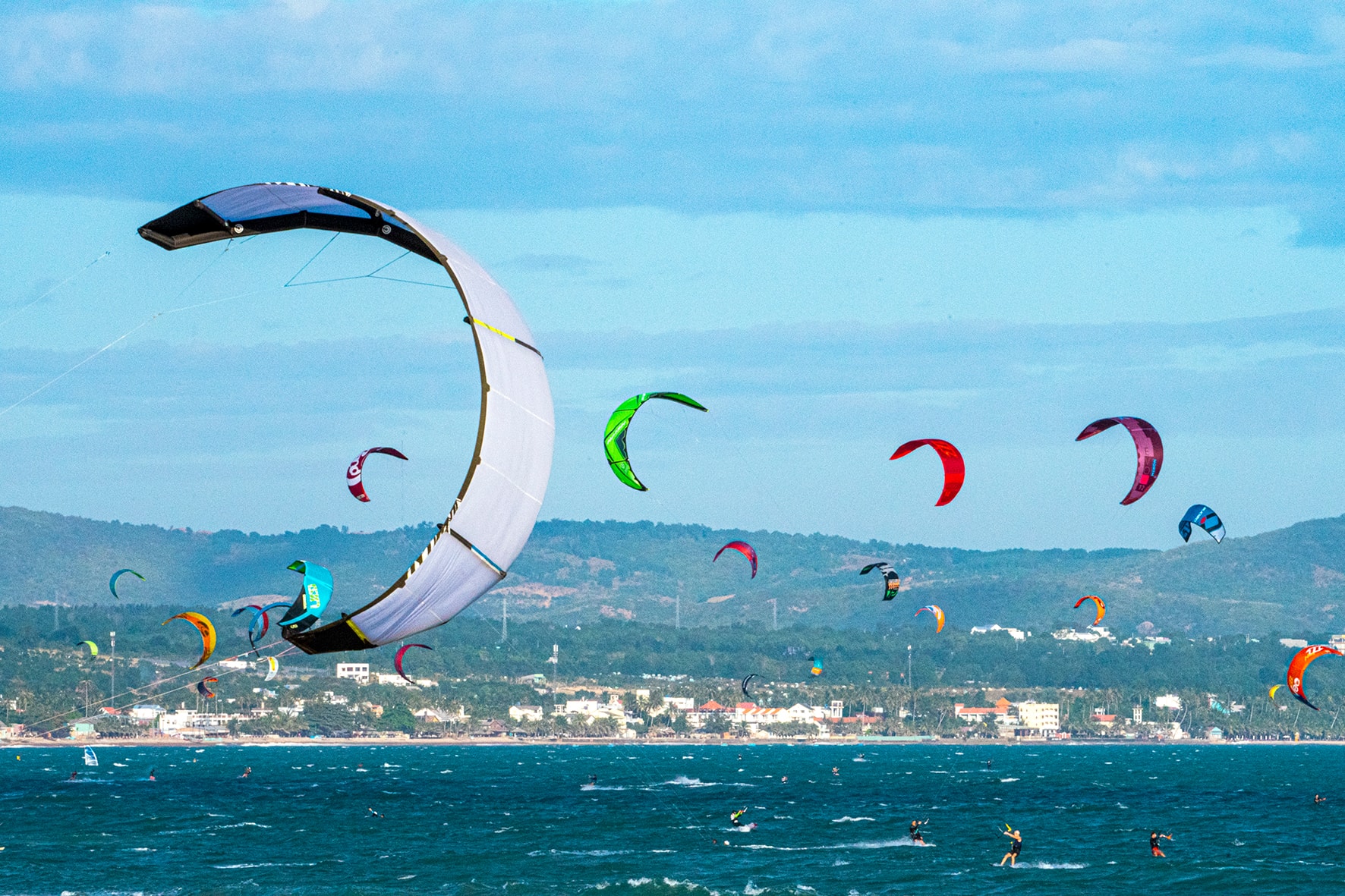 Kite surfing in Ham Tien.
Those are some brief points of tourist attractions in Binh Thuan. This province has many other interesting and attractive points that we can not list all of them such as Ta Nang mountain, Lac beach, Song Quao lake, etc. Hope visitors will come to Binh Thuan someday and enjoy this beautiful land.