Mr. Huynh Ngoc Tam - Deputy Director of the Department of Culture, Sports and Tourism acknowledged: "Binh Thuan always strives to build a safe - friendly – high-quality and attractive destination. Determined to turn Binh Thuan a center of tourism - marine sports at national and international level in the future, many high scale and professional sports and tourism events have been organized in recent years, including cycling tournaments. The selection of Phu Quy, which is recognized as the provincial tourism area with diverse cultural features of coastal people, unspoiled beauty, poetic beaches, green – clean - gorgeous landscape and environment, will offer the athletes comfort and excitement to show their full capacity and expertise, contributing to the success of participating units and localities."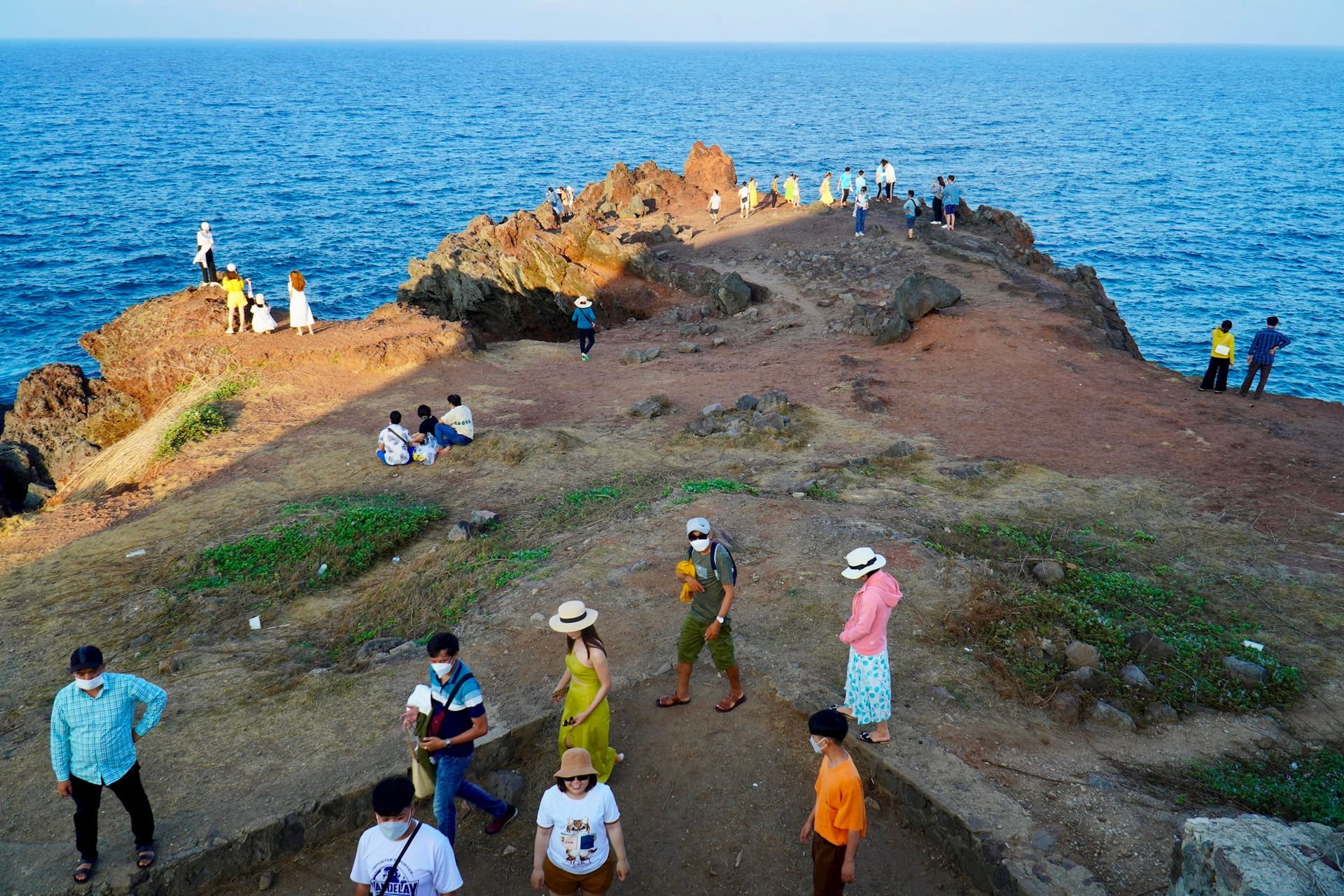 Mr. Tam added: "More importantly, through this sport and tourism event, I hope and wish that each cadre, referee, coach, athlete and all visitors near and far coming to directly or indirectly spectate this tournament, to accompany Phu Quy and become friendly tourism ambassadors, contributing to the propaganda as well as encouraging their friends, family and relatives to visit and explore the land, culture and people of the island even more in the coming time."
Only in Tam Thanh commune, the number of registered guests to stay has reached approximately 1,500 visitors. This is also one of the busiest communes of Phu Quy due to the concentration hotels, both large and small. More than 70 hotels and motels were almost fully booked. However, in Ngu Phung and Long Hai communes, the numbers were lower because the facilities are not as many as Tam Thanh's.
It is very easy for tourists to go from Tam Thanh to some Phu Quy's famous sights, such as to Ganh Hang, Cao Cat mountain - Linh Son pagoda, a beautiful landscape complex of Phu Quy. Cao Cat Mountain is considered by the islanders as a sacred mountain, located in the north of the island, where there is a very majestic statue of Quan Am Buddha placed on the top of the mountain. It is most intriguing when you challenge yourself to climb the mountain, then, from the top of Cao Cat mountain, looking down to a large space around the island. "The feeling of standing on Cao Cat mountain and looking down at the clear blue sea is so great. Since yesterday, I rented a car to go around the island. Even though I don't know anyone here, the people are lovely and gentle. I like it very much. But, to me, the most beautiful is still Hon Tranh because of its beautiful beach. Maybe I will bring my relatives back here" - Thanh Vu, a visitor from Ho Chi Minh city, happily said.
Hon Tranh is about 600 meters southeast of Phu Quy Port. It has a charming landscape with clear blue water, mixed with the mysterious green color of the mountains to form a very attractive picture. This is also one of the three most famous islands in Phu Quy: Hon Den, Hon Do and Hon Tranh, which creates excitement for visitors. The island is so small, but it is endowed with so many sights. Whoever comes to Phu Quy will love this land, love the sweet taste of sand mango or custard apple in Phu Quy.
There's hope that Phu Quy will be a bright spot for tourism tomorrow, so that every day, every time of the year, there will always be visitors' footprints imprinted on the land. Unfortunately, the "hot season" of Phu Quy in only within the first 6 months of the year, the weather is also a certain barrier. Because the major number of visitors only focuses on the first 6 months, it is not a simple matter for Phu Quy to develop more services to serve tourists.