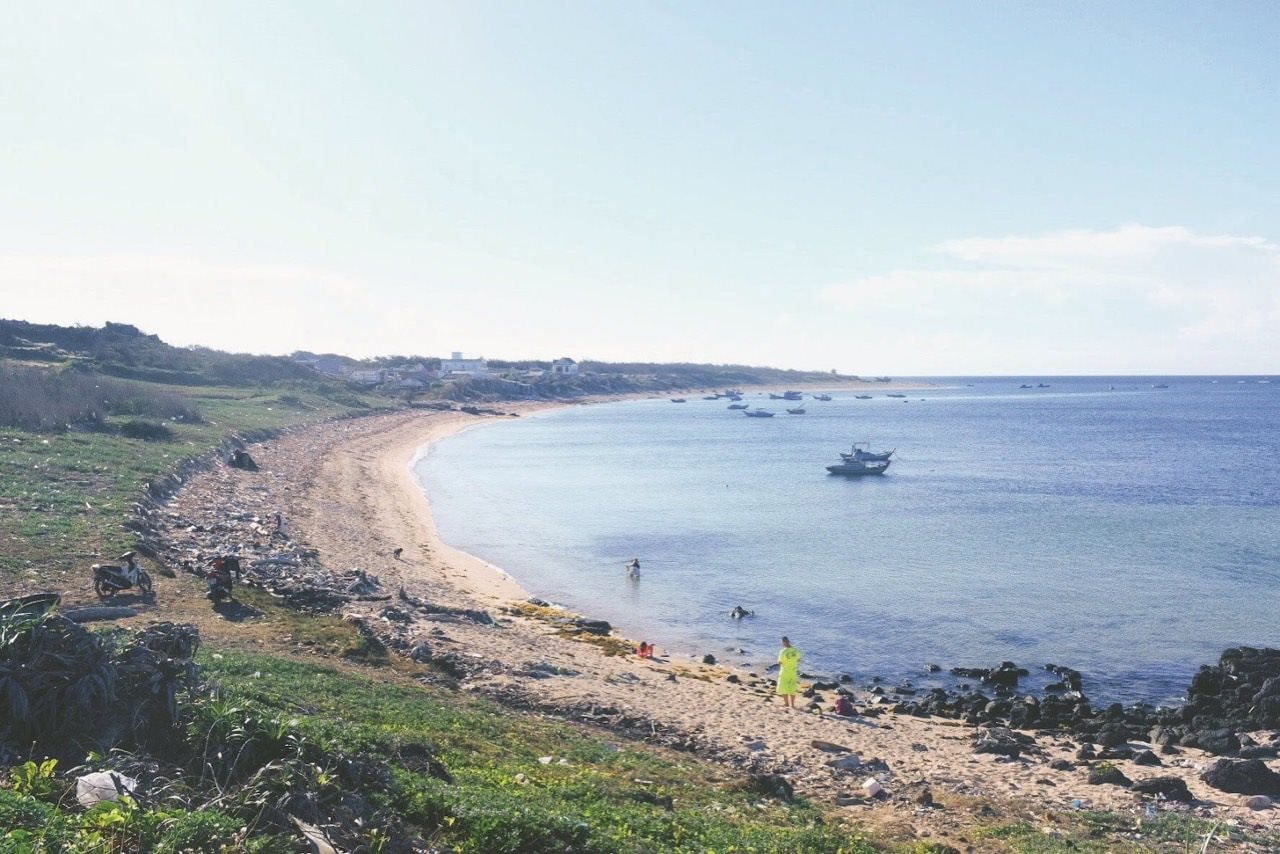 TREMENDOUS CHANGES
A rustic, gorgeous Phu Quy without "makeup" will arrive in front of your eyes in just over 2 hours on a speedboat, delivering a great deal of interesting things to discover. There are plenty of people coming to the island for the first time without knowing what to expect from the terrain, whether it is beautiful or not, but all are impressed by the simplicity, enthusiasm, hospitality, and warmth of the locals. Despite its area of only 17 km2, Phu Quy still captivates many of us with its numerous charming and scenic sights. The island is blessed by nature with countless beautiful landscapes, such as the small beach of Ganh Hang, Trieu Duong Bay, the lighthouse on the "forbidden mountain", the poetic Hon Tranh, Lach Du beach, Roi Dua beach, and the sacred sovereignty milestone, etc. Not only advantageous for eco-tourism and resorts, but "Pearl Island" also has the potential to develop spiritual tourism with the presence of the national historical site Linh Quang Pagoda (the famous ancient temple with strong religious features of the islands' residents), Linh Son Pagoda located on Cao Cat mountain, An Thanh mountain, Ba Chua Ban Tranh temple,... It is also a fascinating offering for those who overcame difficulties and challenges to arrive in Phu Quy and admire the pure beauty here. Furthermore, the island's nature is highly diverse; the landscape is green and clean, with beautiful golden sand beaches extending all the way around the island. Phu Quy island is not as vast as Phu Quoc island and does not consist of many historical sites like Con Lon island, but the natural scenery is a "bonus point" for it when compared to other tourist attractions. 
In recent years, the local authorities in general and the inhabitants, in particular, have concentrated considerable attention on developing tourism. Since the end of 2014, after the island had around-the-clock electricity generated, Phu Quy has undergone various remarkable changes. I was fortunate to have been to the island twice, at two different times when it had not and already had electricity supplied. Therefore, I could clearly feel the positive transformation of this small island, which was still faced with certain difficulties. Motels, homestays, restaurant services, and restaurants are evenly distributed in 3 communes: Tam Thanh, Ngu Phung, and Long Hai. In addition, at present, Phu Quy provides a contract car service to shuttle visitors around the island, together with other services such as fishing, squid fishing, and watching coral, which have gradually become popular. A number of young people have returned to their hometown with the intention of developing tourism in their own unique way. These beneficial changes have contributed to economic growth and restructuring, job creation, and living standards improvement for local populations. However, according to the assessment of the functional sector, the progress of Phu Quy tourism has not been commensurate with its potential and existing advantages.
A PROMISING FUTURE 
In 2021, like many other tourist localities in the country, Phu Quy stopped taking in visitors from June due to the complicated expansion of the COVID-19 pandemic. As a result, the tourism industry has suffered a significant setback. The District People's Committee estimates that the number of tourists to Phu Quy in 2021 will be around 40.000, down 14.000 from the previous year. However, by 2022, tourism in Phu Quy is expected to rebound and develop dramatically. In the opening months of the year, district officials devised specific measures with the dual goals of combating the epidemic and regaining socioeconomic stability by ultilizing the island's resources and potential. This community will need to work hard to reach their goal by 2022. This community aims to attract over 55,000 visitors (including about 2,200 international visitors) by 2022, with tourism earnings up 10% from 2021. By 2025, Phu Quy will have established itself as a major tourist destination in Binh Thuan, promoting the potential and benefits of sea and island resort tourism, as well as traditional heritage, culture, and marine cuisine.
To achieve these objectives, this year, Phu Quy will actively boost the introduction and promotion of tourism potentials, landscapes and people of Phu Quy in various forms. Calling for tourism investment projects in the district, reviewing and requesting that competent authorities consider and withdraw projects that have not been implemented, and urging all economic sectors to invest in and build qualified boats that are licensed according to regulations to ensure tourist safety are all of importance. Besides, he establishment of a licensed hotel system, large-scale restaurants, and other sorts of services must be encouraged.
The community will concentrate on feasible projects to develop tours and tourist routes to the islands of Hon Tranh, Hon Den, and other nearby islands, combining coral viewing and safe recreational fishing, as well as offering tourists chances to enjoy fresh seafood specialties while learning about the lives of fisherman households with the model of aquaculture and traditional occupations. Simultaneously, they are mobilizing social capital to invest in the evolution of public spaces that serve community tourism, giving tourists greater options in terms of tourism activities. At the same time, local officials must improve public awareness of environmental hygiene in public spaces, polite behavior, and communication, as well as create a positive impression on visitors to Phu Quy, etc.
With what the "Pearl Island" is ready to offer, along with the orientation, solutions, and determination of the government and people here, Phu Quy is a worthwhile destination to visit, even if only once!