The first step to export
The traditional fish sauce production in the coastal city of Phan Thiet has been experienced for over 200 years. In the harvest season, at each box of the tent, the maker mixes well according to the ratio: 3 fish + 1 salt and then fills the container with brined fish (salt-pickled from which fish sauce is made), compresses, and incubates for 9-12 months before pulling out the fish sauce. Such a closed and thorough processing process often produces delicious, high-protein fish sauce products (40 degrees N and others of 30, 20, and 10 degrees N). Since 2007, the National Office of Intellectual Property has granted registration of an appellation of origin of geographical indication under Decision No. 364/QD-SHTT, which has been corrected and changed into the Certificate of Geographical Indication of Phan Thiet for fish sauce products by the National Office of Intellectual Property by 2020. The Department has also coordinated with relevant departments and agencies to register for trademark protection of fish sauce in three countries, namely: Cambodia, the US, and Thailand. Along with that, up to now, 63 qualified enterprises, and establishments producing and trading fish sauce have been granted the certificate of right to use geographical indication "Phan Thiet" by the Department of Science and Technology for fish sauce products by the Department of Science and Technology. This is also the "passport" for Phan Thiet fish sauce products to expand its export market.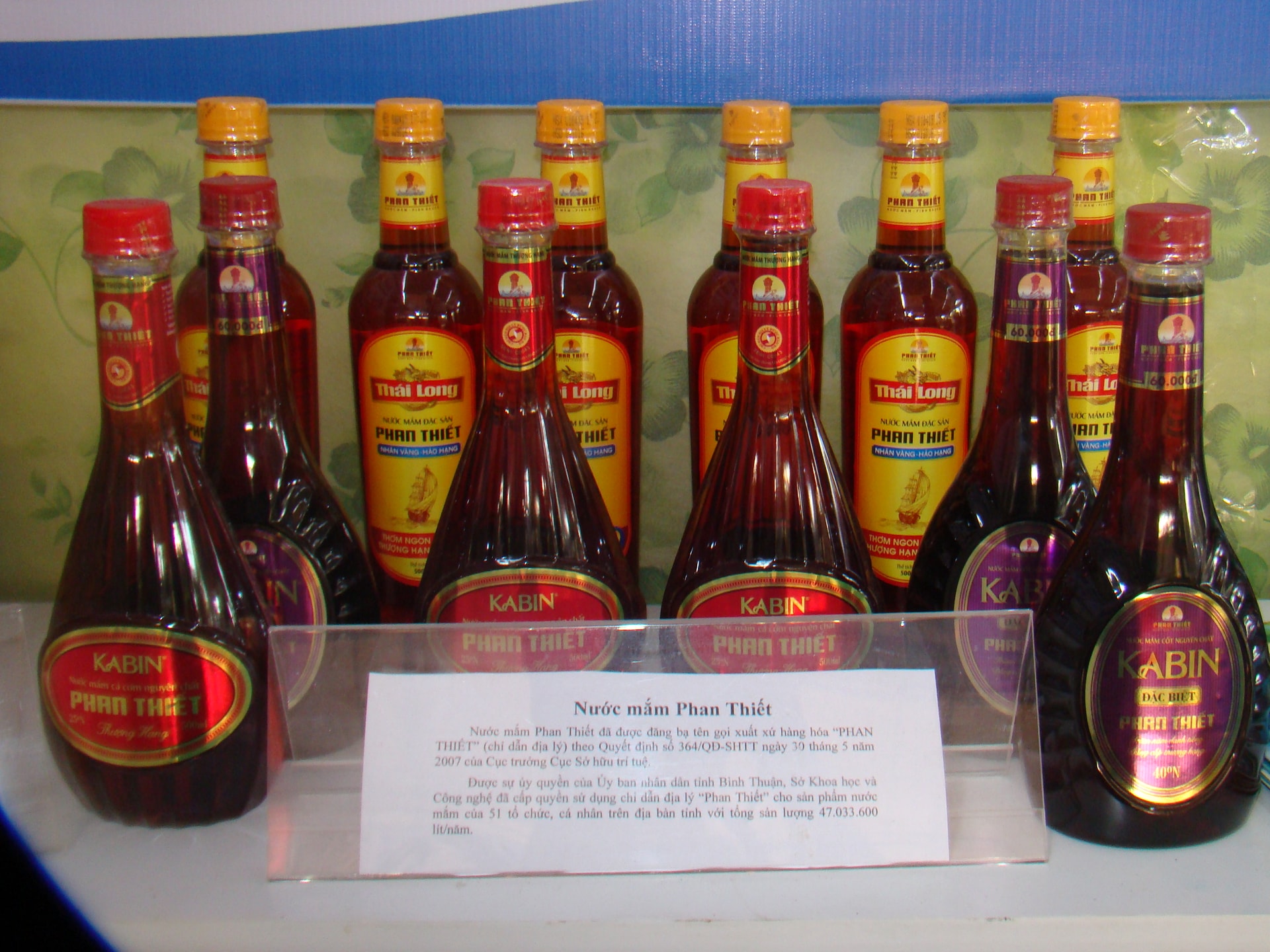 A series of fish sauce produces of Binh Thuan province have granted the "Phan Thiet" geographical indication.
According to Binh Thuan Department of Science and Technology, from 2015 to now, more than 104,000 tons of fish sauce have been exported in different forms, with a turnover of more than USD 276,000. Currently, there are 2 enterprises exporting fish sauce in the province, including Lavela Joint Stock Company, Binh Thuan branch, and Mai Hương fish sauce Private Enterprise.
Lavela Joint Stock Company, Binh Thuan branch, which has a fish sauce processing factory in Ham Kiem 1 Industrial Park, is applying Japanese technological processes to produce an odorless fish sauce. Its ingredients are deodorized through the biological and sterile system. Mr. Tran Viet Tien, Director of Lavela Joint Stock Company, Binh Thuan branch, said: "It is convenient that many fish sauce production facilities in Phu Hai industrial cluster produce delicious traditional Phan Thiet fish sauce. Therefore, our company makes contracts to purchase fish sauce at a number of facilities and transport them to the factory for a short distance. With modern technology, such as a sterilizer with a capacity of 15,000 liters /hour, and 24,000 liters/hour, the factory produces odorless fish sauce, but still retains the deliciousness of Phan Thiet fish sauce for export. Currently, the enterprise has invested in 6 product types bearing the geographical indication of Phan Thiet, with a protein content of 15 degrees or more, serving many domestic and foreign customers such as Japan".
Meanwhile, Mai Huong Fish Sauce Private Enterprise, which has a contract with related units, is promoting the export of 100,000 liters of fish sauce with geographical indications of Phan Thiet to the Philippines by the end of this year. However, the Phan Thiet Fish Sauce Association acknowledged that the number of annual exports is not much.
Developing the local geographical indications
Mai Thanh Nga, Deputy Director of the Department of Science and Technology, shared that, in order to expand the export markets, all fish sauce manufacturers need to create trademarks and register for the protection of geographical indications. The construction and development of geographical indications become a strategy to enhance trade competitiveness, promote the potential of local resources, and at the same time it contributes to combating trade fraud; raises consumer awareness; increasing product competitiveness; contributes to improving product values, raises profit value, promotes the development of agricultural and rural products. Those are towards the goal of exporting products that can meet OCOP standards from 3 to 4 stars.
Accordingly, the Department of Science and Technology gives supports those fish sauce traders and manufacturers to approach and effectively implement science and technology policies in production and processing to improve the quality of fish sauce products that are fixed with the "Phan Thiet" geographical indication. Additionally, the functional sector also strengthens the inspection and control of the use of "Phan Thiet" geographical indications for fish sauce; the allocation and use of geographical indication stamps in order to avoid cases of product counterfeiting and discrediting the "Phan Thiet" fish sauce brand. They also promote the propaganda and promotion of the geographical indication of "Phan Thiet" fish sauce domestically and internationally.