The delegation also had the participation of Mr. Nguyen Van Chien - Deputy Director of the Department of Agriculture and Rural Development; Mr. Huynh Quang Huy - Head of the Fisheries Branch; leaders of Ham Thuan Nam district and 3 Fisherman Community Associations in 3 communes of Thuan Quy, Tan Thuan, Tan Thanh.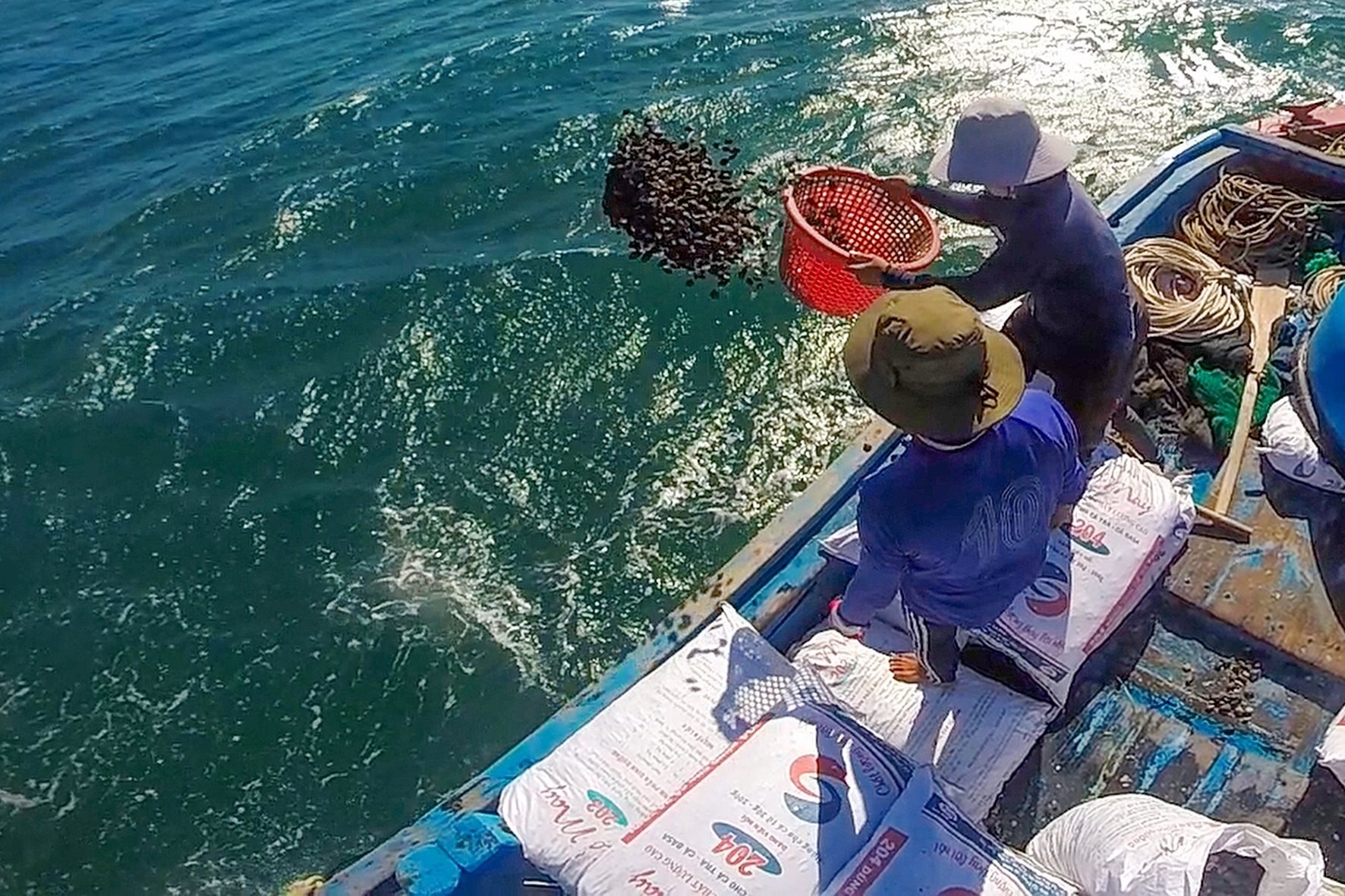 Thuan Quy commune's fishermen community releases baby oysters into the sea to restore resources. (photo: N. Lan).
Reportedly, the co-management model came in 2008 from the ideas and proposals of enthusiastic fishermen in Thuan Quy commune to allocate the sea area to protect, delineate, and organize reasonable exploitation. Management of oyster resources. However, due to a lack of legal framework and financial resources, implementation has not been possible. In 2015, the Provincial Fisheries Association developed a project and was approved by the Provincial People's Committee "Pilot model of co-management of clams to contribute to the effective management and use of aquatic resources and protection of coastal ecosystems in Thuan Quy commune, Ham Thuan Nam district", according to the People's Committee of Ham Thuan Nam district.
Subsequently, the Global Environment Facility - Funding Program for Small Projects in Vietnam (UNDP/GEF SGP) funded its implementation.
This model was first applied in Binh Thuan province, in open waters at a time when the legal framework was not clear, so project activities mainly focused on propaganda and mobilization of people; Operate a fishing community organization to participate in co-management in protecting aquatic resources. In addition, it also supports and guides community organizations in patrolling, monitoring, preventing violations of the law, regenerating shellfish resources, restoring the habitat of aquatic species, and so forth.
In 2020, after project sponsorship activities ended, the District People's Committee developed plan No. 198/KH-UBND to continue maintaining and developing the co-management model for the period 2020 - 2025.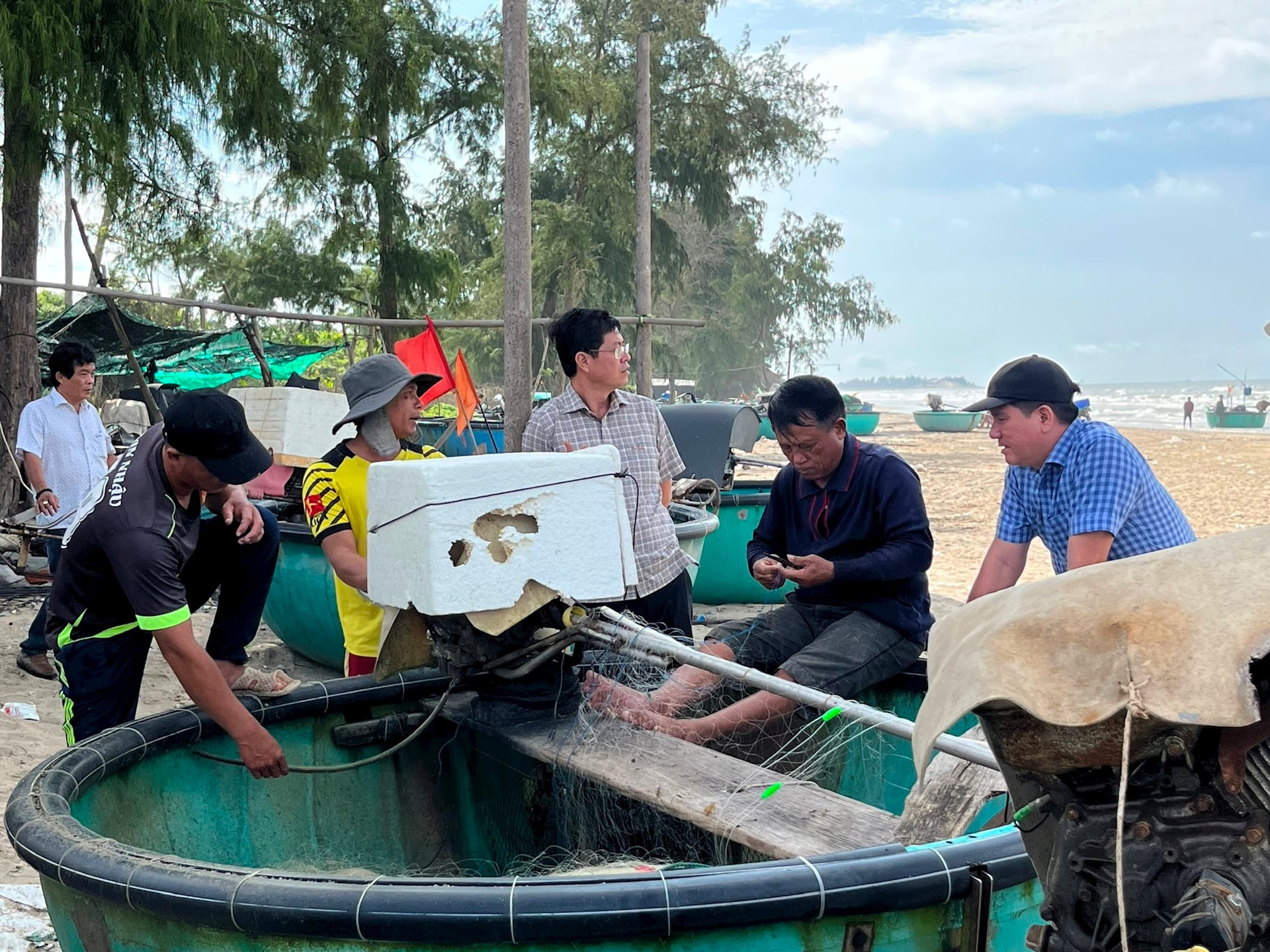 The biggest benefit of the model is the building and operation of 3 Fisherman Community Associations to participate with the State in managing and protecting aquatic resources. From a few initially registered households, up to now 288 households have been admitted, self-mobilizing contributions of VND210.2 million to set up a fund for maintaining living conditions and organize activities to protect water resources. Under the implementation of the Fisheries Law 2017, the District People's Committee issued a Decision to recognize and assign management rights in protecting aquatic resources to Fisherman Community Associations, with a sea area of 43.4 km2.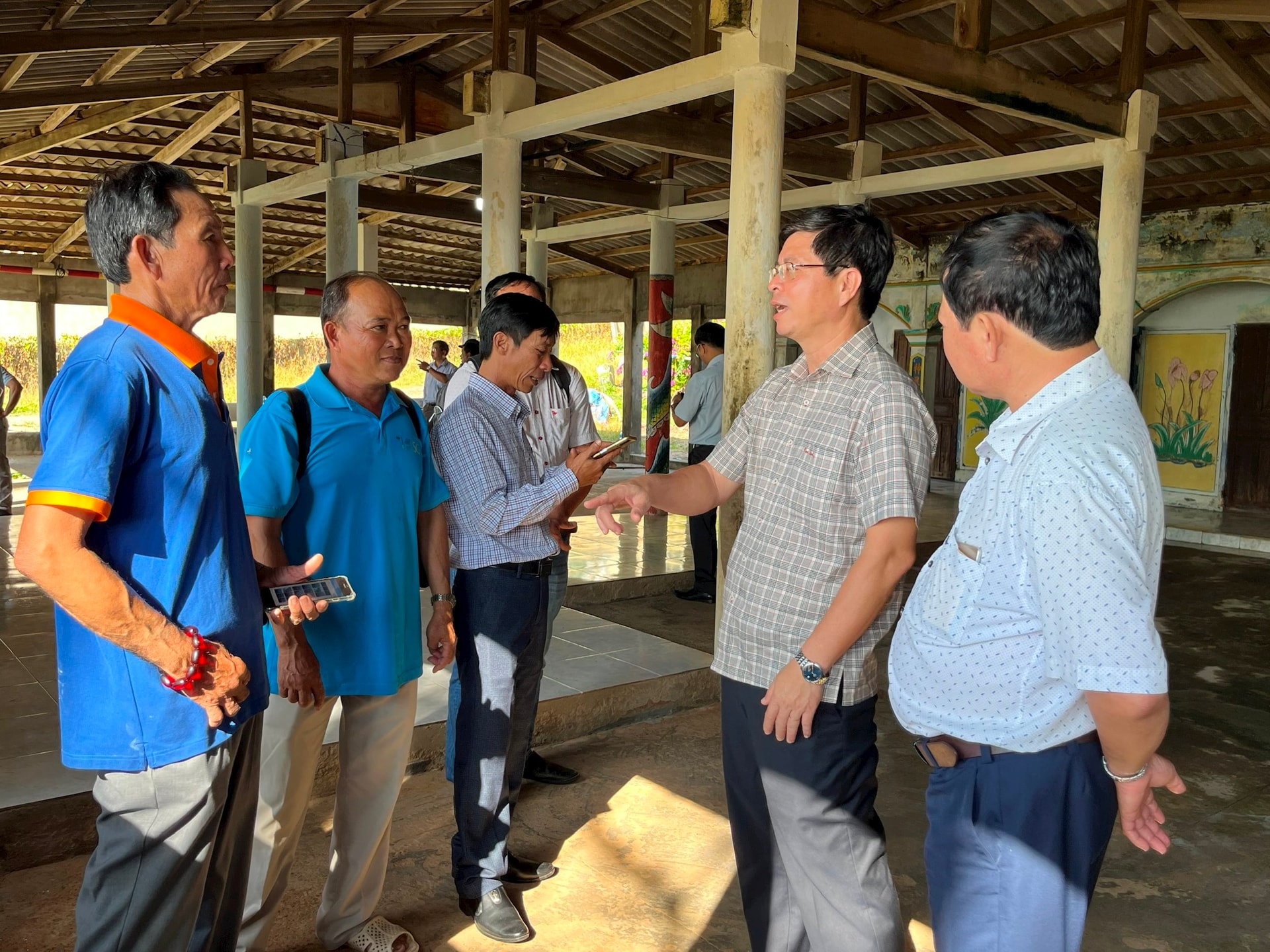 Vice Chairman of the Provincial People's Committee Nguyen Hong Hai is talking with the Fishermen Community Association of Thuan Quy commune.
At the three-surveyed communes, the Vice Chairman of the Provincial People's Committee directly listened to members of the Fishermen Community Association analyzing the advantages that the model brings. Thanks to the recent artificial reef planting activity to mark the sea area for co-management, the number of 60 scrub clusters in 3 communes has contributed to preventing and minimizing the activities of prohibited occupations, especially trawling fishing. Additionally, the Fisheries Community Association of Thuan Quy commune released 112.4 tons of baby clams to restore resources. Violations of fisheries laws and conflicting competition in exploitation in waters where co-management is applied sometimes still exist, but have been significantly limited and minimized.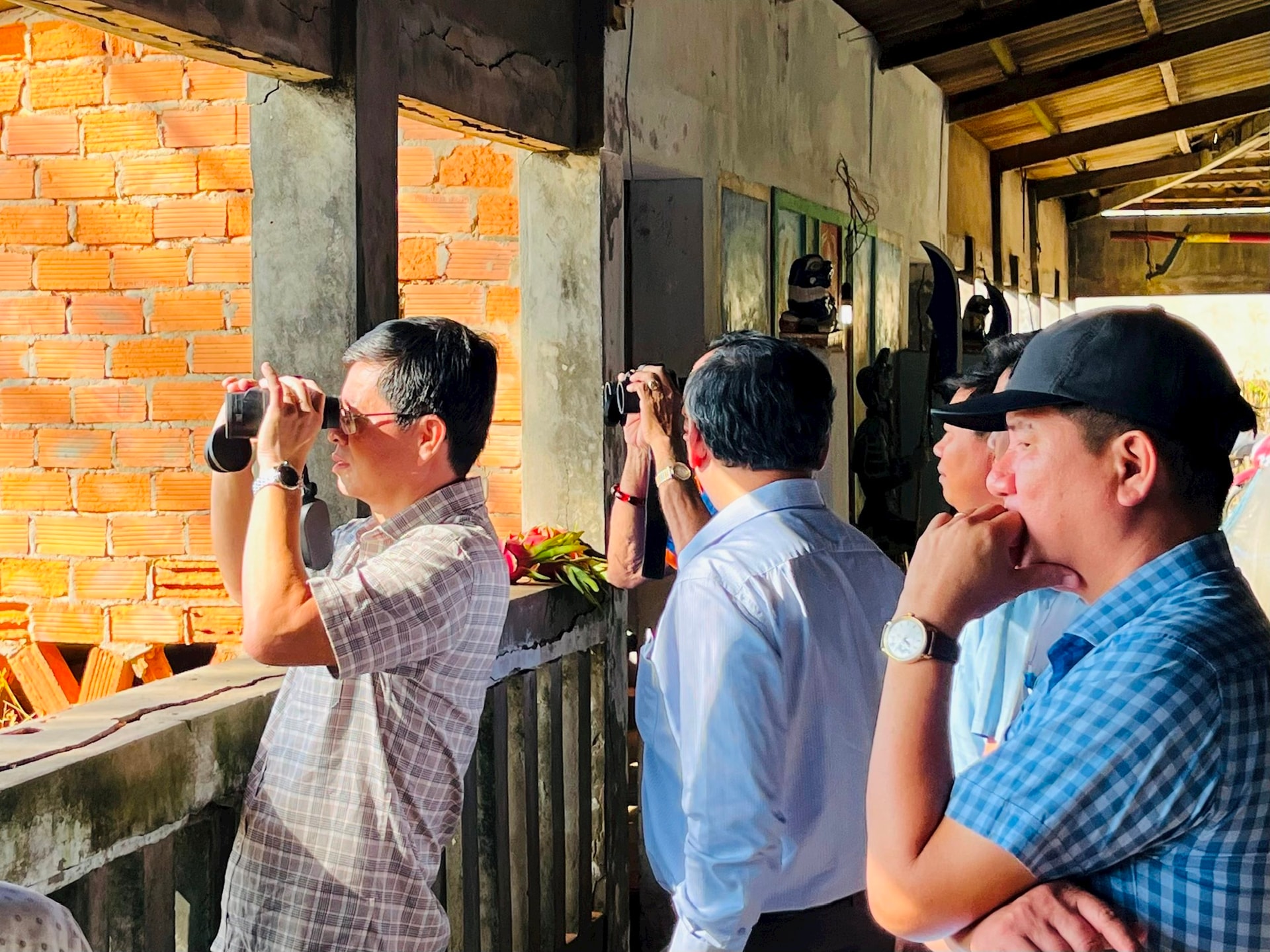 In 2023, the Directorate of Fisheries connected and received funding from the Thien Tam Fund (under Vingroup) to continue releasing 23 new clusters. Of which, Thuan Quy commune has 11 points, Tan Thanh 6 points, and Tan Thuan 6 points. In particular, in Tan Thuan commune, the "IUU community monitoring team" model has been built and operated with more than 50 participating members.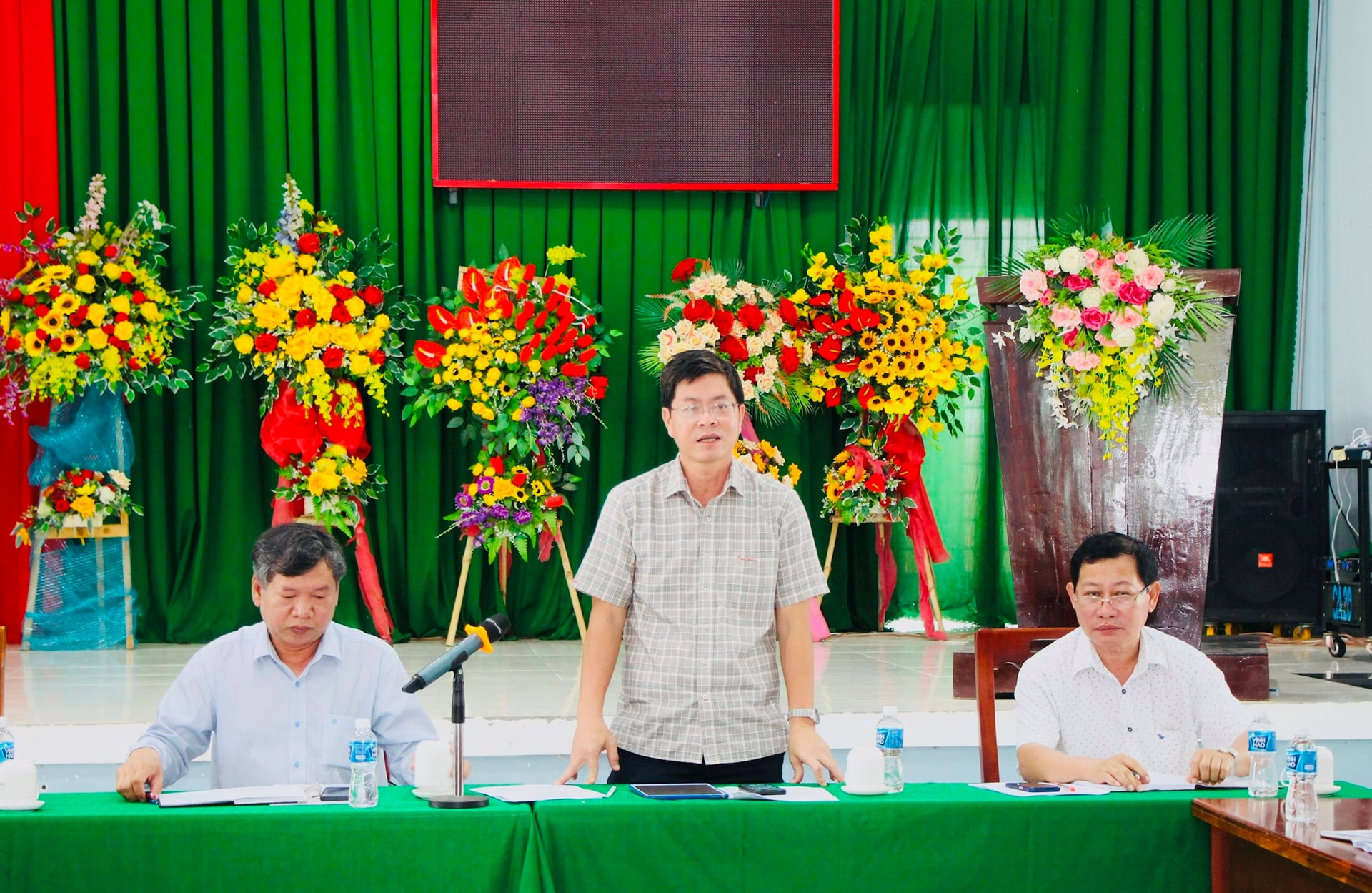 Speaking at the meeting, Vice Chairman Nguyen Hong Hai highly appreciated the efforts of the three coastal fishing community associations as they have maintained quite good operations over the past time. Although members of the association operate without remuneration, it can be seen that this model brings practical results, helping to increase aquatic resources in the region and significantly improve fishermen's income. This will be one of the core factors for people to recognize and support the State's policies. Not only that, through the model, illegal fishing industries such as rake pounding and trawling have been significantly reduced.