Through the first 7 months of 2023, Binh Thuan's economy recorded positive growth in all 3 pillars: Industry - Tourism - Agriculture; the GRDP growth rate in the first half of this year reached 7.76% (11th out of 63 provinces and cities). In addition, the locality also focuses resources to accelerate the implementation of key projects and the progress of traffic works in the province. However, the fact that the locality is currently facing many difficulties. , problems and need to be considered and supported by ministries, branches, and central agencies. The province's production, business, and export activities are having problems, because of the continuous decline in orders, many businesses operate in moderation. The result of budget revenue also decreased compared to the same period in 2022, partly due to the fact that the income from changing the purpose of land use action, delayed land lease, and the determination of a specific land price to fulfill financial obligations.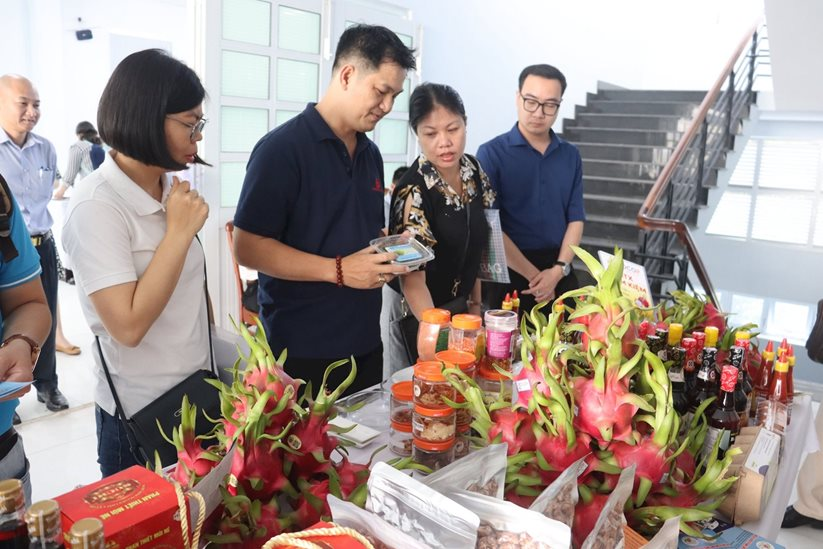 Many advantageous and unique products of Binh Thuan need to be supported in trade promotion and market expansion (illustration).
Regarding socio-economic infrastructure, Binh Thuan proposed to the Ministry of Planning and Investment to consider and provide additional support from the central budget for the province to implement the project against marine erosion, protecting the north coast of Phu Quy Island. Along with that is the project of building a freshwater reservoir and upgrading the water supply system of Phu Quy district, the project of provincial road DT.711 connecting the highway with the coastal road under the direction of the Prime Minister.
For the Ministry of Transport, it is recommended to pay attention and consider investing in the construction of an overpass on National Highway 1A through the intersection between the road leading to Phan Thiet - Dau Giay Expressway and National Highway 1A (at Km 1717+593). In addition, it is necessary to build a right-turning branch in the direction of Dau Giay - Phan Thiet before reaching the Ba Bau intersection to ensure that the flow of vehicles out of the expressway does not conflict with the flow of vehicles on the highway to Ho Chi Minh City.
On this occasion, Binh Thuan Provincial People's Committee also proposed to the Ministry of Industry and Trade to direct relevant units to support local businesses in participating in exhibitions, and market survey activities, participating in cooperation, association, and trade connection programs, promoting the purchase and consumption of dragon fruit and OCOP products of Binh Thuan. On the other hand, they are also interested in supporting the export promotion of dragon fruit products in the form of official channels, especially official exports through the Chinese market and penetrating potential markets such as Europe and the US.
According to the leader of the Provincial People's Committee, the attention, support and the local guidance will remove difficulties and obstacles for Binh Thuan to achieve the socio-economic development goals.