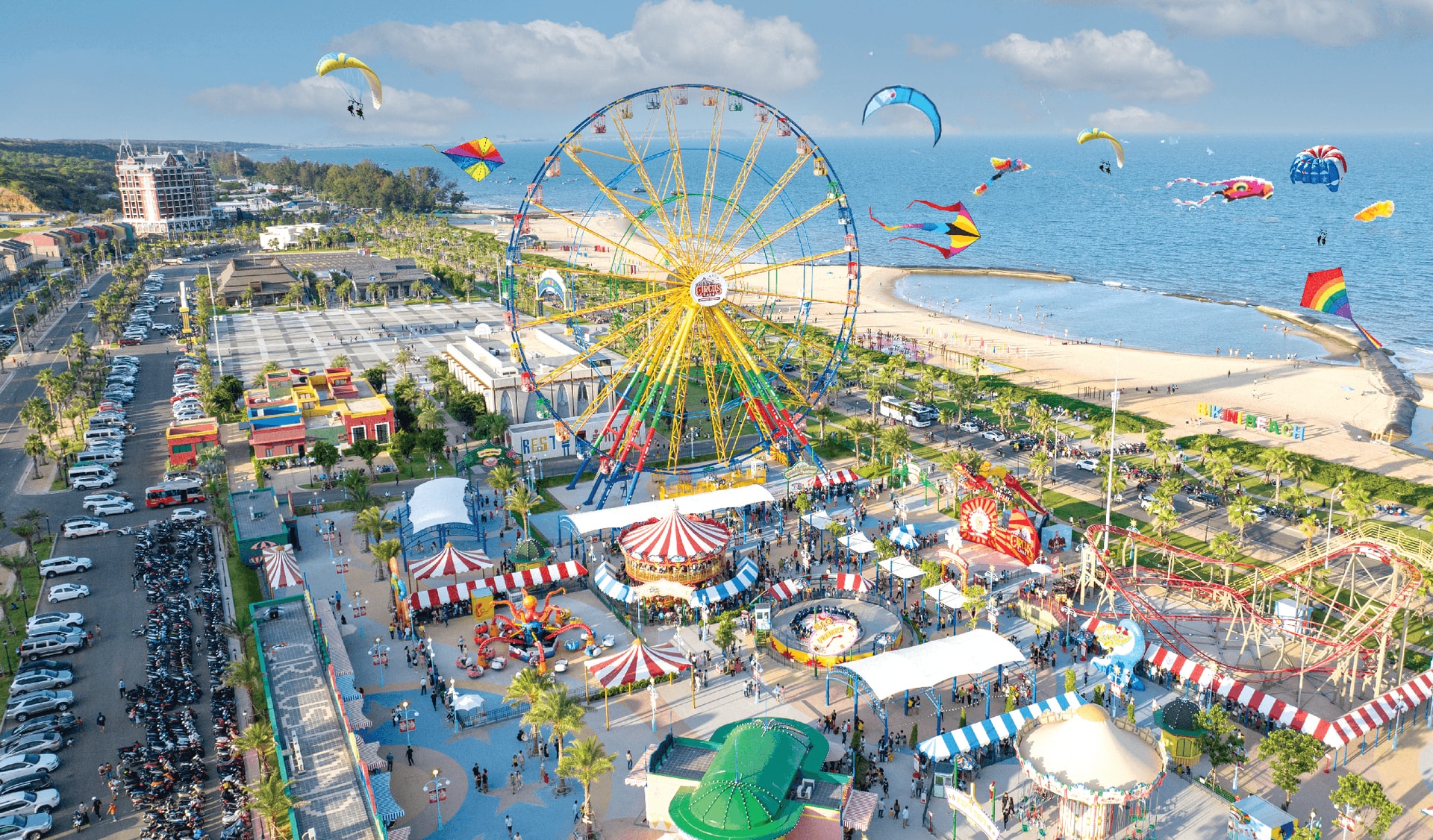 Accordingly, Binh Thuan focuses on the following issues, includiny: developing the cluster of marine economic linkages in the expanded Southeast region, in the sea and coastal areas of Binh Thuan, Ba Ria Vung Tau, and the Southeast of Ho Chi Minh City - Tien Giang with the region key development associated with the construction of a strong marine economic center of leading international stature in Southeast Asia; Priority sectors and fields such as International and domestic container seaports, ocean shipping and seaport logistics services, maritime, oil and gas exploitation services at sea, and inter-regional and international logistics services; Forming international trade and financial centers associated with trade and marine economy in Ho Chi Minh City into a major international trade and economic center in the region and Asia – Pacific; Mechanical engineering, automobile manufacturing and assembly, high-tech, electronic equipment, telecommunications, digital, and software; The textile and garment industry, the industry of producing consumer goods for export, and processing seafood are concentrated in industrial parks and export processing zones associated with seaports in the region; Eco-tourism, entertainment, and sea resorts of international stature are concentrated in Binh Thuan, Ba Ria - Vung Tau; Especially developing Binh Thuan as a center of international high-class beach resort tourism in the Asia-Pacific…;
Centara Mirage Resort Mui Ne is operated according to international 4-star standards to become an attractive place for domestic and foreign tourists; To create momentum for the province's tourism to develop, Binh Thuan strives to turn Mui Ne National Tourist Area into one of the leading destinations in the Asia-Pacific region by 2030.
Binh Thuan owns an increasingly complete transport infrastructure system, rich tourism potential with long beaches, unspoiled landscapes, fresh climate, etc; all these factors make Binh Thuan has been and will become an attractive destination for investors in the tourism industry. Explaining the continued "bright" of Binh Thuan tourism, experts say that the synchronous development of the transport infrastructure system is the foundation, therefore the inter-region are connected quickly and conveniently such as the Dau Giay - Phan Thiet highway project and some transport routes along the coast connecting with tourist centers of the province. Especially, the Phan Thiet Airport project is being urgently implemented aiming to put it into operation will help Binh Thuan become closer not only to domestic tourists but also a regular destination for international tourists soon. According to the plan approved by the Prime Minister, Binh Thuan province will become a center of tourism - sea sports, also Phan Thiet will become a sea tourism city of national stature.
The Government's policy not only opens up great opportunities for the development of Binh Thuan's tourism industry but also makes the locality become the focal point, attracting special attention from the tourism business, where Dubbed the "Resort Capital" of the country. The current reality shows that the flow of international visitors to Binh Thuan is increasing day by day, tourists not only come on holidays, and weekends but almost every day of the week. Travel activities have seen good changes, with better growth than before, and tours serving tourists are increasingly diversified. Support activities, entertainment services, and other services operate stably, increasing both in quantity and quality compared to the past. This is a positive signal after many efforts to restore and develop the province's economy, contributing to the realization of the goal that by 2023, Binh Thuan will be the host of the National Tourism Year and national and international tourism activities.
Recently, Binh Thuan has more and more new tourist attractions such as the super city of the sea - health - tourism NovaWorld Phan Thiet located right on the coastal road in Tien Thanh commune (Phan Thiet city), The tourist area The Happy Ride Glamping (Mui Ne ward, Phan Thiet city), Binh An hi-tech farm (Thuan Quy commune, Ham Thuan Nam district). Besides, there are also a series of international brands in the culinary field. such as Au Lac do Brazil restaurant, Marina Club, Seorae BBQ, Dynasty House, chain stores, famous coffee shops, Gloria Jean's Vietnam, and Phindeli Café... appeared for the first time locally bringing new international standards experiences for visitors and residents. There is also the appearance of large tourism projects such as Centara Mirage Resort Mui Ne, PGA NovaWorld Golf Course, and Anantara Mui Ne Beach Resort & Spa... Soon, some complexes will be completed, which can be considered as  the "highlights" of local tourism such as NovaWorld Phan Thiet with an area of ​​1,000 hectares, with a total investment of billions of dollars, Apec Mandala Wyndham Mui Ne has a scale of 4 buildings with 29th floor and nearly 3,000 rooms, etc.
The presence of international brands in the field of cuisine and resort has contributed to the local tourism industry a great opportunity for local workers to be trained to improve their skills and foreign languages, to be qualified for working in global branded restaurant chains.