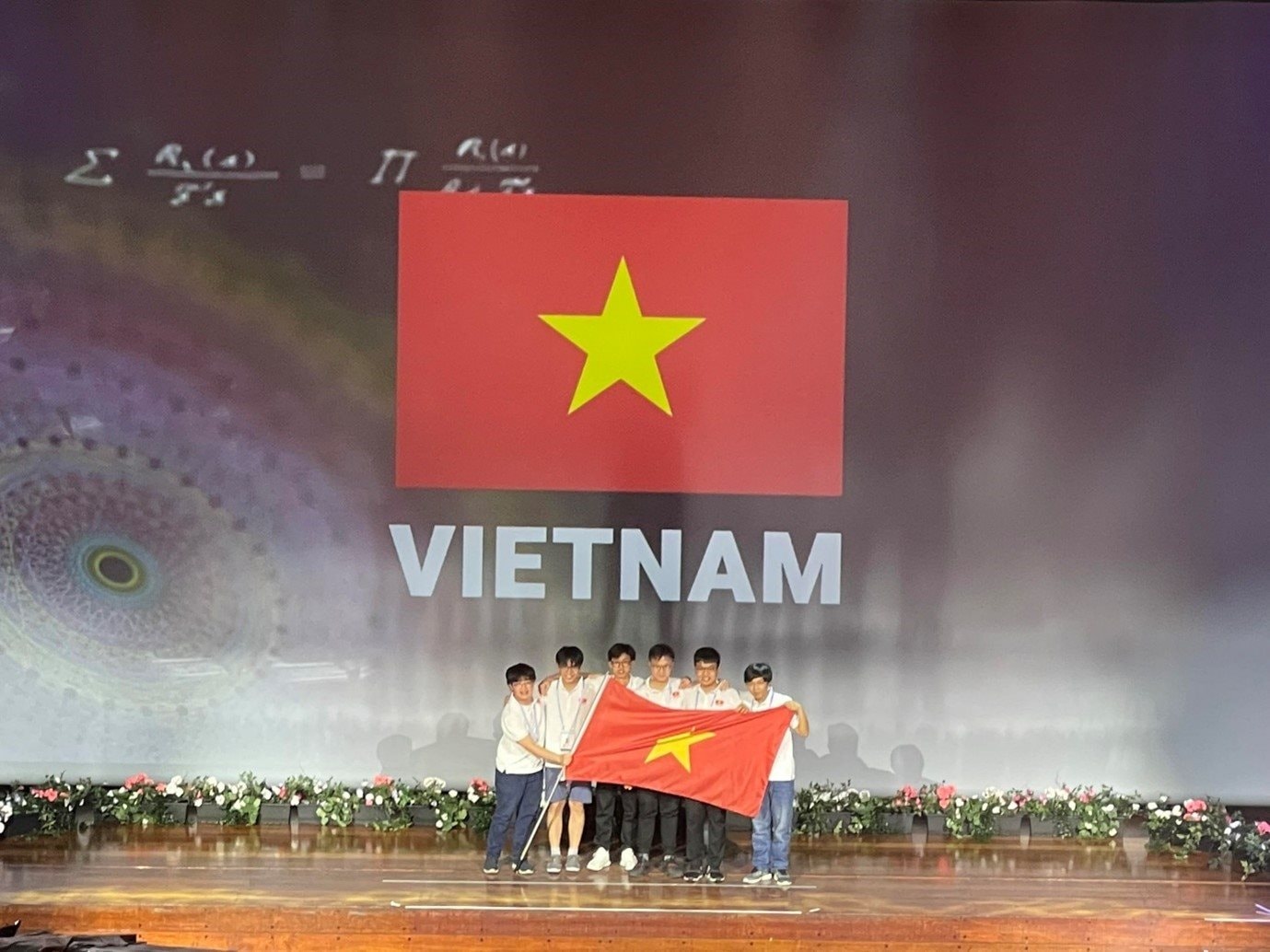 Among the six Vietnamese high school students, 12th grader Ngo Quy Dang and 11th grader Pham Viet Hung, both from the Hanoi University of Science's High School for Gifted Students, grabbed gold medals.
Of whom, Dang got a perfect score of 42 points.
In addition, silver medals went to Pham Hoang Son, a 12th grader of the High School for Gifted Students under the Vietnam National University, Ho Chi Minh City, and Nguyen Dai Duong, a 12th grader from the Lam Son High School for the Gifted in the north central province of Thanh Hoa.
Meanwhile, the two bronze medalists were 12th graders Vu Ngoc Binh and Hoang Tien Nguyen from the Vinh Phuc High School for the Gifted in the northern province of the same name and the Phan Boi Chau High School for Gifted Students in the north central province of Nghe An, respectively.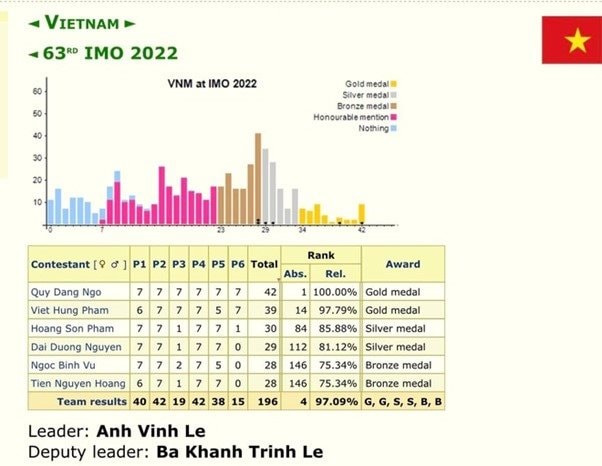 Thus, after two decades, a Vietnamese high school student has achieved the maximum score at the IMO.
Most recently, two local students obtained such achievement in 2003.
In 2020, Dang was the first 10th grader from Vietnam to participate in the IMO and scored 36 points, winning a gold medal.
With the results this year, the Vietnamese delegation ranked fourth among the 104 delegations taking part in the competition, following China, South Korea and the U.S., jumping 10 positions from the result last year.
In 2021, Vietnamese students won one gold medal, two silver medals and three bronze medals.
To date, 10 Vietnamese high school students have got a maximum score at the IMO.
The first one is Le Ba Khanh Trinh from Quoc Hoc - Hue High School for Gifted Students in Thua Thien-Hue Province.
Trinh attended the competition in 1979.
According to the Ministry of Education and Training, the achievements of Vietnamese students at this year's IMO continue to affirm the quality of Vietnam's education, despite the impact of the COVID-19 pandemic over the past three school years.
Hosted by Norway from July 6 to 16, the in-person IMO this year drew 104 delegations with 589 contestants, after being held online for two years due to COVID-19.
In the competition this year, 10 students got a maximum score.
Besides Dang from Vietnam, six other students from China, one from Japan, one from Ukraine, and one from Afghanistan achieved the same result.
The IMO is held annually, except in 1980.
The first IMO was held in 1959 in Romania, with the participation of seven countries.
It has been now attracted students from over 100 countries.