Joining the delegations, there were Mr. Brian Allemekinders - Head of Cooperation Department of the Embassy of Canada and Mr. Kiron Nath - Senior Investment Specialist of ADB. Mr. Le Van Quang - Chairman of the Board of Directors, Mr. Do Minh Loc - Acting General Director and heads of units of AGM Company attended the reception.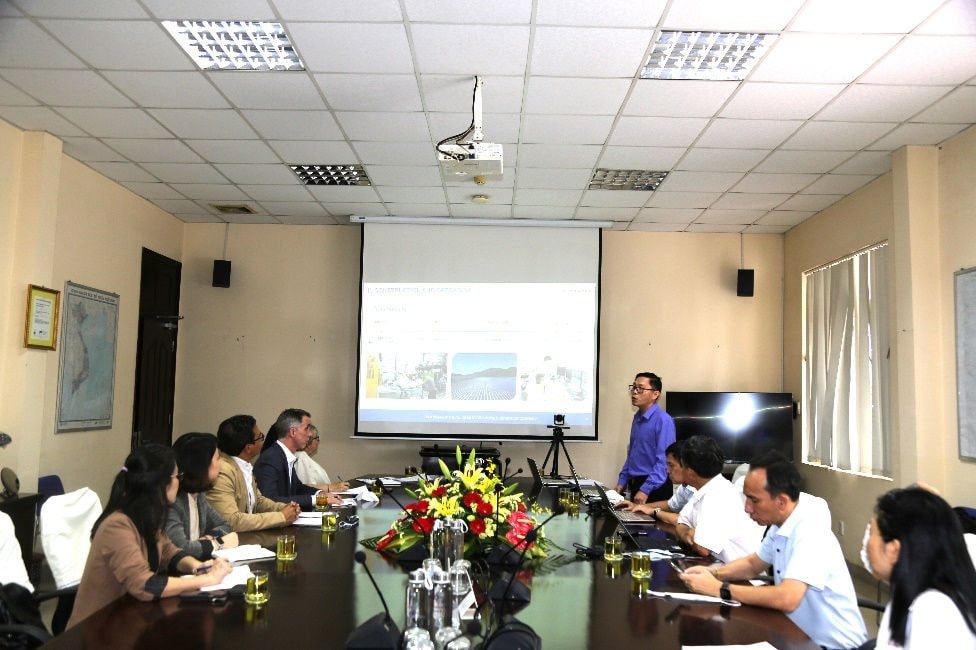 At the meeting, DHD company introduced the investment process of the Da Mi floating solar power plant project with an installed capacity of 47.5 MWp. This is the first floating solar power plant project on a hydroelectric lake in Vietnam using loans from ADB and the Government of Canada.
On behalf of DHD Company, Mr. Le Van Quang thanked the Government of Canada and ADB for funding to implement the floating solar power plant project on the Da Mi hydropower reservoir. With the support of ADB and its partners, the Company has successfully invested in the project, increasing the efficiency of power production in the Ham Thuan - Da Mi hydroelectric complex. It also helps create a clean and beautiful landscape and environment, contributes to the improvement of the environment and partially solves local labor needs during project implementation.
The project has opened a new investment direction in renewable energy development, a combination of hydroelectricity and floating solar power on the lake. Da Mi solar power project can be seen as a model for other hydropower units to refer to and invest in and develop renewable energy sources, Mr. Le Van Quang added.
Representative of the Canadian Embassy, Mr. Brian Allemekinders, said he was pleased that the Government of Canada had contributed to the successful implementation of the Da Mi Solar Power Project. In 2019, when it was put into operation, the Da Mi solar power plant project was the largest floating solar project in Southeast Asia, he said. During this trip, he wished that the General Assembly Company would share the difficulties in the project implementation process so that ADB and the Government of Canada can make appropriate adjustments to create favorable conditions for investors in accessing the project capital.
The representative of the General Meeting of Shareholders hoped that ADB and its partners should further simplify the loan procedures to shorten the loan agreement negotiation time, thereby helping investors to implement the project on schedule.
Representative of ADB, Mr. Kiron Nath wishes to go on cooperate with AGM Company in energy investment projects in the future, in line with the policy of the Government of Vietnam in Power Master Plan VIII.