Chairing the first meeting of the National Steering Committee for the Delivery of Vietnam's Commitments at the 26th United Nations Climate Change Conference of the Parties (COP26), PM Pham Minh Chinh, who is also the committee's head, said Vietnam's commitments made at the COP26 to reducing greenhouse gas emissions to zero by 2050 and methane emission by 30 percent by 2030 is in line with the national economic restructuring programme and the global trend of green, circular and digital economic development.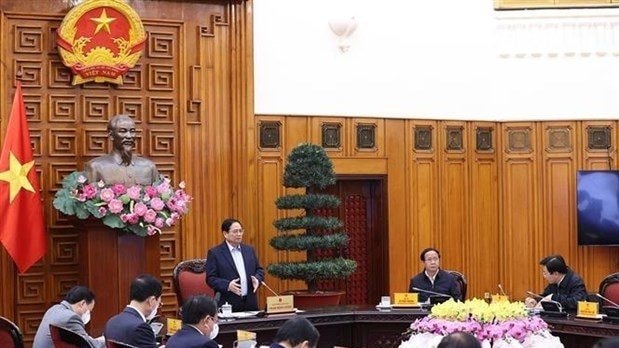 The Government leader emphasised that people and businesses should be the centre, the subject, the goal and driving force of climate change response.
He said climate change combat should be synchronously and effectively combined with green and digital transformation, and other transformations.
The entire political system should engage in and all possible resources at home and abroad should be mobilised for the effort, which requires high determination and drastic actions.
He instructed that this year, the steering committee and relevant ministries and sectors should build a comprehensive programme detailing forecasts, goals and tasks for climate change response to submit to the competent authorities for consideration. Each ministry and sector should build its own plan for fulfilling climate change commitments.
The leader suggested focusing on switching to green and clean energy, reducing the use of vehicles using fossil fuel, developing forest coverage and green urban areas, stepping up digital transformation and encouraging the involvement of businesses and people in the effort, among others.
PM Chinh asked members of the committee, ministries and agencies to meet partners, donors and scientists to acquire expertise, resources and experience, and choose qualified personnel with passion and dedication to realise the country's COP26 commitments.