Predicting this year will see more challenges than favourable conditions, the Government noted the country will face numerous challenges as a result of more complex and dangerous developments of the COVID-19 pandemic, while enterprises and people's resilience has been running down.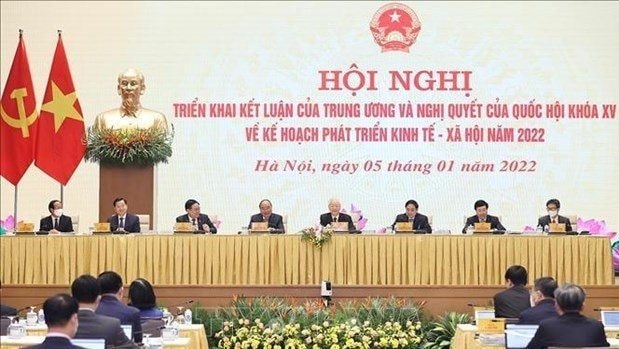 Given this, it will keep working to safely and flexibly adapt to and effectively control the pandemic, stay persistent in appropriate anti-pandemic measures to maximally protecting people's health and lives, further tackle production and business difficulties, and provide timely support for people and enterprises.
The Government views COVID-19 vaccination and medicine, along with people's improved awareness and sense of responsibility, as the decisive factors in the successful pandemic control so as to fuel socio-economic recovery and development, according to the resolution.
It requested attention be paid to three focuses: recovering and facilitating production and business activities, promoting export, and accelerating public investment and mobilising all resources for the development of infrastructure, especially strategic ones.
To achieve the set targets, the first solution is taking flexible and effective moves to concurrently fight COVID-19 and fuel socio-economic recovery and development.
Besides, efforts must be made to obtain a GDP growth rate of 6 - 6.5 percent and per capita GDP of 3,900 USD, continue sustaining macro-economic stability, keep the consumer price index (CPI) rise at 4 percent at the maximum, and ensure major balances of the economy, the resolution noted.
The Government demanded speeding up economic restructuring and growth model reform, disbursing all the planned public investment capital, and quickly developing a uniform and modern infrastructure system.
It also ordered tightening discipline; boosting the combat against corruption, negative phenomena, and wastefulness; and stepping up the streamlining and restructuring of the State apparatus.