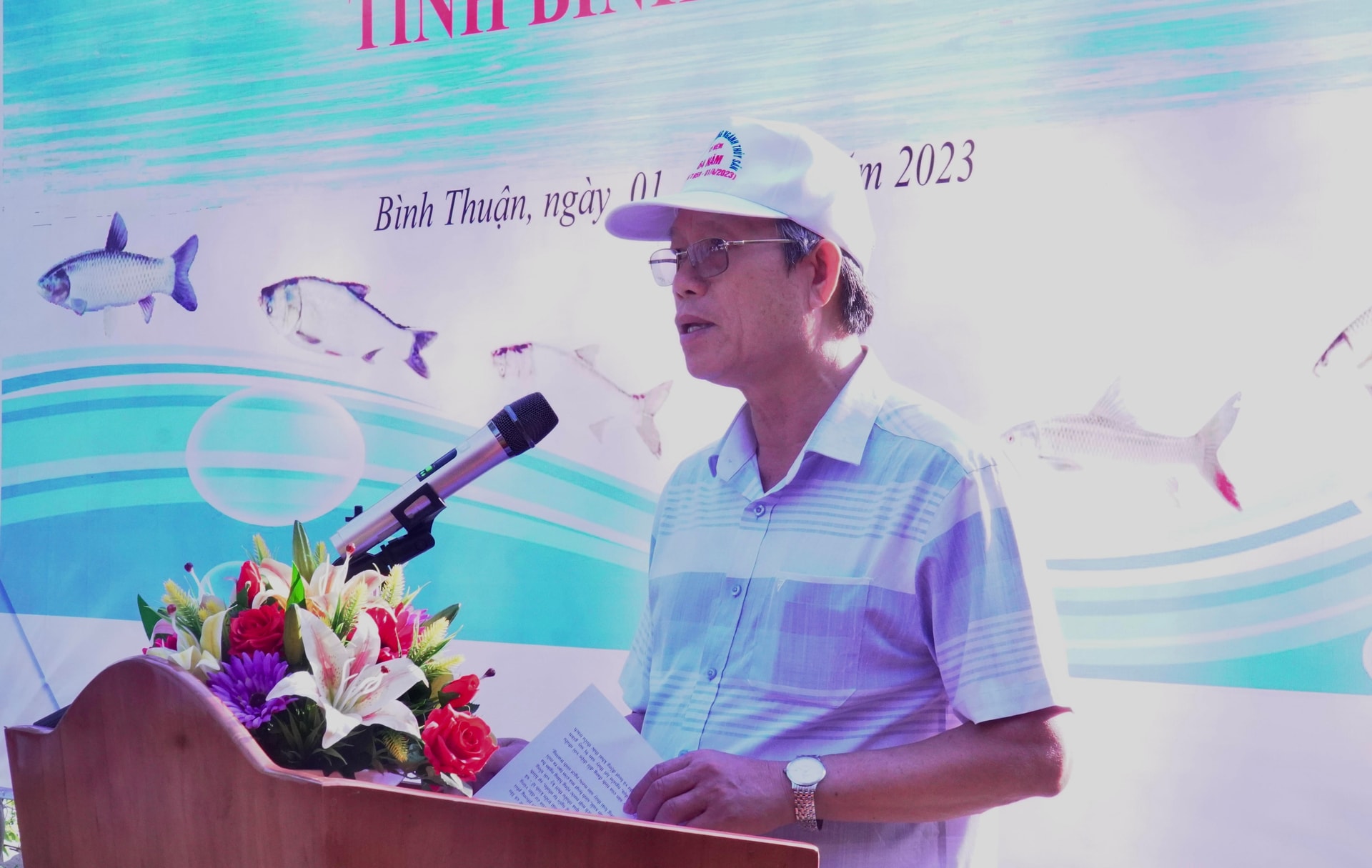 Mr. Phan Van Dang (second from left) at the fish release ceremony
Mr. Mai Kieu - Director of the Department of Agriculture and Rural Development confirmed that the activity of releasing fish breeders is a meaningful action that helps supplement and develop aquatic resources in the wild. It does not only help to regenerate aquatic resources, and keep the ecosystem balance, but also contributes to propaganda, raising awareness and responsibility of all officials, party members, civil servants, public employees, union members, and workers in the industry and agencies, organizations, associations and the entire people in the work of conservation, protection, and development of aquatic resources.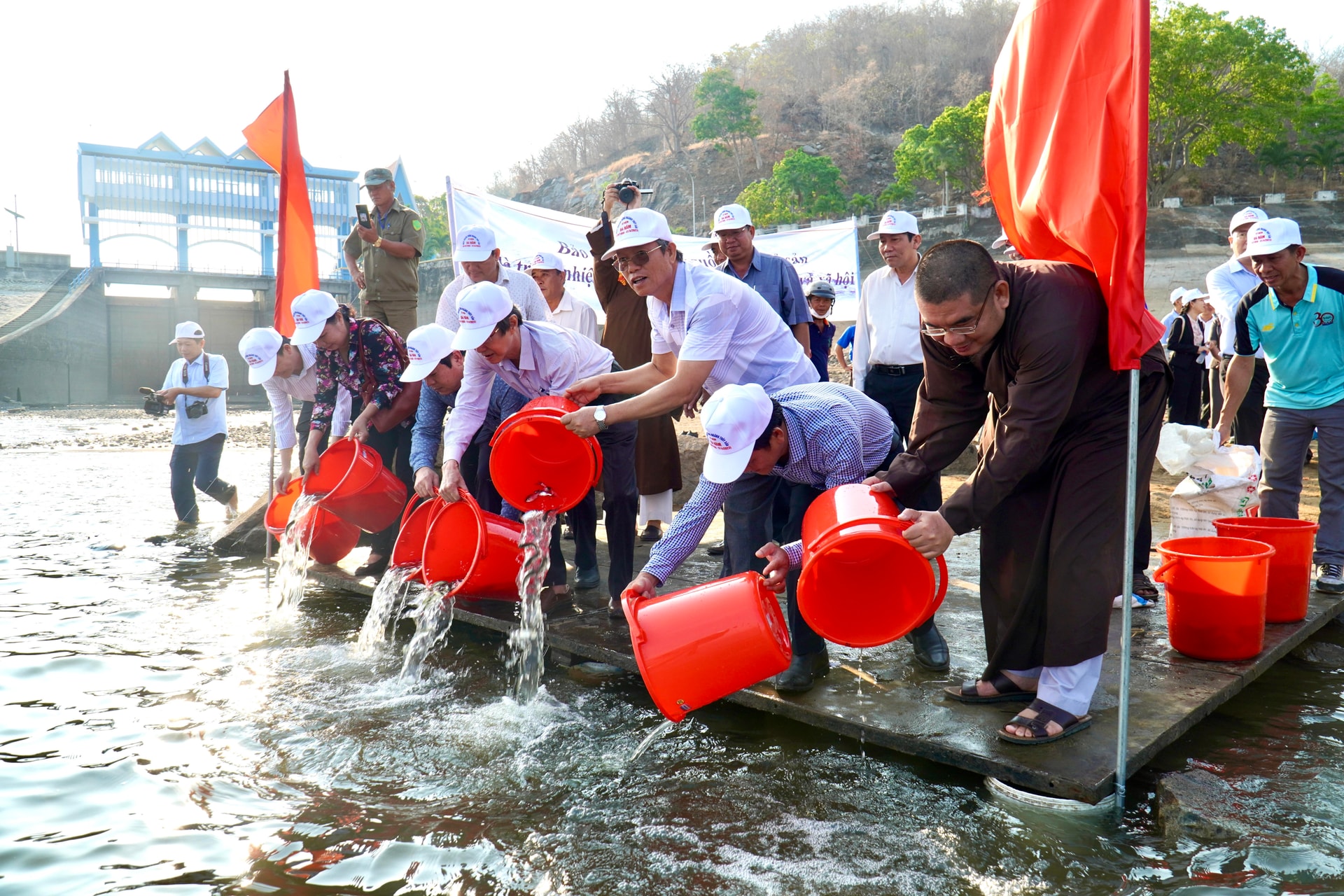 At the event, more than 60,000 popular freshwater breeders, including carp, chubs, etc. with sizes from 5-7 cm, no deformity, no scratches, and healthy, color shiny colors have been dropped into the lake.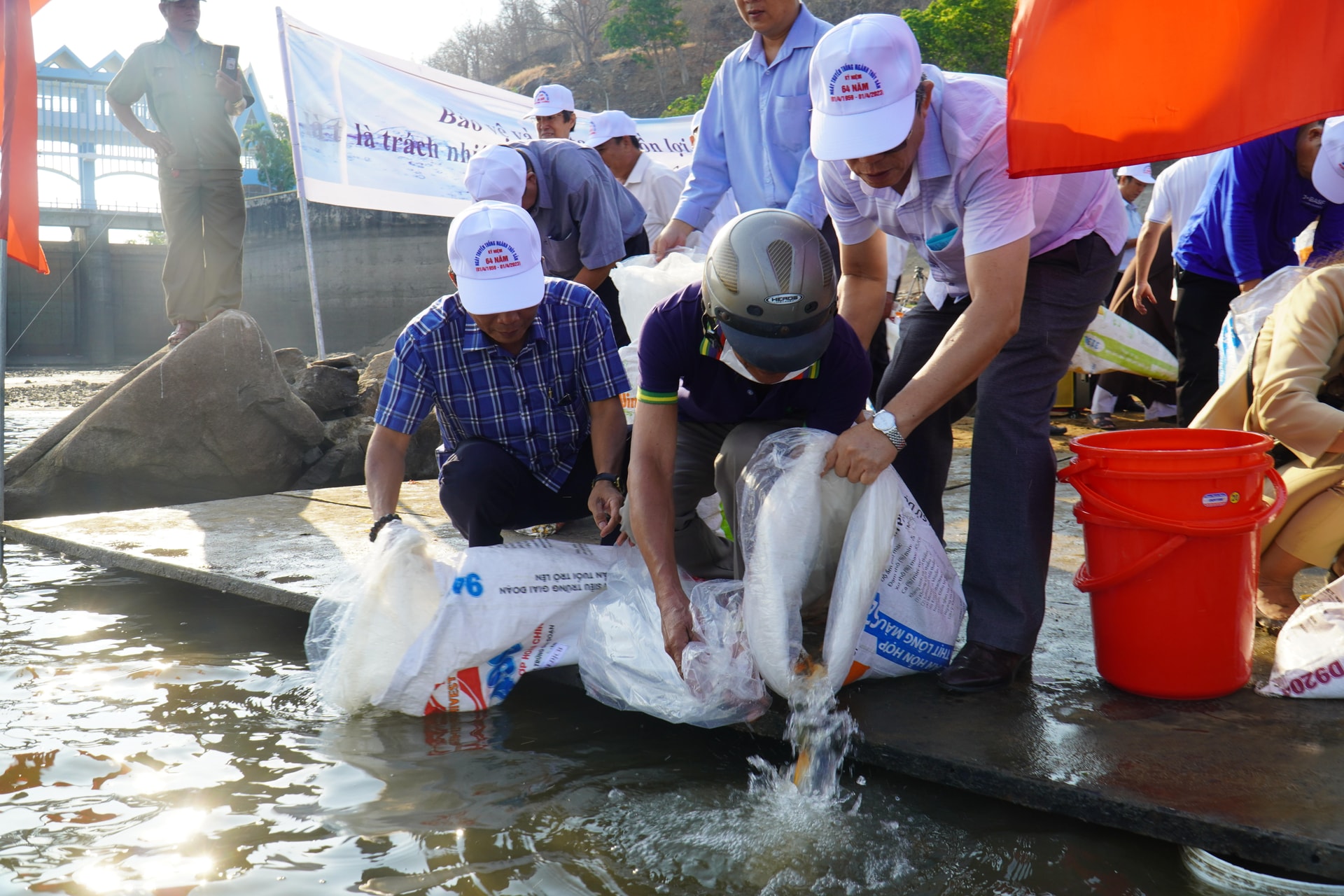 Song Quao Reservoir has a design capacity of 73 million cubic meters, an open surface area of about 550 ha, with a stable water source and good water quality. Those recently-released fishes are selected from a reputable nursery and seed production facility so that the breeders are quarantined to be grown well in the lake ecosystem. It is known that the entire funding is contributed to units, businesses, and associations of the seafood industry.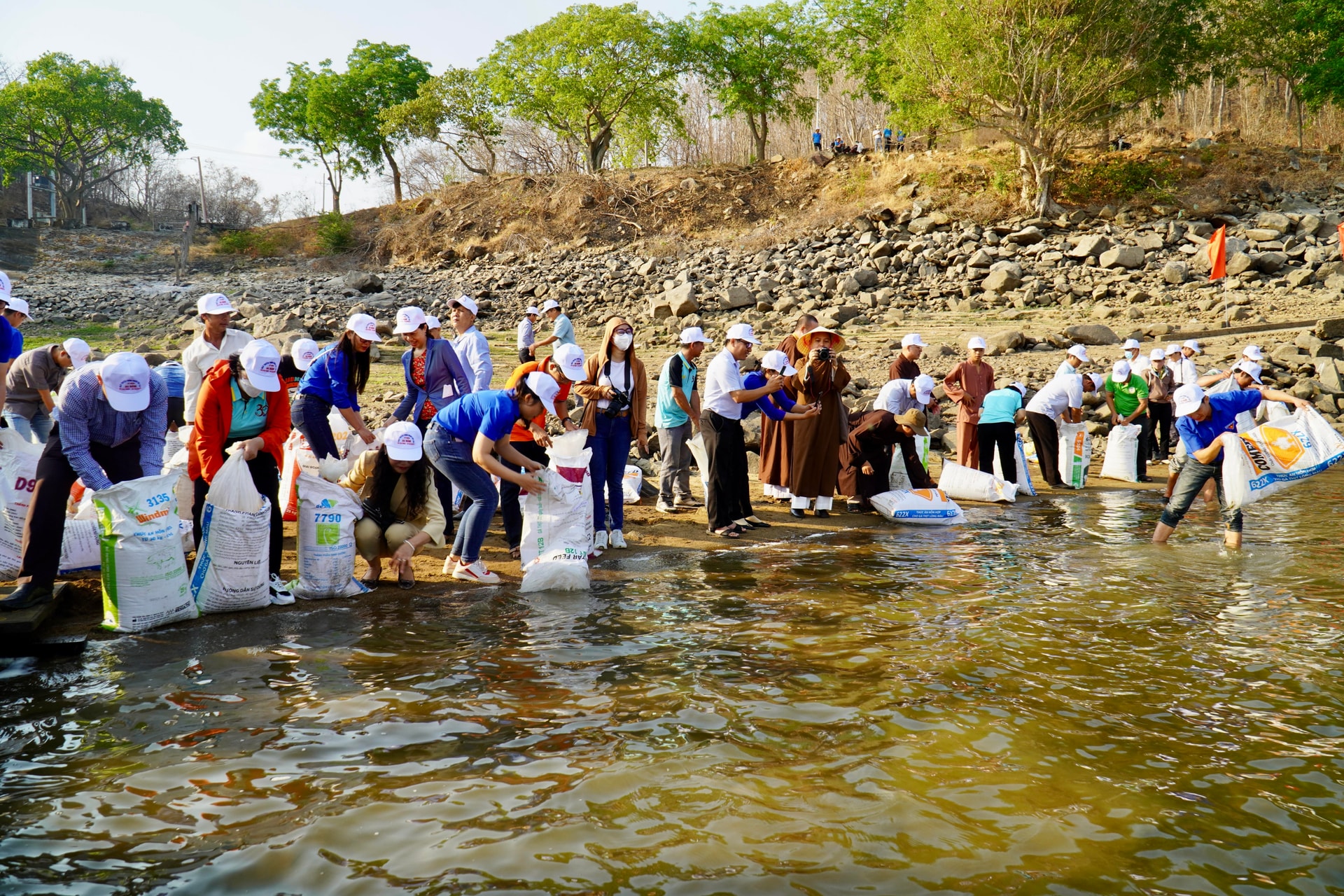 Speaking at the fish-breeders releasing ceremony, Vice Chairman Phan Van Dang called on functional departments, local authorities, associations, and mass organizations to continue promoting their roles and responsibilities in propaganda, raising awareness for officials, civil servants, union members and people in conservation, protection, and development of aquatic resources.
He asked the Department of Agriculture and Rural Development to coordinate with relevant departments, sectors, localities and organizations, and individuals to continue to maintain the stocking and regeneration of aquatic resources on the reservoir, contributing to the restoration, protection, and sustainable development of aquatic resources.
Binh Thuan is a province with a long-term tradition of fishing. With a favorable geographical position, large-scale fishing ground, and rich seafood resources with high economic value. Those are a source of life for coastal residents and make an important contribution to the process of socioeconomic development. In addition, the natural river system, the formation of lake systems, and irrigation dams have been invested over many periods with a total storage capacity of about 342 million cubic meters Such thousands-of-hectares water surface area does not only meet water demand for production and daily life but also creates a favorable living environment for many freshwater aquatic species to grow and develop.
Nevertheless, in recent years, the province's fisheries sector is facing many challenges. Particularly, habitats are threatened, and fishery resources are sharply reduced due to the impact of climate change and irresponsible fishing activities by humans. Therefore, the release of additional aquatic species and the development of aquatic resources in the wild is an urgent issue that requires entire levels, sectors, and people to join hands in the activity.
According to the Department of Agriculture and Rural Development, over the past time, it has coordinated with functional sectors and local authorities to implement many solutions to managing, conserving, protecting, and developing aquatic resources such as: strictly handling acts of violating the law on exploitation and protection of aquatic resources, especially acts of using explosives, electric pulses, poisons and prohibited fishing gear to exploit aquatic resources. In addition, the specialized agencies have coordinated to implement many practical programs, projects, and activities, especially releasing additional aquatic resources into water bodies to restore and regenerate aquatic resources.