According to the People's Committee of Lang Son province, in the coming time, the Chinese side will continue strengthening the strict prevention and control of the Covid-19 epidemic. Therefore, to make the fruit exporting through Vietnam's northern border gates more favorable, the People's Committees of districts/ towns/ cities, Dragon fruit Associations, and dragon fruit exporting enterprises in Binh Thuan should coordinate in implementing a number of contents, as follows:
In May 2022, the Department of Industry and Trade chaired and coordinated with relevant units to work with dragon fruit exporting enterprises on the implementation of the Covid-19 epidemic prevention and control for Vietnam's export goods as well as consumption issues over time. In the meantime, the Department of Agriculture and Rural Development (DARD) will supervise the management and use of the area codes for growing dragon fruits and packing codes for dragon fruits that have been issued according to regulations, especially for those establishments that are granted export codes to China. At the same time, the DARD strengthens the management of food quality and safety and strictly controls the use of chemicals, stimulants, weight gainers, etc in the entire chain of dragon fruit production and consumption to ensure safe production procedures.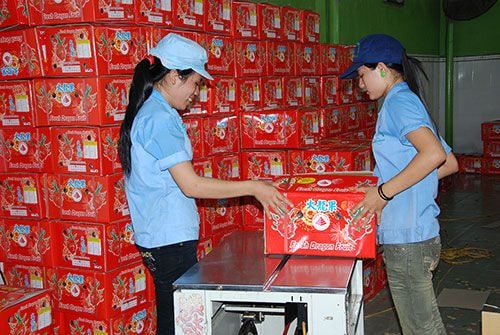 The implementation of measures to prevent and control the Covid-19 epidemic at companies, enterprises, cooperatives, dragon fruit packing, and purchasing establishments as well as other businesses, and individuals must be carefully conducted.
As for dragon fruit exporters, they must regularly update information, on import, and export situations as well as regulations on disease prevention, control, and control at northern border gates. Foremost, they should pay attention to performing export transactions according to international practices through foreign trade contracts, and strengthening product inspection before receiving and exporting goods. Besides, it also ensures disinfection for workers and workers during the production and harvesting process. On the other hand, goods and vehicles disinfection must be carried out from the steps of packaging, loading, and unloading vehicles for release so that no pathogens exist during the entire production process and transporting goods from the place of production to the border gate and until exported to China. It is suggested to continue good traceability, regulate product labels and packaging, manage business records according to the instructions of the authorities, ensuring the conditions for customs clearance when bringing goods to the border gates.