Diversity of farming objects
Amidst many difficulties due to the depletion of coastal seafood resources, in recent years, Binh Thuan has tried to invest in implementing the offshore fishing program in parallel with the thriving aquaculture movement in farm and household size, which has yielded encouraging results. Aquaculture in the province is gradually shifting towards industrialization, with increasingly diverse and abundant farming objects: shrimp seed, Vannamei shrimp, freshwater fish, grouper, pompano, lobster, cobia, etc. In 2021, the province's aquaculture production reached 12,680 tons, accounting for 88.1% of the year's plan (14,400 tons), up 5.2% over the same period in 2020; in which, the output from brackish water (shrimp) is 7,175 tons, freshwater is 5,044 tons and saltwater is 462 tons.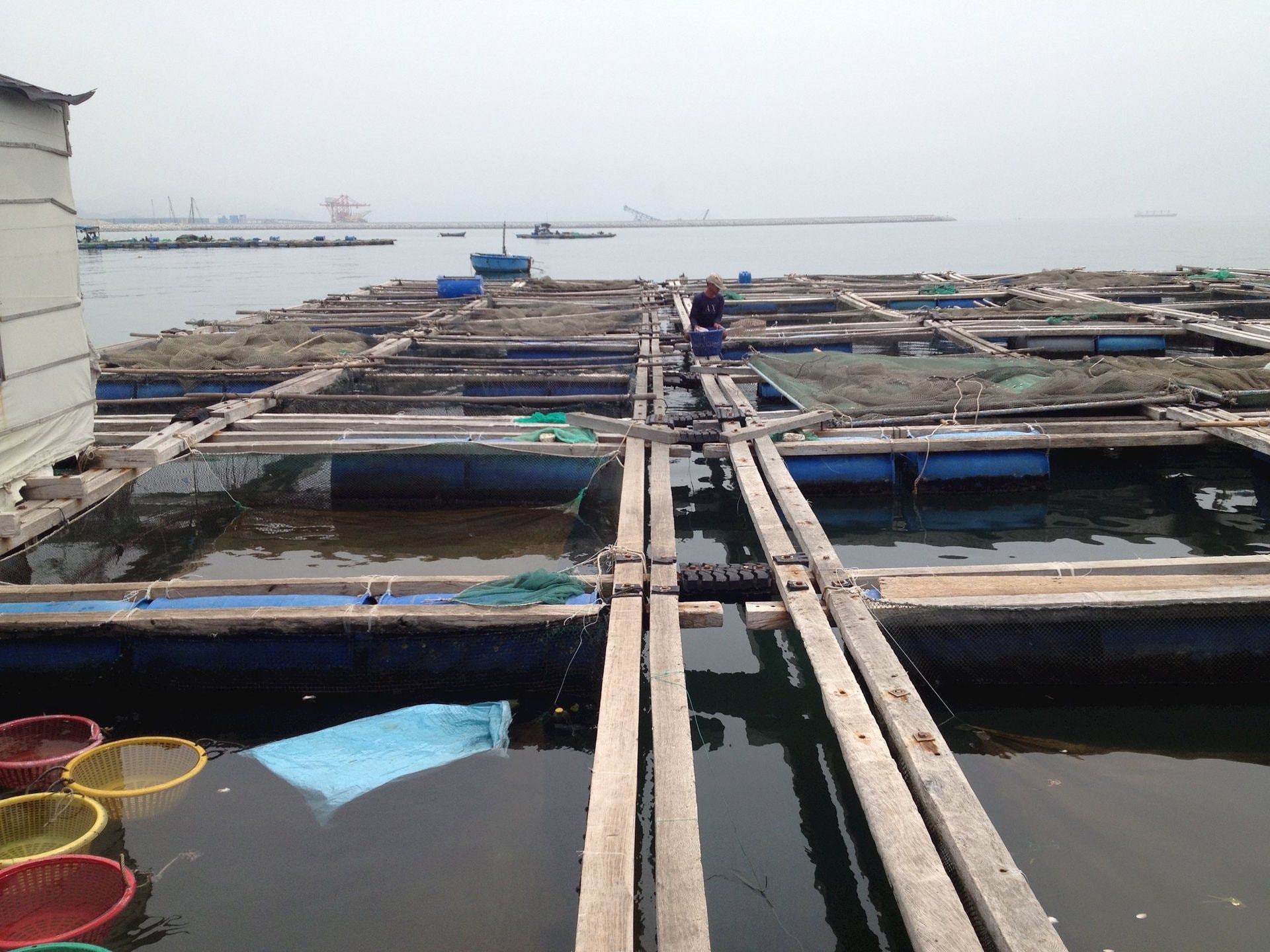 Referring to brackish water shrimp, mainly Vannamei shrimp, Binh Thuan has a large commercial shrimp farming area of 898 hectares. Harvest output reached 7,175 tons, an increase of 49 tons compared to the same period in 2020, the average shrimp yield reached 8 tons/ha. The market for brackish water shrimp in the province mainly consists of merchants in neighboring provinces such as Ninh Thuan, and Vung Tau provinces and seafood processing companies at Phan Thiet fishing port such as Branch of Co., Ltd. ZhongYu Seafood Import-Export, Hai Thuan Co., Ltd, and so on. In 2021, brackish water shrimp farming in the province did not go well due to the influence of Covid-19 epidemic, so the price of commercial shrimp sharply dropped, sometimes there were even no buyers, while the price of input materials increased.
Currently, the province has 67 Vannamei shrimp farming establishments with an area of 120 ha of water surface, that have converted to new farming technology in 2 or 3, 4 stages, combining round or rectangular ponds with an area from 1,000 - to 1,200 m2. This new farming technology has provided better control of the farming environment and diseases in the initial stage, and high stocking density (about 1,500-2,000 PLs/m2). Therefore, the productivity increased by 25-30 tons/ha/crop, an average of 3 crops annually. Besides, shrimp seed production is also developing in the direction of focusing on large-scale investment, and the number of small production facilities is rapidly decreasing.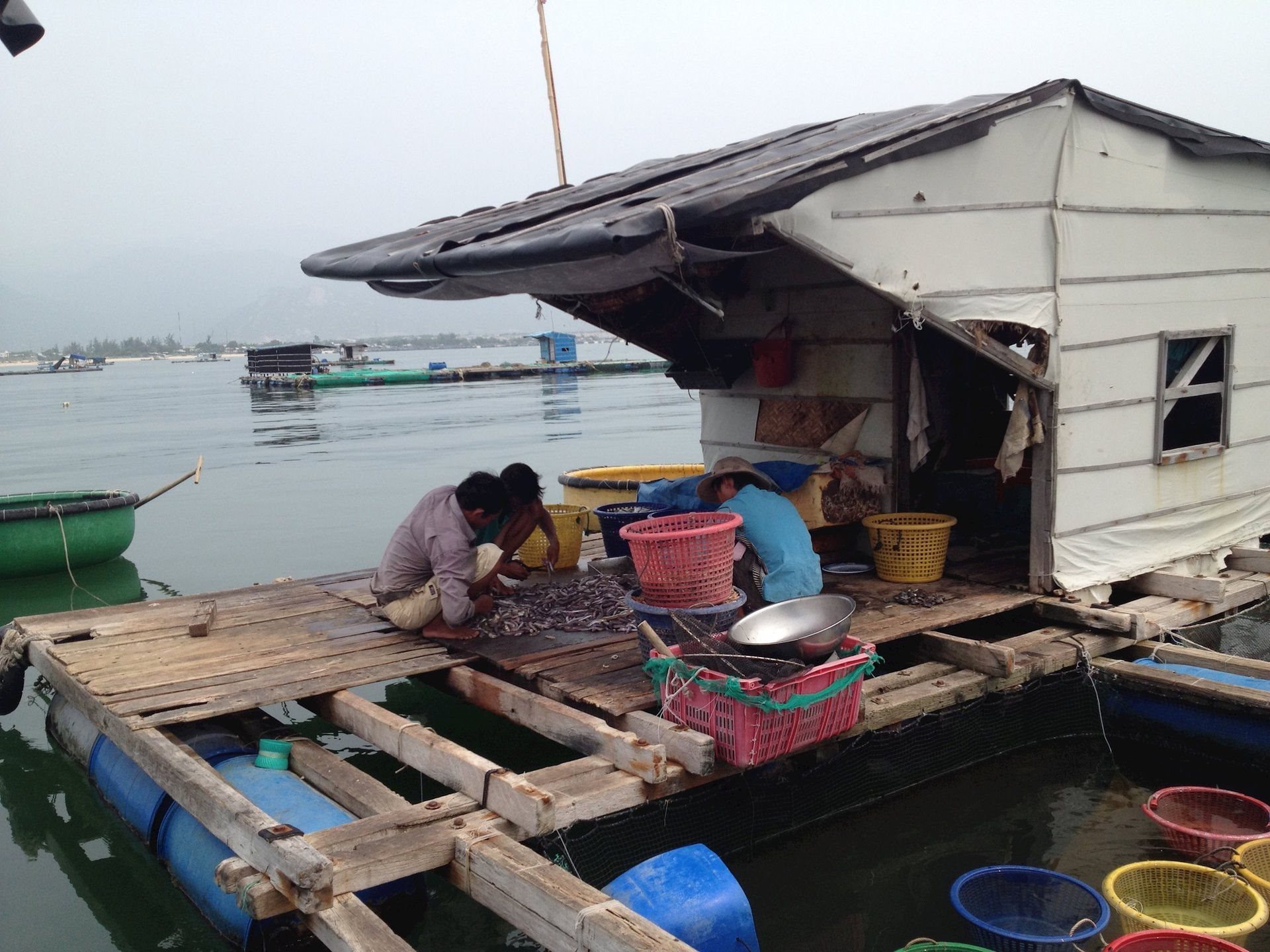 In addition, freshwater aquaculture, and cage culture along the coast, around islands, ponds, lakes, and lagoons along the coast are also quite diverse and stable in the whole province. However, like other industries, in 2021, due to the influence of the Covid-19 pandemic, the local aquaculture sector faced various difficulties in terms of consumer markets, so the sales of farmed shrimps and fish were slow at cheap prices and with few buyers. Furthermore, during the farming process, fishes may die from lacking oxygen or sunny and hot weather that favored the abnormally strong growth of algae and seaweed, especially in Phu Quy and Tuy Phong's Vinh Tan commune.
The rate of issuance of certificates of farming registration is low
In 2022, it is forecasted that aquaculture in the province will continuously face several difficulties as high input material prices lead to increased production costs and lower the economic efficiency of farmers. Besides, the consumption market has not yet recovered, is unstable, and is highly dependent on the development of the Covid-19 situation of the whole country and the world. Therefore, Binh Thuan needs to set up long-term solutions for people to boldly change models, applying scientific and technical advances to aquaculture to gradually affirm the aquaculture potential of the province.
Remarkably, according to regulations from April 25, 2019, to April 25, 2020, cage aquaculture establishments, the main aquaculture object (shrimp farming) must register to issue a certificate of farming registration. However, up to now, the results achieved in the whole province are still quite low. The whole province currently has 96 cage aquaculture households, both coastal and around islands, but so far, the Sub-Department of Fisheries has only received registration documents and issued Certificates of Farming Registration for 30 cage culture households in Phu Quy island district (accounting for 31.3% of the total number of farming households). The farming households of the remaining districts have not yet submitted registration documents because there has not been a decision on the allocation of marine areas for aquaculture in the district.
For the main farming object, Vannamei shrimp, up to this point, the Sub-Department of Fisheries has just received the application and issued Certificates of Farming Registration to 13 Vannamei shrimp farming establishments, or 228.49 ha (accounting for 27.5% of the farming area); while the whole province currently has 479 farming establishments or 832 ha of commercial shrimp farming.
According to the Division of Fisheries, the registration rate is low because many aquaculture households in the province do not have a Certificate of Land Use Right or Certificate of Land Use Right for aquaculture purposes. In addition, many farming households have mortgaged their Certificates of Land Use Right to banks for investment loans, therefore, they lack documents to register for farming according to regulations. For that reason, in the coming time, the Division of Fisheries will coordinate with localities to strengthen propaganda, popularize and guide organizations and individuals to properly meet the conditions for aquaculture, register for Certificates of Farming Registration, and comply with other regulations in the Law on Fisheries 2017 and Decree No. 26/2019/ND-CP. Through the issuance of certificates of aquaculture registration, in order to support the farmers to comply with the provisions that the Law on Fisheries promulgated, if the farming household does not have a Certificates of Farming Registration from the Division of Fisheries, they will be fined according to Article 17 of Decree No. 42/2019/ND-CP, with a fine of VND 10 - 65 million, depending on the violations.
"Under the 2022 plan, the total aquaculture area is expected to reach 2,705 ha, of which brackish water (shrimp) culture is 890 ha, freshwater is 1,800 ha and saltwater is 15 ha. Aquaculture output reaches 14,400 tons, up 13.6% compared to the achieved results in 2021, of which brackish water culture is 9,000 tons, freshwater culture is 5,000 tons and saltwater culture is 400 tons."