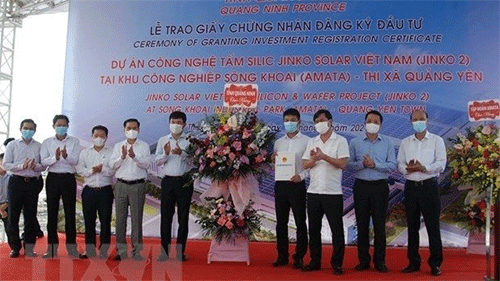 At the ceremony (Photo: VNA)
The construction of the project will start in late September and it will produce its first silicon wafers in December.
Speaking at the handover ceremony, Chairman of the provincial People's Committee Nguyen Tuong Van said it is the second project by Jinko Solar in Song Khoai industrial park in Quang Yen township over the past six months.
Covering an area of 20.1 ha, the project is the highest worth in the province with an aim to manufacture, install and sell single-crystal silicon ingots and wafers, as well as study science and develop technologies.
It has a designed capacity of nearly 1.43 million silicon wafers each year. Once operatioal, the project is expected to attract 2,188 workers, including 1,946 domestic workers and 242 foreign experts and technicians.
Van asked the management board of Quang Ninh IPs, authorities of Quang Yen township, departments and agencies concerned to offer all possible support to the investor in line with the law.
Quang Ninh is expected to licence new projects and adjust capital in existing projects at a total value of some US$1.2 billion by the year-end, more than doubling the figure in 2020. In the first nine months of this year, the province drew US$1.067 billion in new and existing projects, compared to US$398 million in the same period last year.
Source: NDO