Cooperation opportunities
The conference was co-held by the Vietnam Trade Office in Singapore and the Departments of Industry and Trade of the 3 localities, the Singaporean Business Federation, Singaporean Chamber of Commerce and Industry. Although it was the pilot promotion in its first time in Singapore, more than 100 enterprises registered to participate right after 1 week when the event was advertised on the Trade Portal. In which, more than 50 Singaporean businesses asked for joining the "one-to-one connection" activity along with Vietnamese businesses under the interpretation assistance.
Due to technical conditions, the Department of Commercial Trade has to limit the number of Singaporean businesses participation in this online conference.  Such enthusiasm showed the foreign partners' interest in the investment opportunities in the three localities of Binh Thuan, Ninh Thuan and Lam Dong.
During a talk with Mr. Kuah Boon Wee – Vice Chairman of Singaporean Chamber of Commerce and Industry highly appreciated the cooperation opportunities between the stakeholders. Thanks to good mutual trade relations between Vietnam and Singapore, the Singaporean enterprises have continuously invested in the S-shaped country of Vietnam over the recent years. As a result, Singaporean partner has become the Vietnam's biggest investor in the ASEAN and the third-biggest one in the world.
Otherwise, Ms. Tran Thu Quynh – head of the Vietnam Trade Chamber in Singapore stated that: in the context of the geographical obstructs of epidemic, the online conference has created chances for businesses of the two countries. In other words, this is regarded as a method to cope with the current failure of supply-demand and business solutions to overcoming enterprises' challenges, etc.
Such activity is also a practical support for business in connecting and removing difficulties in input materials and output products, supporting the connection on budget, technology and brand names.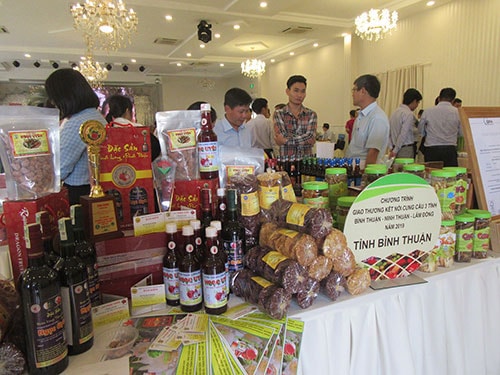 Binh Thuan has several potentials and advantages for investment
Binh Thuan offers many investment incentives
Thanks to Binh Thuan's potentials and advantages, representative of the local Department of Trade and Industry has introduced a majority of major investment areas to the Singaporean firms. Of which, smart agriculture, modern technique and technology application in automatic irrigation, water-saving, post-harvest preservation, etc. are the local strengths. Additionally, Binh Thuan has enough capacity to build up a valuable chain of cultivation, husbandry and processing at international standards that can adapt to climate change and bring high economic values, etc.
All the Binh Thuan's major products have so far impressed on the Singaporean partners as those have been exported to big markets. In particular, Seafood are mainly exported to Japan, South Korea, Italy, the UK, the US, etc. while farm products,  especially dragon fruit, are favored by the markets in Asia, Europe, Africa, and Oceania. Garments is now meeting the needs of customers and competing with the same categories on markets. It can now penetrate into markets of Japan, Taiwan, and China.
In the meantime, footwear has many consumption markets, including: Canada, Spain, China, Swiss, Japan, Italy, Netherlands, the US, and Singapore. Binh Thuan's Wooden products and Wood has also entered the markets of the US and Belgium.
The event has helped local businesses grasp chances to exchange information, learn about the Singapore market and the investment potential of businesses in this island country. Thereby, they can look for partners to cooperate in joint ventures as well as do business, operate, manage, and invest in your projects in Binh Thuan, or look for importers and distributors in Singapore. More specifically, Binh Thuan invites investment in an irradiation and heating factory (sterilization of vegetables and fruits, especially dragon fruits) for export, and a factory processing of dragon fruits (soft drinks, dried products). Besides, it is possible to promote investment projects on manufacturing, processing machinery and equipment for fishing activities, agricultural mechanics or rubber latex processing factories, wood processing, garment processing, leather shoes, electronic and electrical components assembly.
Via such online trade connection conference, Binh Thuan and Singaporean businesses accessed to a "close-up" view between the two sides in terms of cooperative prospect, and a step toward contract –signing in the upcoming periods.
Binh Thuan owns competitive advantages thanks to favourable position of Vinh Tan international Port to the North of which can receive vessels with capacity of up to 50,000 DWT and a vision toward 70,000 DWT. Besides, the Son My Port, which can welcome vessels with 100,000-DWT capacity, is also planned and developed to the North of Binh Thuan. Thus, the locality is calling upon the Singaporean businesses for investing in the development of Tuy Phong district's Vinh Tan international port.
Translated by My Thien (Source: Binh Thuan Newspaper)