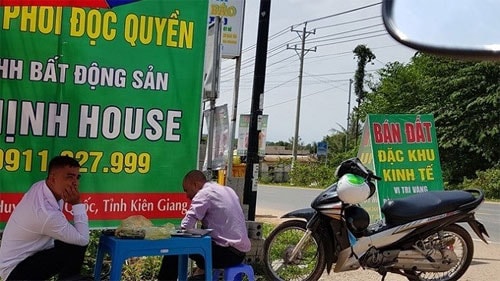 Land "fever" in the planned Phu Quoc special administrative economic zone
in southern Kien Giang province. (Photo: theleader.vn)
This was heard at the Vietnamese business forum: voices of property companies in the 2018-19 period held in Hanoi this week. The forum was under the award ceremony of BP500- Top 500 Best Prosperous Firms 2018 in Vietnam.

The report based on a survey of the top 500 companies showed that real estate would continue to be a stable and attractive profitable channel this year.

However, the competition would also be fiercer as the market has high integration, requiring businesses to pay attention to sustainability and longevity of their projects.

The report also revealed that the macro-economy which was expected to have stable growth this year would be a pre-condition for estate, construction, retail and high quality agriculture sectors in the upcoming time.

Prof  Dang Hung Vo, former Deputy Minister of Natural Resources and Environment, said the shortage of information in the property market has been a big issue for its development.

Recent land fever in special administrative economic zones as well as other forecasts on the real estate market is only "qualitative", Vo said, adding that the market still lacked of published information.

He gave an example that such information of how many condotels will be offered in central Da Nang city and whether capital should flow into the real estate market or not should be published.

"If we do not have data, we cannot discuss about development, forecasts and co-operation among investors in the estate market," he added.

Vo suggested that the Government should have real and open data to help investors have an overall view about the market.

Sharing the ideas, Dang Huy Dong, former Deputy Minister of Planning and Investment, said there should be cooperation between the Government and businesses to ensure information in the market.

Dong said the property market has not had information only on estate projects but also materials, suppliers and finance.

"The real estate market has been an important index of the economy in addition to securities and the macro-economy," he said.
Source: VNA