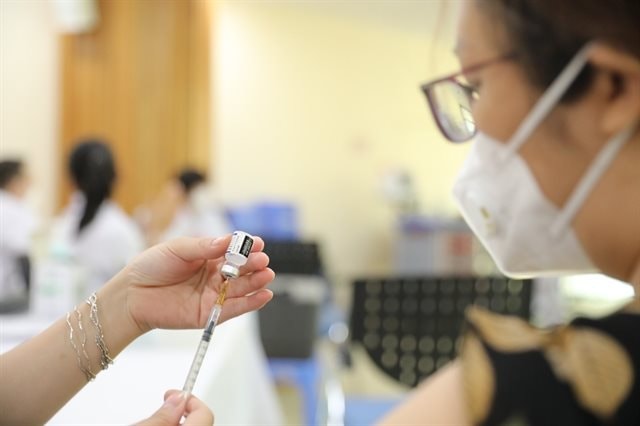 According to the ministry, in Vietnam, the pandemic has basically been under control across the country, but the two above-mentioned variants have been detected in the community.
The ministry predicts that the number of COVID-19 cases may continue to increase and break out on a large scale again if no drastic measures are taken.
The ministry proposed the chairpersons of the People's Committees of provinces and cities strictly implement directions of the Government and the Prime Minister, and carry out measures on pandemic prevention and control.
The local departments of health were asked to work with the Institute of Hygiene and Epidemiology or Pasteur Institute to carry out sampling and sequencing of genes to early detect dangerous new variants of the SARS-CoV-2 virus.
The Departments of Information and Communications should strengthen the dissemination of vaccines, as well as information on their benefits and effectiveness, while the Departments of Education and Training should coordinate with the health sector to accelerate inoculation in schools.
So far, the country has recorded over 10.75 million cases of COVID-19 infections, with 43,089 deaths (0.4 per cent of the caseload). Over 235 million doses ofCOVID-19 vaccines have been administered, including 18.73 million for children aged 12-17 and 9.12 million for children aged 5-11 years old.
The health ministry also warned of the expanding dengue fever outbreak in many localities, especially in the southern region, as conditions are conducive to the reproduction of mosquitos.
The ministry noted that after two years of intense COVID-19 combat, many preventive health officials and treatment doctors have not received training or re-training – especially at private facilities – in how to deal with the dengue outbreak.
Localities, households and individuals are urged to strongly carry out environmental sanitation campaigns to kill off mosquito larvae in July and maintain this task once a week in high-risk areas, once every two weeks in areas with a high index of mosquitoes and larvae, and once a month in the remaining areas.
By July 4, 92,000 cases of dengue fever have been recorded, up 15,000 compared to the previous 10 days, resulting in 36 deaths.