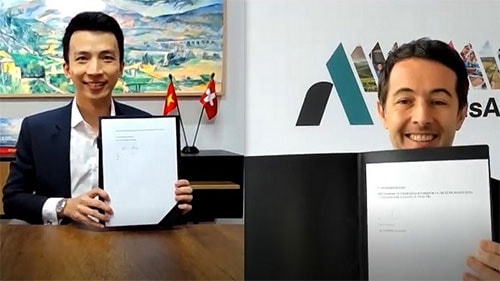 Representatives from CMES and responsAbility Investments AG sign the deal on green power development in Vietnam.
The financing package aims to support CMES to promote green power for the commercial and industrial segment in Vietnam, as the company plans to expand its projects that allow clients to directly consume green energy through the "Zero Cost Investment" model.
Accordingly, CME is responsible for 100% of investment, installation, operation and maintenance of the solar system, offering customers green energy with special lower prices, while ensuring harmonisation of business development goals with socio-economic and environmental sustainability, meeting the United Nations Sustainable Development Goals.
In addition, the funding is also expected to allow CMES to enhance sustainable use of natural resources as well as preventing nearly 1 million tonnes of CO2 from entering the atmosphere every year.
The renewable energy sector gets wide approbation globally and Vietnam is no exception. As of December 2020, the total installed capacity of solar power across the country reached about 19,400 MWp, according to statistics from Vietnam Electricity (EVN).
Since 2018, CMES has served over 100 clients across 20 industries, with over 200 million MWp having been installed and over 2GWh of electricity generated each year.
Most recently, in January 2021, CMES inaugurated the first rooftop solar power project at the cargo port of Tan Son Nhat International Airport. The project provides 1.5 million kWh of electricity annually, reaching 40% of the cargo port's electricity demand and saves about 15% of energy costs, reducing emissions by 1.5 tonnes of CO2 each year.
As a sustainable asset manager, headquartered in Zurich, Switzerland, responsAbility Investments AG manages 3.5 billion USD of assets invested in over 250 ESG-managed companies across 68 emerging economies. Since 2003, responsAbility-managed funds have disbursed more than 10 billion USD in the financial inclusion, sustainable food, and climate finance sectors that directly support the United Nations Sustainable Development Goals.
Source: NDO