18 key initiatives
Included in the implementation plan of the newly-signed project "An orientation for Binh Thuan tourism development by 2025, with a vision towards 2030" clearly stated: With available strength, Binh Thuan tourism is able to develop following the 4 main topics: Sea tourism, entertainment; adventure tourism and sports; medical and relaxation tourism; Recreational Business.
To put forward the project, the province will focus on implementing 18 key initiatives, including 9 leading initiatives, to meet the needs of the target customers. Specifically, the iconic marina, the outdoor shopping center, eco-exploration activities, multi-purpose sports complexes ... For 9 initiatives on infrastructure and support conditions will be top prioritized and favored so that visitors can access to the locality within a shorter travel time. Such priorities are upgrading trains, constructing new highways, airports, waterways, along with important urgent needs towards the "Green Destination". Besides, it is better to focus on constructions of tourist villas and apartments to attract secondary investors, potential customers with high spending levels.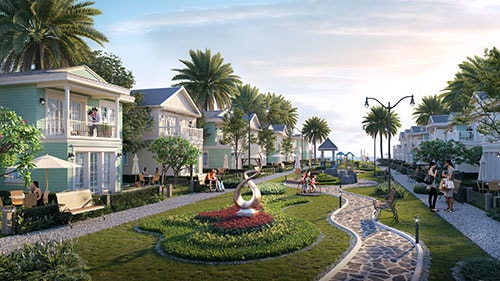 A
part
of NovaWorld Phan Thiet project in Tien Thanh commune in the future.
To gain achievements in project-implementation, Vice Chairman Nguyen Duc Hoa urged the Department of Planning and Investment to continue calling for investment promotion of tourism development projects of the province. In which, it must pay attention to  develop key tourism projects, located at National Tourism Area of Mui Ne and satellite areas, under the Project An orientation for Binh Thuan tourism development by 2025, with a vision towards 203". At the same time, it should create favorable conditions and provide guidelines preferential procedures and policies for investors in order to improve tourism development infrastructure in Binh Thuan province as soon as possible.
Potential promotion goes on…
Being the southernmost coastal province of the Central Vietnam, Binh Thuan is adjacent to the southern key economic region, including diverse resources and a 192 km long coastline. Binh Thuan converges many conditions for economic development. A number of breakthroughs on key transport infrastructures such as Vinh Tan International Port come into operation, Dau Giay - Phan Thiet - Nha Trang expressway are rushing to kick-start while Phan Thiet airport project has many progresses.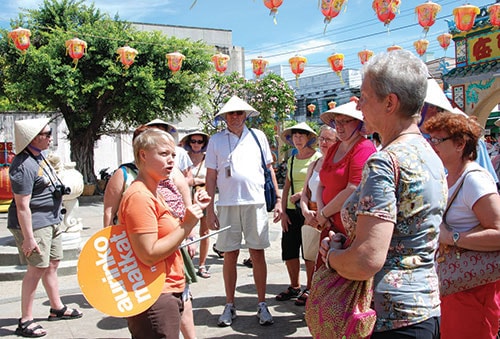 Coastal route DT719, Phan Thiet - Ke Ga section
In the near future, Binh Thuan is a bridge to fill the gap among the Southeast - Central Highlands - South Central and the southern key economic regions. Especially recently, the provincial People's Council officially approved the investment policy of the project of renewing the coastal road DT719B, Phan Thiet - Ke Ga section.
According to report of the Binh Thuan Department of Transport, with an area of ​​about 141.54 ha, the site clearance is expected to cover the project from April – December 2020. These are considered as the first steps to formulate and renew the project of DT719B road. However, the biggest and most positive impact of the project is the changes in local economic and industrial structures. The changes will lead to an increase in income, improve the inherently-low living standard of local people. Obviously, the projects in Tien Thanh (Phan Thiet City) and Ham My, Thuan Quy and Tan Thanh (Ham Thuan Nam district) are under construction and promise to bring a new face for the city in the upcoming time.
Thanks to synchronous transport infrastructure and the potential of international tourism, Binh Thuan has so far attracted many real-estate businesses to invest in large-scale resorts and real-estate projects concentrating on Southern region. Specifically, the NovaWorld Phan Thiet project is located on the DT719B road. Covering a scale of 1,000 hectares, the project is about to be completed and put into operation for some tourist projects after more than 1 year of construction.
Remarkably, the 90-hectare complex of Thanh Long Bay sports – resort – entertainment and tourism is invested by Nam Group in Ke Ga area. It can be seen that not only Mui Ne - Phan Thiet, tourism area in the southern region of Ham Thuan Nam, Ke Ga, and La Gi town promises to become the new capital of resorts with full of new-style recreation and relaxation facilities. It is expected to be one of Binh Thuan's "Green destinations" in the future.
Translated by Ul (Source: Binh Thuan Online)