Authorities of Ham Thuan Nam district is aiming to diversify a variety of tourism types in terms of ecotourism and community-based tourism together with spiritual and sea tourism products.
Be situated in line with Phan Thiet city, the southern district owns various potentials and advantages for diversifying types of tourism. Particularly, the wild and white sand bank stretches more than 23 km with coastal rocky expanses in various unique shapes; besides, there are old-age Ke Ga lighthouse, the Ta Cu Mountain tourist area and the Linh Son Truong Tho pagoda with the 49-meter-long Buddhist statue.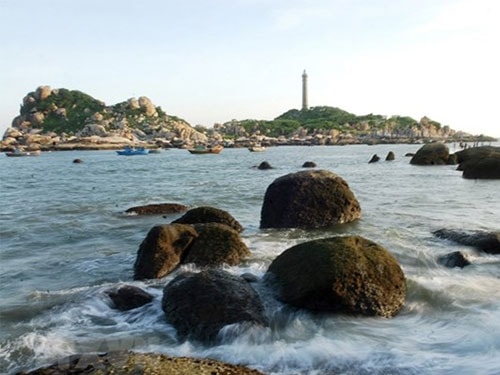 Ke Ga Lighthouse - Ham Thuan Nam district
After a long time being affected by the Ke Ga deep-water port construction project, many tourism projects have so far come into re-operation. Otherwise, some tourist areas, resorts, trade centres and so on are under construction with a speedy progress and more vibrant scale.
According to the People's Committee of Ham Thuan Nam district, the local tourism activities have witnessed a new development step as tourism types are increasingly diversified, luring many new investment projects in the recent years.
In 2019, Ham Thuan Nam district attracted 4 new projects, including large-scale projects of Tan A-Cuong Thinh Thi Group with a total investment of VND 4,980 billion. This comprises of the resort complex, high-class residential and marine sports covering a total area of 227 ha. Next is the project of Thanh Long Bay in Tan Thanh commune with an area of over 90ha, etc.
Up to now, the whole district has 71 effective tourism projects approved by the provincial authorities. In addition, the locality is paying attention to repairing and upgrading roads, infrastructures, lighting systems, etc.
The authorities of Ham Thuan Nam district have also showed their care for tourist safety, food hygiene and environment sanitation. Consequently, the locality welcomed more than 470.000 turns of visitors in 2019, with a total turnover of about VND 200 billion.
Thanks to investment promotion in tourism development, especially propaganda and promotion investment besides ensuring security and marine environment, tourism in Ham Thuan Nam district has prospered in the past 5 years. Many tourism activities have excited taken place while the volume of tourist arrivals also posted a sharply increase in comparison to that of before. Along with tourism, other types of services and economic activities have also developed, said Ms. Mai Thi Ngoc Anh - Vice Chairman of the People's Committee of Ham Thuan Nam district.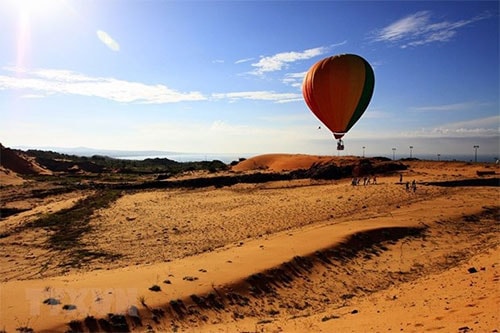 Hot-air balloon is on the sand hill of Binh Thuan at the first International Balloon Festival - Phan Thiet, Binh Thuan. (Photo: Quang Hai / VNA)
Owning a cutting-edge agriculture and home to dragon fruit trees, Ham Thuan Nam district has strived for promoting the development of garden ecotourism, community-based tourism combined with promotion of processed products from dragon fruits such as: dragon fruit juice, dragon fruit wine …
To diversify types of tourism, the district focuses on connecting spiritual tourism activities, beach resorts and gardening tourism, creating a typical "tour", luring as many as tourists to Ham Thuan Nam district.
The district also strengthens the environmental management and protection, order and security guarantee in tourist areas, conservation and embellishment for natural landscapes and cultural historical relics.
At the same time, Ham Thuan Nam is keen on investing in building, improving infrastructures for tourism, supporting and accelerating the constructions of approved tourism projects and revoking long-deployed projects resolutely.
Translated by My Thien & Uyen Linh (Source: TTXVN)