In recent times, Binh Thuan province has handed over the authority of GI to dragon fruit processing and production organizations and individuals while supporting those in GI registration procedures. The GI of Binh Thuan dragon fruit will contribute to upholding the local trademark and reinforcing its footholds in foreign countries.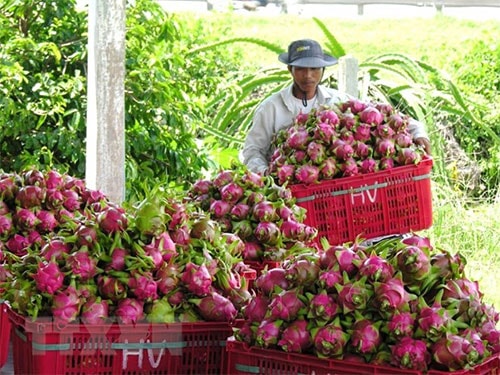 Binh Thuan dragon fruit
Currently, the local fruit can enjoy better domestically and internationally as its trademark of "Binh Thuan DRAGON FRUIT" has been registered and protected by 13 countries and territories, including the US, the UK, Germany, France, Japan, Thailand, and the Republic of Korea. Many dragon fruit cooperatives, such as Thuan Tien, Hoa Le, Hong Son, and Ham Tinh, have been granted Collective Trademark by the National Office of Intellectual Property of Vietnam.
Since 2016, the province has licensed 17 more local producers of dragon fruit to use the GI, raising the total number to 96 to date. Of the total, there are 30 effective certificates. As of June 2020, Binh Thuan was home to about 32,000 hectares of dragon fruit that can generate more than 640,000 tonnes per year.
The reality shows that when Binh Thuan dragon fruit has GI, it has so far penetrated into many picky markets such as The European countries, Japan, the US, etc.
The province exported around 24,500 tonnes worth over 28 million USD between 2016 and 2019. The fruit has not only been shipped to traditional markets such as Taiwan (China), China, and Thailand, but also entered new markets like Germany, the Netherlands, the US, and New Zealand.
According to Statistics, Binh Thuan enterprises have officially exported over 24,500 tons of fresh dragon fruit that earned USD 28 million during the period of 2016-2019.
Presently, the provincial Department of Agriculture and Rural Development is coordinating with the Binh Thuan Dragon Fruit Association to register the GI with Japan to help the fruit obtain broader access to the Japanese market.
A geographical indication (GI) has gradually confirmed its important role in agricultural development as it contributes to improving the quality and products' traceability. Meanwhile, farmers can get familiar with scientific production procedures, building and developing a trademark of farm products.
Translated by My Thien (Source: TTXVN)