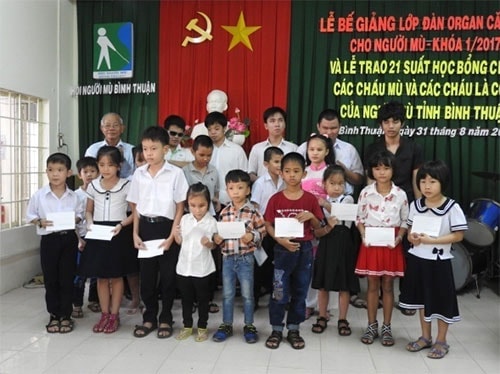 Blind students receiving scholarships at the event
The scholarships (valued at VND 1.7 million each) were donated by units and individuals in Binh Thuan, including the provincial Blind Association, Binh Thuan Business women's Club, Caritas office (Phan Thiet Bishop's palace) and Buddhist monk Thich Nhu Giao- Abbot of Phap Dien Buddhist pagoda (Phan Thiet city). These are meaningful gifts that encourage blind and visually impaired students to strive for better accademic performance and community integration.
On that occasion, the provincial Blind Association also organized a cource-ending ceremony for blind students' organ class, which was sponsored by Bien Xanh music and dance troupe. All learners received certificates of merit by the troupe.
Phuong Lan (Source: Binhthuan Online)