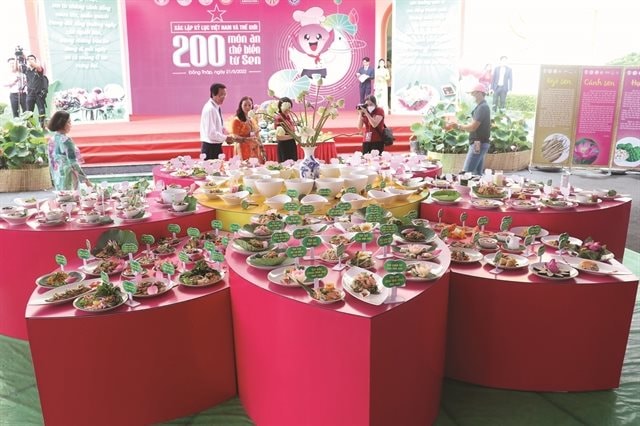 The World Record has been awarded to the Mekong Delta province of Dong Thap for hosting the largest event on the processing and presentation of 200 lotus-based dishes.
A WorldKings decision on the recognition has also been presented to the provincial People's Committee.
Boasting large lotus growing areas and rich culinary culture, Đồng Tháp organised the festival to introduce domestic and foreign friends to various Vietnamese specialities through the country's culinary quintessence in general and the locality in particular.
At the first Dong Thap Lotus Festival 2022, themed "Lotus of a New Day", 10 culinary experts and 50 chefs were on hand to process and present hundreds of delicacies made from various parts of the lotus plant, such as lotus root, lotus flower stem, lotus leaf, lotus seeds and lotus seed heart.
After completion, 200 dishes were presented in the shape of a 10-petal blooming lotus.
The event was held in the province's Cao Lãnh City's Văn Miếu Square last weekend.
Dong Thap Province plans to expand lotus farming, increase the value of lotus products and promote tourism based on visits to lotus fields.
The delta's largest lotus-growing province plans to increase the area under the flower from the current 800ha to 1,350ha by 2025.Farmers there grow six varieties, mostly in Thap Muoi, Cao Lanh, Tam Nong, and Thanh Binh districts, where conditions are conducive.
Lotus farming requires low investment but fetches incomes of four to six times higher than rice, according to farmers.
Besides fresh flowers, seeds and roots