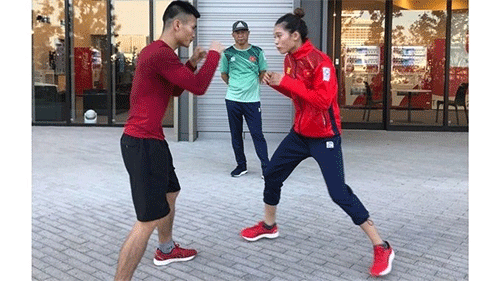 Vietnamese boxers training their skills outdoor. (Photo: NDO)
After spending hours on handling procedures, including taking COVID-19 tests, delegation members, all showing negative test result, reached the athletes' village later the same day.
During their stay, athletes are only allowed to travel between the village and the training and competition venues while sports officials have to move on only the routes they registered before entering Japan. They are banned from leaving the athletes' village or going to tourist sites, restaurants, or bars, according to Olympics and Paralympics organisers' regulations.
Athletes will also have samples taken for COVID-19 testing every day. In case of a positive test result, they will be hospitalised or sent to a hotel outside the athletes' village for quarantine.
The 43-strong delegation of Vietnam is led by Deputy General Director of the Vietnam Sports Administration Tran Duc Phan.
They comprise 18 athletes competing in 11 sports, namely Nguyen Huy Hoang and Nguyen Thi Anh Vien (swimming), Thach Kim Tuan and Hoang Thi Duyen (weightlifting), Nguyen Thi Thanh Thuy (judo), Hoang Xuan Vinh (shooting), Nguyen Tien Minh and Nguyen Thuy Linh (badminton), Nguyen Thi Tam and Nguyen Van Duong (boxing), Le Thanh Tung and Dinh Phuong Thanh (gymnastics), Truong Thi Kim Tuyen (taekwondo), Do Thi Anh Nguyet and Nguyen Hoang Phi Vu (archery), Quach Thi Lan (athletics), and Luong Thi Thao and Dinh Thi Hao (rowing).
At the Rio 2016 Olympics in Brazil, Vietnam bagged one gold and one silver for the first time in an Olympics thanks to marksman Hoang Xuan Vinh.
Source: NDO