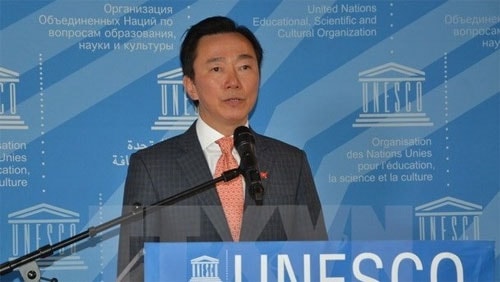 Ambassador Pham Sanh Chau is the Vietnamese candidate for the UNESCO Director-General position
The Qatari candidate, Hammad bin Al-Kawari, won the most votes – 19, followed by France's Audrey Azoulay and Egypt's Moushira Khattab. With no candidate winning more than half of the votes, the UNESCO Executive Board will conduct the second round of voting at the end of its meeting on October 10.
This is the first time Vietnam has had a candidate in the running for a leading position of a major UN agency. The election campaign has helped the country enhance its position and role in the international arena while strengthening cooperation with other countries.
The Vietnamese candidate, Pham Sanh Chau, has campaigned in more than 30 member countries of the UNESCO Executive Board, during which time he introduced Vietnam's history and culture, together with achievements of the Doi Moi (renewal) process and potential for international cooperation.
Vietnamese officials also lobbied for support during their meetings with foreign partners. In response, officials of many countries spoke highly of Vietnam's external policy of peace, independence and international integration, and appreciated the country's wish to contribute more to international affairs in general and to UNESCO in particular.
Vietnam marked its joining UNESCO 40 years ago on June 15 this year.
The country has received UNESCO's assistance in access to know-how, technology and global funding to contribute to national construction, as well as to fine-tuning laws, Party and State policies and guidelines.
Source: NDO