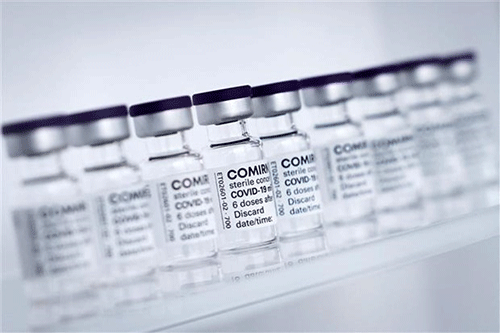 Pfizer vaccine against COVID-19 (Photo: AFP/VNA)
Ngoc made the proposal at a meeting between the ASEAN Committee in Washington DC and Senior Director, Trade Policy at Pfizer, Stephen Claeys, on cooperation between ASEAN member states and the US company on October 15 (local time).
He appreciated Pfizer's support for Vietnam, and requested this company to realise its commitment to providing Vietnam with 51 million doses of its vaccine in 2021 and continue its discussions with relevant Vietnamese agencies on the vaccine supply in 2022.
Sharing Vietnam's view that Pfizer should build a production base in Southeast Asia, ambassadors and representatives from several countries such as the Philippines and Singapore, proposed a tripartite cooperation between Pfizer, ASEAN and the US government in pandemic prevention.
They called on Pfizer to continue helping countries coexist with COVID-19 and prepare for future pandemics.
Philippine Ambassador Jose Manuel Romualdez stressed the importance of this meeting to help find appropriate forms of cooperation between ASEAN countries and Pfizer to jointly respond to the pandemic.
For his part, Stephen Clayes praised the views of ASEAN countries and said Pfizer will implement the signed commitments, including those with Vietnam.
Pfizer is committed to creating equal access at reasonable prices for all, he added.
Source: NDO