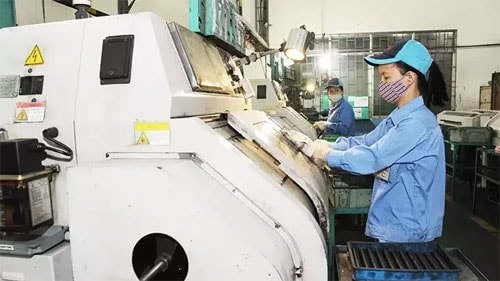 Manufacturing motorbike parts at Cosmos Industrial Co. Ltd in Vinh Phuc Province (Photo: Tuan Tu)
The Vietnamese government has yet to revise its growth target but is calling for quick responses to transform challenges into opportunities to build a self-reliant economy resilient to external impacts.
Updated growth scenarios
Weighing the expected impacts of the Covid-19 epidemic on Vietnam's economy, the Ministry of Planning and Investment (MPI) has updated its economic growth scenarios for 2020 and proposed measures in accordance with its projections.
In the first scenario, when the epidemic is contained in the first quarter, GDP growth is projected at 6.25%, down 0.55 percentage points from the government's target, with inflation forecast at 3.96%. If the epidemic drags into and is contained within the second quarter, growth is projected at 5.96% while inflation is 4.86%.
In both scenarios, exports will fall by more than 8% and imports over 3%. Enterprises are worried that if the supply of input materials and export markets do not improve soon, they can only sustain production until the end of February, the MPI emphasises.
With a stance of not changing the growth target, the MPI has proposed a group of measures that needs to be implemented immediately and aggressively, with the most important being containing the epidemic, along with measures to stabilise people's lives and remove difficulties facing enterprises in maintaining their business during the epidemic.
Specifically, the State Bank of Vietnam is tasked with designing credit packages for small and medium-sized enterprises (SMEs), cooperatives and household farmers affected by the epidemic; and asking commercial banks to reduce interest rates and extend debt repayment dates. Meanwhile, the Ministry of Finance is assigned with devising tax policies to support SMEs, logistics, retail, manufacturing, agricultural processing, tourism and service businesses.
Long-term measures
According to experts, weaknesses in the Vietnamese economy, especially its resilience to major external impacts, will be exposed after this difficult period. They believe that Vietnam can still overcome the challenges by stepping up economic restructuring in both the short term and the long term.
Senior economist Nguyen Anh Duong at the Central Institute of Economic Management said Vietnam already has experience in dealing effectively with adverse external impacts and disease outbreaks. The most important thing is a calm attitude in order to make appropriate decisions. Amid the rapid and complicated developments of Covid-19, the government and ministries are watching the situation closely in order to introduce well-judged measures.
According to economist Can Van Luc, it is first necessary to seriously implement directives on preventing the epidemic while each ministry and enterprise need to assess the impacts on their fields in order to take appropriate measures. Furthermore, it is necessary to increase international cooperation, provide accurate, timely and transparent information while severely punishing those spreading fake news that causes public panic.
Experts have said that this difficulty requires Vietnam to consider long-term measures, accelerating economic restructuring so as to reduce excessive reliance on a market or region. Duong said in the past Vietnam tried to increase exports at all costs but now the country needs to pay more attention to the export structure, the sustainability of added value and the position of Vietnamese enterprises in the value chains.
These issues are not new and can only be addressed by consistent measures in their overall plans. Vietnam's export activity has seen certain shifts since 2019, especially amid the US-China trade tensions and relatively positive pressure from the implementation of the CPTPP.The Covid-19 has led to far-reaching impacts on many enterprises and the people but it also forces Vietnam to seriously consider the export structure and markets. Only by taking this approach can Vietnam ensure sustainable trade growth in terms of revenues, added value and competitiveness of enterprises.
According to Director of the General Statistics Office Nguyen Bich Lam, looking for new markets so as not to depend on the Chinese market for both inputs and exports is an urgent matter. When implementing the EU-Vietnam Free Trade Agreement, tariffs on 71% of Vietnamese exports to the EU will be eliminated with the condition that the input materials must be sourced domestically or from countries with trade agreements with the EU. Vietnamese exports using materials from China will not qualify for tariff elimination, therefore it is necessary to reduce the use of materials imported from China.
Source: NDO