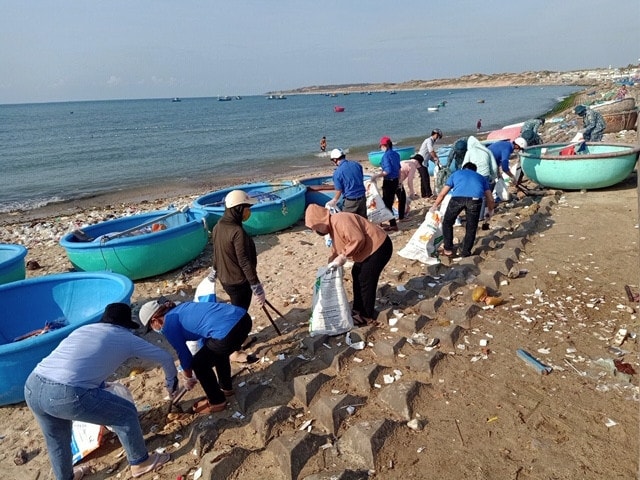 Launched by Ministry of Natural Resources and Environment under the message "Working together to chang the world", this year's campaign has been observed along with activities to mark 30th years of Binh Thuan's reestablishment, with a series of programs held across 10 districts/town/city. According to Mr. Do Van Thai-deputy director of Department of Natural Resources & Environment, authorities at all levels are implementing practical activities to clean up public places, parks, residential areas in urban and rural areas. Residents and youth union members took part in collecting garbage along roads, clear and remove bushy trees to ensure traffic safety on national highways, provincial roads, the tourism rout of Vo Nguyen Giap Avenue in Phan Thiet city, as well as roads in rural areas.
Areas that pose risks to environment, such as husbandry farms , local authorities and residents have intensified monitoring waste sources that can cause environmental pollution and health risks.
Many localities and enterprises have also implemented tree planting for ecosystem restoration, picking up trash to clean the flow of rivers and streams. Waste management and treatment units have increased the capacity of waste collection, transport and treatment in districts and towns. Local authorities and social organizations have intensified propaganda on the classification of domestic and solid waste at source, recycling and reuse of waste, limiting the use of single-use plastic products and encouraging the use of environmentally-friendly products.
At the same time, the Department of Natural Resources & Environment has directed localities to step up inspections and strictly handle with acts of environmental law violations.
Authorities, organizations in localities have cooperated with functional agencies to disseminate Decree No. 45/2022/ND-CP on providing penalties for administrative violations against regulations on environmental protection inorder to promptly promote the guidelines of the Vietnam Law on Environmental Protection 2020.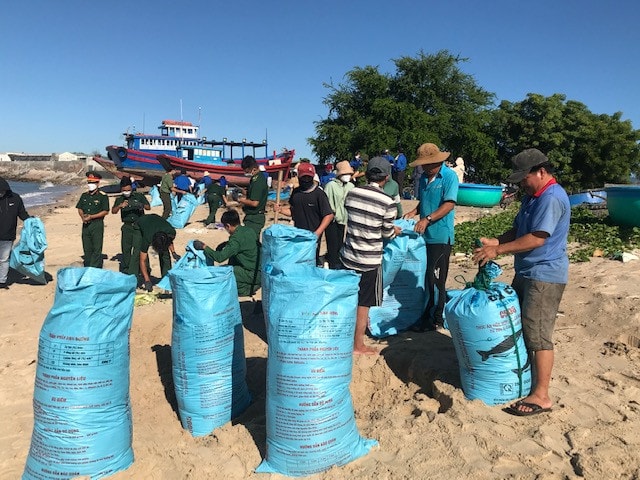 Recently, more than 300 ship owners and crew members (fishing and passenger ships), along with management boards of hamlets/quarters in Tuy Phong district took part in a training course on collecting and treating waste at the source for the conservation of marine ecosystem. Especially, cruise ships taking tourists to Hon Cau marine Protected Area must ask their visitors to keep and take garbage to the mainland for treatment in stead of throwing them into the sea. In addition, activities and programs under the project "Integrating Resources for the reduction of Ocean Waste" , funded by United Nations Development Programme (UNDP), Global Environment Facility Small grants Programme (GEF SGP).
Local fishermen and ship owners in Tuy Phong district also received documents, flyers with instructions on sorting waste at the source, and signed commitment forms to implement the classification of domestic and solid waste at the source for the prevention of ocean waste.