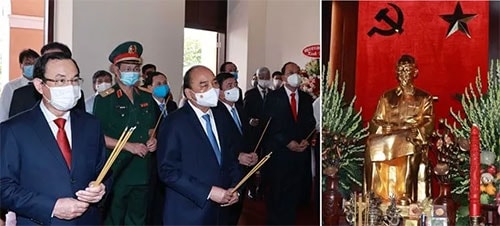 State President Nguyen Xuan Phuc offers incense to late President Ho Chi Minh. (Photo: VNA)
President Phuc also offered incense to late President Ton Duc Thang, one of the pioneers in the workers' movement and proletarian revolution in Vietnam. Like Ho Chi Minh, Ton Duc Thang dedicated his whole life for the revolutionary cause of the Vietnamese people.
The State leader visited a photo exhibition on President Ho Chi Minh in cinematography.
The same day, Phuc and Ho Chi Minh City leaders offered flowers at President Ho Chi Minh Statute Park on Nguyen Hue Street, District 1.