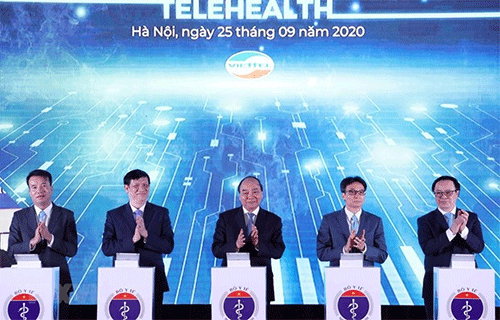 At the inauguration ceremony of 1,000 remote health facilities (Photo: VNA)
The leader made the request at an inauguration ceremony of 1,000 remote health facilities, which gathered more than 5,000 doctors and nurses across the country, along with those from Laos and Cambodia.

After more than two months of implementing the project on distance health check-up and treatment for the 2020-2025 period, the Ministry of Health in collaboration with the Ministry of Information and Communications, the Ministry of Defence and Viettel Military Industry and Telecoms Group has connected more than 1,000 medical sites with nearly 30 central and municipal hospitals in Hanoi and HCM City. A number of Lao and Cambodian hospitals have also joined the network.

This is a major stride of the medical sector, especially amidst the COVID-19 pandemic, PM Phuc said, stressing that digital health care has played a significant part in the fight against the epidemic in Vietnam.

Highlighting advantages of the model, the leader said remote health care has not only helped to improve the medical quality but also created a digital foundation for the sector.

The network should be expanded to more than 14,000 medical facilities nationwide, he requested.

Major Vietnamese hospitals should partner with their counterparts in foreign countries with advanced medicine, the leader continued.

He asked the health ministry and other relevant ministries and localities to complete a legal framework for remote health care, while joining with IT units to develop platforms and apps for the services.

PM Phuc urged the comprehensive application of digital technologies at health centres and more efforts in the communication work in order to spread the model.

The leader expressed his hope that the health ministry will become one of the ministries and agencies that have taken the lead in materialising the national digital transformation programme./.
VNA