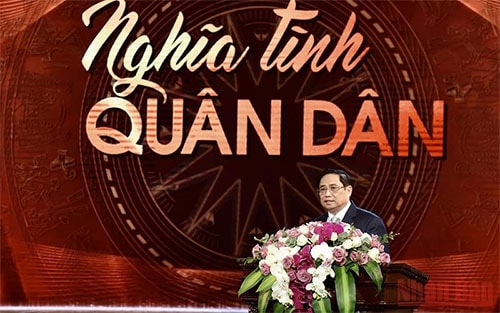 PM Pham Minh Chinh speaks at the event.
Prime Minister Pham Minh Chinh made the statement while addressing an art programme which was held in Hanoi on the night of December 19 to honour frontline workers in the pandemic fight, including soldiers.
The event was co-organised by the Central Military Commission, the Ministry of National Defence and Vietnam Television on the occasion of the 77th anniversary of the Vietnam People's Army (December 22) and 32 years of the All-People Defence Festival.
The Government leader said that the pandemic would continue to develop complicatedly in the coming time and stressed the important role of the forces working on the frontline of the combat, including the army.
PM Chinh said that on August 21, 2021, the Party and State leaders made a very difficult, but correct, timely decision that the mobilisation of the army to help people of Ho Chi Minh City in the fight against the COVID-19 pandemic.
Responding to the call of Party General Secretary Nguyen Phu Trong, leaders of the Party and State, the Central Military Commission and the Ministry of Defence, hundreds of thousands of officers and soldiers of the entire army and the militia and self-defence forces departed in order to carry out their responsibility to serve the people, the PM noted.
The Government leader underscored that the sentiments between the army and people will be resources, strength, values and an invaluable asset to help the country surpass all difficulties, defeat all enemies, eliminate poverty, and cope with natural disasters and diseases, thus building a nation of peace, wealth and prosperity.
He also expressed his hope that the army will further promote the close ties to support people in pandemic containment and socio-economic recovery.
The programme also featured art performances and stories about the close ties between people and soldiers amid COVID-19.
Collectives and individuals that have made outstanding performances in the pandemic combat received certificates of merit within the programme.
Source: NDO