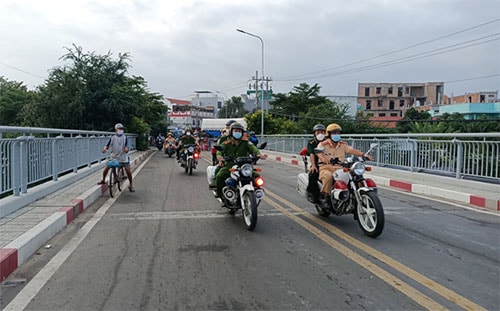 Police of Phan Thiet city patrol the red and orange zones.
The Police of Phan Thiet has set up 5 patrol teams in coordination with the military forces to patrol and control all localities in "red" and "orange" zones. Besides, 18 communes and wards in the city have also established their own patrol teams to monitor the people's observance of the Province's and City's regulations.
The patrols focus on checking the people entering and exiting the "red zones". People who have proof of recovery from Covid-19 within 6 months, or certificate of full vaccinations, or proof of negative result with Sars-CoV-2 within 72 hours; cards of civil servants, market-tickets, medical examination books, the invitation for vaccination, etc can go inside or outside the red zones.
The patrol teams will check the compliance with regulations of restaurants, eateries, and bars in red and orange zones. In case of violations, the patrol teams will strictly handle those cases according to the provisions of Law.
Currently, Phan Thiet City sees a very complicated situation of the Covid-19 epidemic. The locality daily records hundreds of new cases of Covid-19 infection in the community. The people's committee of Binh Thuan province and Phan Thiet city have issued strict measures to curb the spread of the disease in the hope of controlling the pandemic effectively, bringing a new normal state to the people.
Translated by My Thien (Source: Binh Thuan Online)