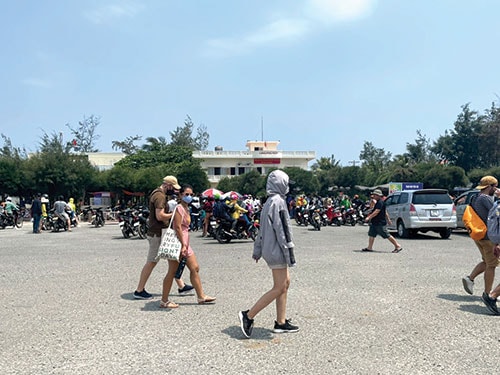 Illustrative image.
To ensure the safe and adaptive manners for the full re-opening of tourism activities, the local tourist accommodations and tourists must strictly abide by the Ministry of Health's 5K messages and requirements. Depending on each Zone (each level), they can observe Covid-19 tests for tourists on the first and seventh day since the arrival date. It also requires the hold stakes to arrange one-way exits and entrances for visitors, as well as check body temperature, disinfection, and mask-wearings in the prevention of the spread of coronavirus.
The accommodations must create a QR code at the mót convenient place for guests to scan as they make a medical declaration, go-in, and go-out the accommodations; the host must monitor and update the daily activities of all the guests (visited-places and participated tourist programs). At the same time, it must publicize hotline phone numbers, assign persons to act as a tourist supporter center so that they can provide timely support for the epidemic prevention and control, if necessary.
The accommodations have to arrange at least one quarantine room and 1 waiting room, equip some backup protective clothes and equipment for employees in case of need. Managers and staff who contact guests must have been fully vaccinated, or have recovered from Covid-19. Other staff must have at least one shot of the Covid-19 vaccine. For staff who have not been vaccinated are can only work online.
Depending on each level (Zone), the Department of Culture, Sports, and Tourism have specific guidance on tourism activities. For the Green Zone (level 1), all accommodations, no room capacity limitation, are allowed to serve vaccinated tourists/Covid-19-recovered tourists, arranging 2 people/room to the maximum (tourists in a family or have the same epidemic factor). Separate or different epidemiology guests must be placed in different rooms. The dining services are also allowed for no more than 30 people (indoors) and no more than 50 people (outdoors) while tables are apart from the others within a distance of 2 meters.
Those accommodations can also organize conferences and seminars when ensuring epidemic prevention and control measures. Massage services, bars, video games, gym, yoga, sports services are allowed with no more than 20 people at a time, if there is a private room, each room must not exceed 4 people. Attractions can resume when staff directly contact guests and visitors must get the full dose of vaccine or get rid of the disease. Particularly, the tour operator only picks up and serves guests who have fully vaccinated or have recovered from the disease.
Regarding the yellow zone (level 2),  tourism activities must basically ensure the same contents as the green zone. In which, accommodation facilities have a room capacity of no more than 70%, catering and other services gradually reduce the number of guests at the same time, conferences and seminars can be held but not exceeding 20 people/room. Attractions can welcome no more than 70% of the capacity of guests, travel agencies require guests to complete self-monitoring at the accommodation after 7 days.
With respect to the Orange zone (level 3), travel activity is not active. The accommodation establishment welcomes guests with full doses of vaccine or disease-recovery with a room capacity of not more than 50%, serving only in-room dining and not holding meetings, conferences as well as services. The attractions only serve guests (with a full dose of vaccine or disease-free) not exceeding 50% of capacity.
Particularly in the red zone (level 4), attractions and tours do not operate; Accommodation establishments that have been used as concentrated medical isolation in epidemic prevention are allowed to operate, the remaining accommodation establishments are not allowed to operate.
Translated by My Thien (Source: Binh Thuan Online)