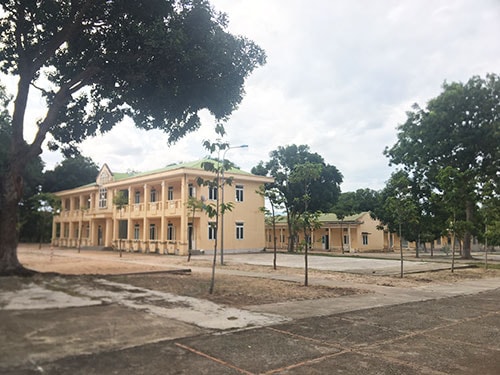 A Covid-19 treatment establishment.
Accordingly, during the 3-month pilot time since the issuance date, the CDC will supplement, adjust and complete the plan depending on the pilot's effectiveness, actual situation, and epidemic developments.
The pilot model aims to reduce pressure for medical staff and prevent virus cross-transmission among Covid-19 patients at the hospitals. It also helps raise Covid-19 patients' awareness, knowledge, and attitude to the tasks of epidemic prevention and control.
All mild and asymptomatic cases of F0 patients in the province have enough facility conditions (housing, equipment, etc) agree and commit to carrying out treatment at home.  The RT-PCR test on day 10 is negative or still positive but with low viral load, they will be transferred to isolation at home. They will be required to take RT-PCR tests on days 14 and 21 at home.
In front of the patient's house, there is a warning sign on a red background, with yellow letters: "Medical isolation site for Covid-19 prevention and control", with a yellow box with an infectious waste symbol labeled "waste in risk of SARS-CoV-2" to store the discarded personal protective clothing of medical staff. There must be a separate isolation room, closed and separate from the family's common area, etc.
Translated by My Thien (Source: Binh Thuan Online)