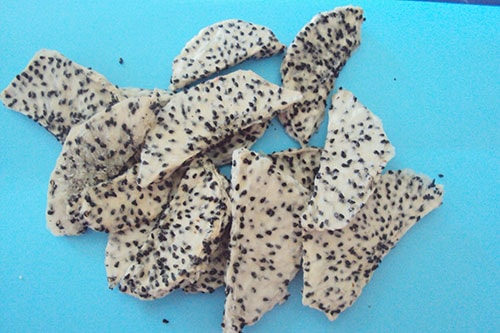 D
ried dragon-fruit product
BTO – With the advantages of abundant raw materials, especially in season of dragon fruit, Phan Long co-operative is on track to increase dried dragon fruit production – a new direction in applying processing technology to dragon fruit after harvest, contributing to solving the outputs of dragon fruit in the province.
New hope for new product
A 130-square-meter-facility of Phan Long co-operative, which is modestly located in Dang Van Lanh street (prolonged) in Xuan Phu hamlet, Phong Nam commune, Phan Thiet city, has been come into existence since 2011 with 11 members. The co-operative is equipped with state-of-the-art vacuum-dryer line, worth nearly VND 1 billion, which is used for drying the dragon fruit with a capacity of 35 kilograms end-product (known as dried dragon-fruit product) per relay. Each kilogram of end-product costs from 12-14 kilogram of fresh dragon fruit and is sold at a fixed price of VND 380,000 per kilogram, a decrease of VND 40,000 per kilogram against that of the previous time, said Phan Long Cooperative Director Truong Luong while taking us around the facility.        
After drying, dried dragon fruit can keep most of its special flavor and color without using any additive, which helps dried dragon fruit become a favorite product. Encouragingly, although the product has newly debuted on the market, it is about to be exported to some foreign countries like: the US, Britain and some Middle East countries.  As for domestic markets, Phan Long cooperative has ramped up its promotional programs for dried dragon fruit products among travel agencies, local tourist destinations and two cities of Ho Chi Minh and Hanoi. Remarkably, the product had been introduced at the China-Asian 2014 Trade Fair, contributing to raising the value of its brand-name. Moreover, to elevate its domestic and international position, the cooperative has recently joined the newly-established Alliance of Binh Thuan Dragon Fruit Cooperatives.
Difficulties remain…
The Co-operative is currently encountering numerous difficulties due to high input expenses and time-and-effort taking. The final dried dragon fruit product needs many manual procedures such as: washing, peeling, slicing and drying. Each batch of sliced dragon fruit takes about 15 hours to be dried with an average capacity of 30-35 kilograms of end-product. The electricity used for drying costs around VND 1 million per batch. The above reasons cause the selling prices of dried dragon fruit high. Moreover, the product is quite new and strange on the market, thus there is a must to promote the products as well as increase its quality better and better. In the meantime, the cooperative is facing the biggest problem of lacking investment capital. Luong said in the hope that someday the cooperative will be equipped with slicer, quantitative scales, packaging line, etc as soon as he can manage with the capital. Those machines are essentials for the long-run production which can help save the input cost and labor. On the other hand, the cooperative is attempting to seek for customers, expend its facility and market.
Reportedly, the Industry Encouragement Center (Binh Thuan Department of Industry and Trade) is carrying out a project to support VND 35 million for Phan Long cooperative in product packaging. This is the initial step that foster Phan Long cooperative to hurdle current barriers, creating the cutting-edge of technology used for post-harvested agricultural processing.
My Thien (Source: Binh Thuan Newspaper)