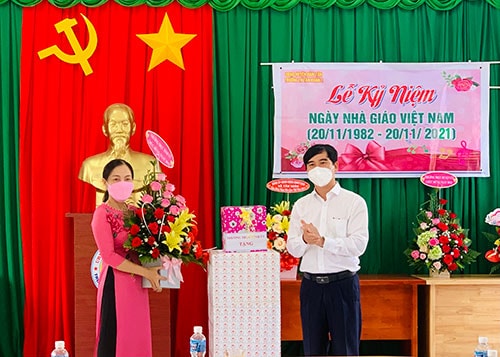 At the event.
The delegation visited Tan Xuan 2 Primary School (Lang Gon village, Tan Xuan commune), Tan Ha primary school (Tan Hoa village, Tan Ha commune), and Tan Than 2 primary schools (in the Co Kieu village, Tan Thang commune). Almost all of the visited schools reported their teaching activities are safe and flexible that can adapt to the complicated epidemic situation. Direct teaching activities are only employed in those safe areas while the others can only organize Online classes or assign homework to students.
Currently, Tan Xuan 2 Primary School and Tan Than 2 Primary School are organizing face-to-face teaching, while Tan Ha Primary School is temporarily suspending school to prevent the epidemic and deploying teaching and learning activities via television and giving assignments to students.
In the meantime, those schools have closely followed the guidelines and direction of the education sectors, so as to implement appropriated academic curriculums. However, there remain some difficulties in organizing face-to-face classes as many parents reject to send their children back to school due to their fear of the epidemic. In addition, both teachers and students are facing numerous difficulties in Online teaching and learning because of lacking equipment.
At visited places, Secretary of the Provincial Party Committee Duong Van An welcomed leaders of the district, communes, and schools for their great efforts in the prevention of the Covid-19 epidemic while ensuring teaching and learning activities in the recent time. The Secretary expects that teachers need to further research and innovate their lesson plans and lectures to impart knowledge to students in the most effective way. He also noted that at present, the epidemic situation is still complicated, so schools should consider a plan to implement epidemic prevention and control plans to ensure safety in schools organize as if they organize direct teaching and learning classes. They also need to promote propaganda and mobilize parents to send students to class and cooperate with the schools to ensure epidemic prevention measures in schools when face-to-face classes are organized.
On the occasion of Vietnamese Teachers' Day on November 20, the Secretary of the Provincial Party Committee sent his best wishes to all officials, teachers, and school staff. He wished that the schools continue to promote the achieved results, the teachers are always full of enthusiasm for the cause of "growing people". He requested to try to overcome difficulties, in order to perform well in safe teaching, flexibly adapt to the Covid-19 epidemic to complete the tasks of the school year 2021-2022.
Translated by My Thien (Source: Binh Thuan Online)