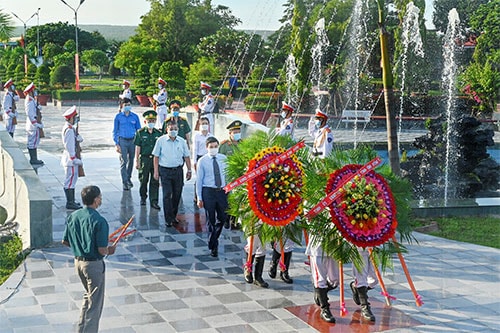 Leaders offered incense and laid wreaths in commemoration of martyrs at the provincial cemetery
The delegation, which included Mr. Nguyen Hoai Anh- an alternate member of the Party's Central Committee, standing deputy Secretary of the provincial Party Committee cum Chairman of the provincial People's Council, Mr. Phan Van Dang- standing vice-chairman of the provincial People's Committee, Mrs. Phan Thi Vi Van-vice-chairwoman of the provincial Committee for Vietnam Fatherland Front, along with representatives of people's armed forces, youth union, and local residents, respectfully laid wreaths, offered  incense to express deep gratitude to those who sacrificed their lives for the country's independence and people's happiness.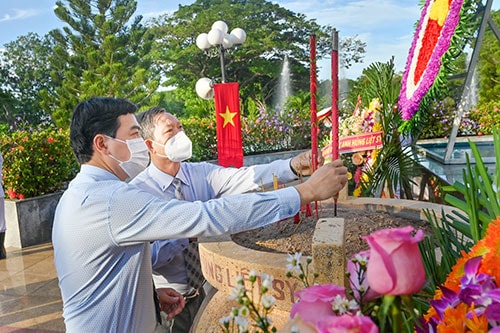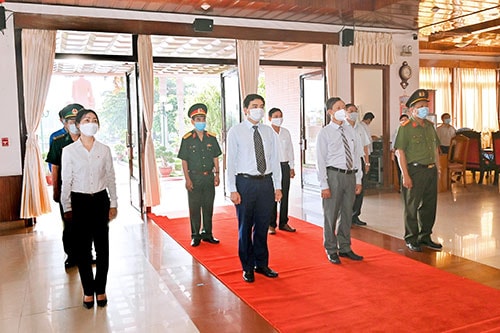 Leadership delegation paying tribute to President Ho Chi Minh
On the same day, the delegation visited Ho Chi Minh Museum-Binh Thuan Branch to offer flowers, burn agarwood in commemoration of President Ho Chi Minh. Leaders vowed that the Party, government and people of Binh Thuan province would follow Uncle Ho's example and forever value the merits and great sacrifice of heroic martyrs. The province's authorities will attach importance to repaying revolutionary contributors. 
Translated by Phuong Lan (Source: Binh Thuan Online)