Being impressed with the hospitality from the host country
At My Dinh National Stadium in Hanoi on May 12, members of the Lao delegation excitedly spoke with Nhan Dan Newspaper's reporter. Phoutdamone Chanthalasy, a member of the National Olympic Committee of Laos, said he and all members of the Lao sports delegation were very impressed with Vietnam's organisation.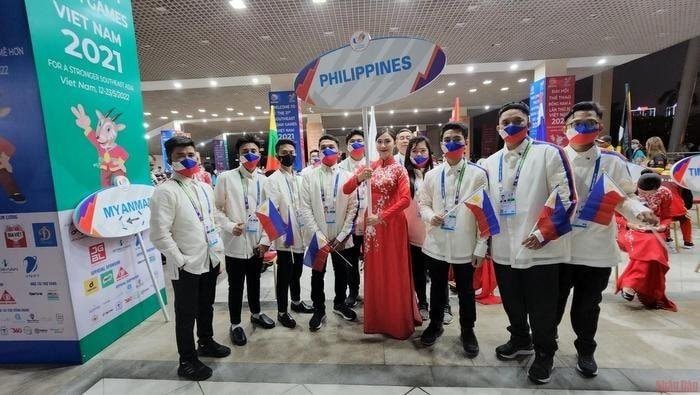 "This is the first time I have come to Vietnam. Vietnamese people are very friendly and hospitable. The organisation is also very thoughtful", said Chanthalasy. Coming to the SEA Games 31 this year, the Lao delegation consists of 187 members with the goal of winning 5 gold medals.
From the Philippines, Jazzmin Mary Puyawan De Leon, the coach of E-Sport team of the country, said this is the first time the team attends an edition of SEA Games. She also noted they have felt the warm and hospitable affection from the Vietnamese people as the volunteers have helped them enthusiastically in finding information and solving other related issues, she noted.
The sport delegation of the Philippines will bring to the SEA Games the solidarity and martial spirit in accordance with its theme "For a Stronger Southeast Asia".
Kindness is the best language
Wearing traditional costumes of Timor-Leste, Fabiola Lourdes Da Franca Guterres Bernado, a member of National Olympic Committee of Timor Leste, was very excited at the unique performances of the opening ceremony of SEA Games 31. "The sports delegation of Timor-Leste has 67 members, striving to gain more medals than the previous SEA Games season", said Fabiola.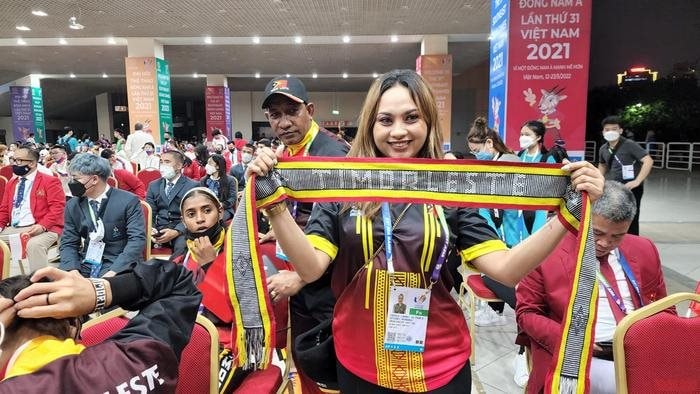 Taekwondo athlete Imbrolia De Araujo Dos Reis Amorin shared that she attended SEA Games 30 in the Philippines, but everything in Vietnam is different. Before going to Vietnam, she thought she would face problems in communications. "However, when I came here, I realised your kindness is the best language".
Ratchannipong Vorasarin, a Thai sports reporter, was impressed with the passionate atmosphere created by Vietnamese fans. A few days ago, although the Vietnamese football team did not play, all seats at the Thien Truong Stadium in Nam Dinh were full and the atmosphere was frenetic. At the opening ceremony of SEA Games 31, Vorasarin said he was welcomed and has received the most favourable conditions to work.
Yuthkun Hun, Deputy Director of the Cambodian National News Agency, said this is the third time he has arrived in Vietnam. "You are very hospitable. The culture and life of Vietnam and Cambodia are very close", said Yuthkun.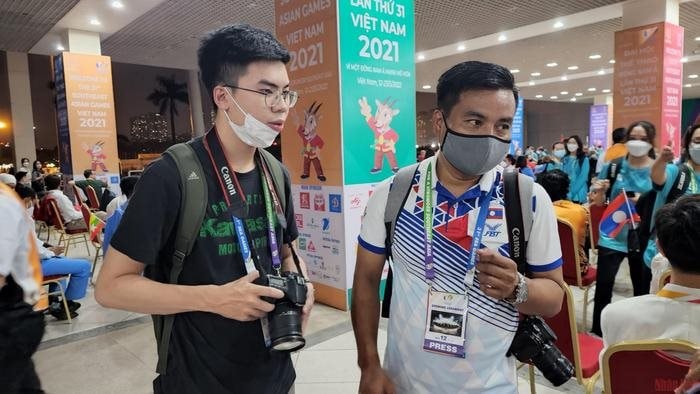 He expressed his deep impression of the opening ceremony and the arrangement of accommodation and the scientific organisation of competitions.