At the event, the youth members participated in planting more than 1,000 golden oaks (Hopea odorata) on an area of 2 hectares in the Nature Reserve. After planting trees, the units coordinate with local authorities to monitor, take care of and raise trees in planted forests. This activity has practical significance in preventing soil erosion and land washing-away. It also helps accelerate the process of rock weathering to form soil, restore primeval forests, develop trees, protect the environment, and respond to natural disasters and climate change.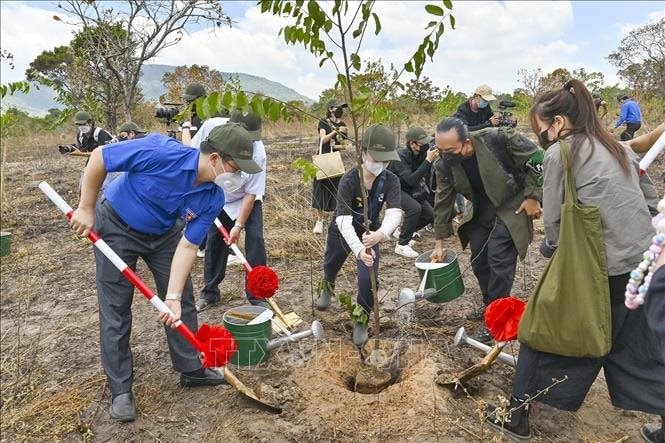 Binh Thuan Provincial HCYU expects to plant as many as 4,000 golden oak trees on an area of 5.5ha of land of Ta Cu Nature Reserve by May 2022. This program does not only have practical meaning for the purpose of greening bare land and barren hills but also contributes to raising awareness and responsibility of union members, youngsters of Binh Thuan province. Moreover, it fosters the community's consciousness of the important role of the trees and forests. Together with the urgency of planting and protecting forests, they can join hands to protect natural resources such as land, water, and air... Since then, joint efforts to protect, care for and develop forests, environmental protection can be mobilized.
As known, the community-based project "Vietnamese Forest" was initiated in 2019 and has been implemented in some localities such as Lam Dong, Da Nang, Ha Giang, and so on. With the message of adding a tree grower and afforestation, we will have more opportunities to live in a country that minimizes natural disasters. The project has so far made a positive impact in the community, helping to build and develop a sense of protection. environment, inspire, spread the love for nature, protect forests.