After the voting time, Vietkings officially announced the Top 10 most attractive tourist sites of Binh Thuan for 2017 on October 31st, 2017 on media. Thanks to high values in history and culture, those tourist sites are the most favorite places where crowded of domestic and foreign visitors visit for sightseeing and exploring.  Belows are the top 10 places nominated by the Vietkings:
1.Duc Thanh school
Duc Thanh school was founded by patriotic scholars in 1907 in response to Dong Kinh Nghia Thuc movement to educate the young generation about the national spirit. It was considered as an advanced school nationwide. Duc Thanh school also marked the period of the President Ho Chi Minh stopover in 1910. During the period he taught here, he left loving feelings for his colleagues, students and people of Binh Thuan. The school was in serious restored from its original conditions (3 rows of tables and chairs, 1 black board, etc.). Other works such as Ngu house, Ngoa Du Sao well, the carambola grown by Uncle Ho and the surrounding landscape is in harmonious layout. Duc Thanh school was ranked in National historical site by the Ministry of Culture and Information in 1986.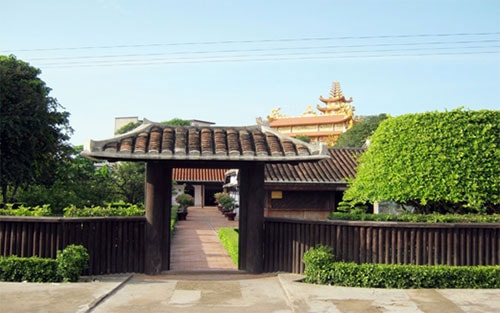 Duc Thanh school – source: Internet
2.Bau Trang Ecological Tourist Site (White Lake) – Bac Binh
About 65 km to the Northeast of Phan Thiet City is Bau Trang ecological Tourist site. This is a unique freshwater lake in Hong Lam hamlet, Hoa Thang commune, Bac Binh district. Bau Trang is a fairyland in the middle of endless sand dunes which separate it into two parts called Bau Ong (Mister lake) and Ba ba (Lady Lake). Bau Ba has the area of 70 ha, the widest place is about 500m, the depth is 19 m and is covered by lotuses. Sitting on a small boat to explore the lake or fish, exploring sand dunes by terrain vehicles or riding ostriches have been the preferences of many tourists upon arrival in this place. Tourists can also see the remains of Yama Temple that the Cham people built to worship the God who brought the water source for humans and animals in the dry season. Coming here to see the essential beauty of Sand Hill or the lake, it is possible to temporarily forget the fatigue life.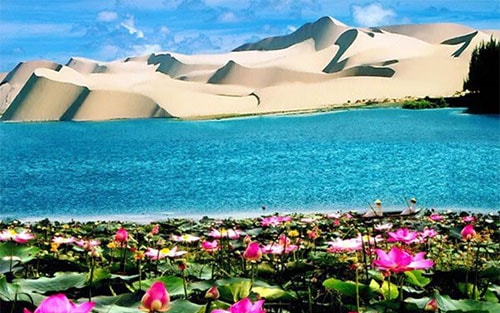 White Lake
3.Fairy Stream – Phan Thiet city
About 18 km of the North east Phan Thiet, Fairy Stream is located in ham Tien Ward, Phan Thiet city. With a length of 2km and height of 6km above the sea level, water stream which has the source from the mountain side and sand dunes creates a stream gently winding itself around eroded stones of different shapes and colors varying from red, brown, yellow resulting in an extremely nature picture with several contrasted colors.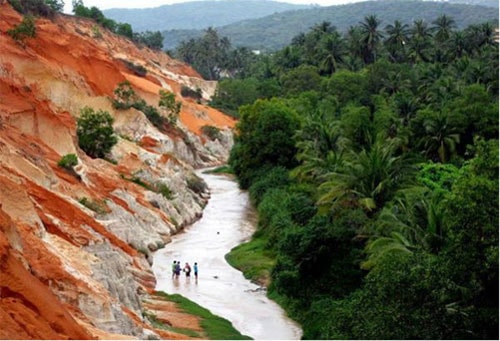 Fairy Stream
4.Ta Cu Mountain pagodas
The historical site of Chua Nui (Mountain pagoda), also known as Chua Nui Ta Cu (Ta Cu Mountain pagoda), consists of two pagodas: Linh Son Truong Tho named by Kinh Tu Duc around 1880 (initiatory pagoda or upper pagoda) and Linh Son Long Doan (lower pagoda). Chua Nui Ta Cu is located on the southern slopes of Ta Cu mountain, at an altitude of about 475m compared to sea level in Ham Thuan Nam district, away from center of Phan Thiet city about 30km to the Southeast. The temple has a lying giant statue of Buddha, "Shakyamuni entered Nirvana" with 49m long, 7m high. The ruin of Ta Cu Mountain Pagoda is ranked as a national historic monument on November 11, 1993 by Ministry of Culture, Sports and Tourism. The Pagodas are always crowded with visitors, especially on public holidays and celebrations of pagodas' founder monks' birthday (October lunar calendar). Chua Nui is a fascinating attraction for visitors.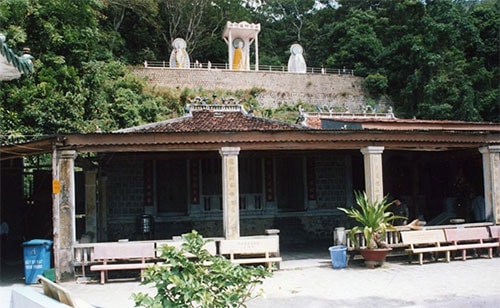 Ta Cu Mountain Pagoda
5. Thay Thim Palace
Thay Thim palace is located in the middle of a silent forest on a white sandy area in Tam Tan, Tan Tien commune, Lagi town, Binh Thuan province. According to local legend, the mansion was built by local people to worship Thay (the Master) and his wife – Thim (the Aunt) who were gentle, moral and cured the poor. Thay Thim Palace was built on December 25, 1879 in village-style architecture with the Hall (the place of worshipping… merits of Thay and Thim), the place to worship Tien Hien (forefather), the house of Vo Ca (for traditional festival rituals), etc. Annually, two major festivals are organized in the mansion: Tao mo festival (January 05, lunar calendar) and Te thu festival (from 14 to 16, September, lunar calendar). Thay Thim Palace was recognized as historical monument of national culture by the Ministry of Culture – Information on 27/9/1997.
Thay Thim palace
5.Phu Quy island
From Con Cha Fishing Port (Phan Thiet city) heading towards east-southeast for more than 56 nautical mines, you will see Phu Quy island, which is located at the endless sea with particularly interesting shape. Phu Quy island is an island district consisting of 10 big and small islands that is given many beautiful landscapes by the Nature and is a dreamlike island among the sea with many pristine features and undiscovered places. Phu Quy island is a potential place for developing sea economy and ecological tourism.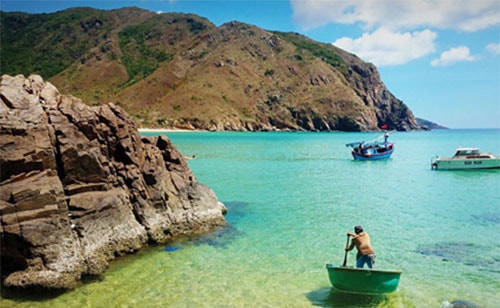 Phu Quy island
6.Po Sah Inu tower
Cham Po Sah Inu Tower is a remaining rare relics of Cham towers located on Ba nai hill, Ngoc Lam village, Phu Hai ward, away from center of Phan Thiet city about 7km to the Northeast. This ancient tower system was built around the VII century under architectural style of Hoa Lai, one of the ancient tower architecture of the Kingdom of Champa. Inside it worships Shiva Gods, the God that Cham people really fetishize. Inside, the main tower has a Linga and Yoni altar, a living symbol of Shiva God. On the festival (January, lunar calendar), in this relic, there are festivals taking place such as: Rija Nuga, Poh, Mbang, Kate, Yang… or ceremony praying for rain, praying for peace… organized solemnly by Cham people. Tourists to Phan Thiet on this occasion will have a chance to see and understand more about etiquette, customs, and culture of the people in this place.
Po Sah Inu Tower
7.Ke Ga lighthouse
Khe Ga lighthouse is also called as Ke ga Lighthouse, is away from Phan Thiet city about 30km to the south. This designation is due to the fact that the lighthouse is located on a headland protruding out to the coast about 500m – like the head of a chicken, Khe Ga Lighthouse was built from 1897 to 1899, designed by French architect Chnavat, and is made entirely of marble materials with 65m height above the sea. The Lighthouse is considered as one of the oldest and highest lighthouse in Vietnam and Southeast Asia. The 200w lamp on the lighthouse is the instruction signal for shipping. At night, the lamp lights up to 22 knots. Below is a square house with each side of 40m and a 3-m-deep cistern of water to serve for those guarding the tower. There are 184 steel spiral stairs leading to the top of the lighthouse. Today, the Lighthouse is not only an unique architectural monument but also combined with Khe Ga Island to form a stunning attraction for tourists.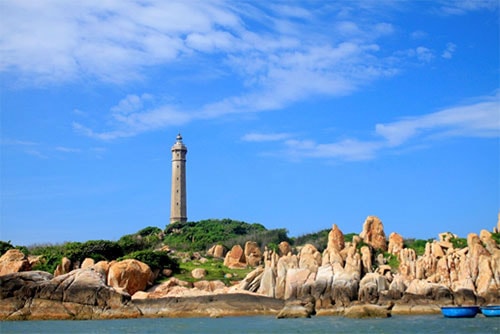 Khe Ga Lighthouse
9.  Hang pagoda – Co Thach temple
Away from Phan Thiet city about 10km to the North, nestled in the natural caves with charming scenes. Hang pagoda was built in 1835-1836 on the low hills, located at a height of 64m above the sea level. At first, it was built just a small pagoda with wooden walls and leaves roofs. Under King Thieu Tri's sovereignty, the pagoda was built largely in terms of space and art and also kept intact until this day. The whole pagoda covers an area of about 1200m, including: Hall area, external gate and other landscape works. In early 1997, some statues of Bodhisattva were built along the coast, creating beautiful scenery as standing on Hang pagoda to look down. The number of daily visitors to the pagoda are quite high, especially on the anniversary of the pagoda (May 25, Lunar calendar), thousands of people come to the pagoda. On December 21, 1993, Hang pagoda was recognized as historical monument of national culture by the Ministry of Culture-Information. In addition to Buddhist ceremony in Hang pagoda, tourists also can have fun under the blue water and collect the colorful stones in many shapes created by nature. Co Thach pagoda and Co Thach beach are the ideal, exciting destinations of overseas and domestic tourists.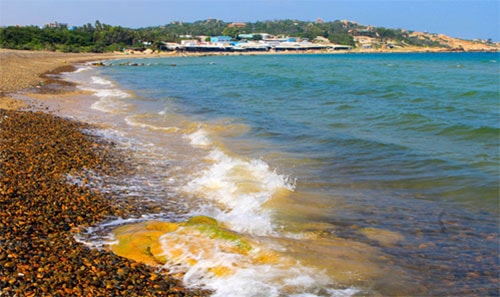 Co Thach beach
10. Cu Lao Cau island
Located in Phuoc The commune, Tuy Phong district, Binh Thuan province. Cu Lao Cau is 110 kilometers to the northeast of Phan Thiet city. Cau isle is a young island emerged in the sea about 9km from the coast. It is possible to come to this isle by boats. Cu Lao Cau has a length of over 1,500 m, the widest place is nearly 700m, the highest place is more than 7m above the sea level. The whole island is surrounded by ten thousands of rocks with many different colors and shapes. Around his isle, the water is always clear and blue with many kinds of living sea animals. There is also shallow well of fresh water. Cu Lao Cau is one of the place with the best sea ecological environment in Vietnam with many clean, beautiful and pristine beaches. Nowadays, Cu Lao Cau has been planned to be a sea-creature preserving area with a lot of promising prospects on ecological tourism in the future.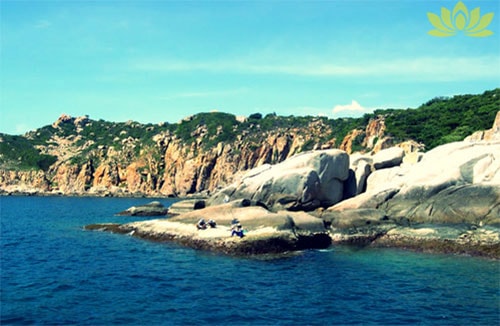 Cu Lao Cau Island
Combined and translated by My Thien