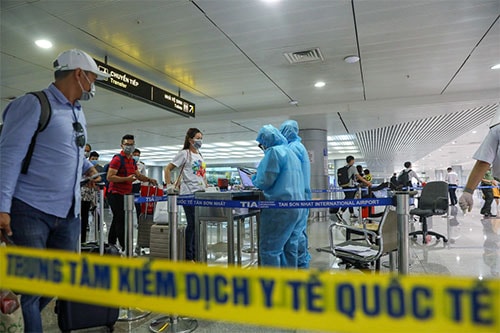 Illustrative image - Source: Vnexpress.
Under the newly-issued document, the Department of Health actively deploys coordination with relevant agencies and bodies to join the combat against Covid-19 epidemic. At the same time, it urges the provincial health system to reactivate and be ready to receive and isolate all incoming people to Vietnam from Tan Son Nhat international airport in accordance with regulations of the Ministry of Health.
In the meantime, the Provincial Department of Police, the Provincial Border Guard Command, and the Provincial Military Command are urged to inspect, review and re-survey the concentrated quarantined areas; to prepare sufficient facilities for receiving and isolating citizens when the Provincial Steering Committee for Disease Control regulates; to perform well the sterilization and disinfection of all quarantined sites. On the other hand, the Provincial Military Command directed the BB812 Regiment to well perform the task of receiving and quarantining as if they are required.
Regarding the Provincial Department of Police and the Provincial Military Command make consultation to ensure safety and order security at the quarantined areas; strictly check and control the quantity of imported people to the province; resolutely strictly handle objects that hide and avoid from quarantine obligations.
The Department of Transport has to instruct local transport enterprises to be ready to mobilize vehicles to transport people from the provinces to the quarantine areas and take people who have completed the quarantine time to the bus station or pier back to the locality as required.
According to the actual situation in the locality, the People's Committees of districts, towns and city must conduct a survey and plan to arrange other suitable alternative quarantine spots if the formers have been put into social and economic life. At the same time, it is necessary to charge quarantine fees (if any) to meet the requirements of receiving and quarantining, but it must ensure absolute safety in the prevention of Covid-19 epidemic.
Translated by My Thien (Source: Binh Thuan Online)