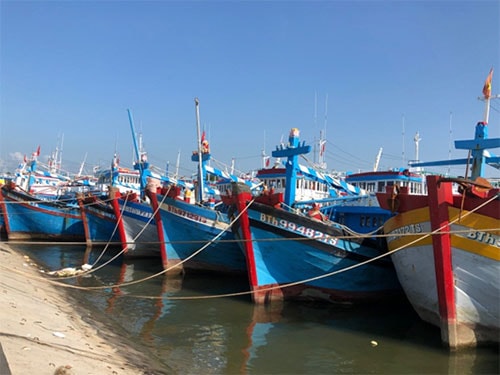 Binh Thuan's Fishing boats
At the meeting, Deputy Director of the Department of Agriculture and Rural Development Nguyen Van Chien briefly reported on the implementation of IUU fishing prevention and control in the province over the past time. Accordingly, the fight against IUU fishing, especially preventing fishing vessels from illegally fishing in foreign waters, is closely directed by the Standing Provincial Party Committee and the Provincial People's Committee. Thereby, it can limit and minimize the situation of fishing vessels and fishermen violating illegal fishing in foreign waters every year. Of which, the local fishing vessels and fishermen were not detected violating foreign waters for nearly 2 years (July 2019 to mid-2021). However, from mid-2021, one Binh Thuan's fishing vessel was detained and 2 other suspected cases were being detained by foreign countries. Those fishing boats often operate, stay, and depart outside the province, so the management and control face many difficulties.
In addition, the installation of Vessel Monitoring Systems (VMS) on fishing vessels has been seriously and drastically implemented. The installation rate is now among the highest in the country. As of September 15th, 2021, the whole province has 1,817 out of 1,925 fishing vessels that have installed VMS, reaching 94.39%.
The province has established and put a fishing vessel monitoring data center into stable operation, contributing to timely detection and prevention of the risks of illegally fishing in foreign waters. However, fishing vessels frequently lose connection with VMS at sea, causing difficulties in control, and potential danger of fishing vessels violating foreign waters.
At the meeting, the members of the Steering Committee discussed and pointed out the difficulties and problems as well as proposed solutions to stop the situation of fishing vessels and fishermen violating foreign territorial waters, as well as removing difficulties in the implementation of anti-IUU fishing. The delegates recognized that at present, although Binh Thuan has made many efforts, the implementation of solutions to combat IUU fishing is not sustainable and the risk is still very high.
The IUU fishing is an important, leading, urgent, and long-term task. Chairmen of People's Committees of communes and districts must be answerable to Chairman of provincial People's Committees if fishing vessels and fishermen violate the exploitation of foreign waters. Currently, most of the cases of violating fishing vessels regularly operate, stay, and depart outside the province. Therefore, it is required that the Fisheries Sub-Department, the Provincial Border Guard Command closely coordinate with the provinces to review and manage the group of fishing boats that regularly anchor and depart outside the province; classifying high-risk fishing vessels, especially fishing vessels that have not returned to the locality for many months or years, etc.
It is necessary to classify and review fishing vessels and fishing areas. Fishing vessels have been sold outside the province, waiting for liquidation and to be removed from the appropriate list. In particular, for fishing vessels that have installed VMS, but disconnected for more than 10 days, it should be strictly handled and remove these ship owners from the list of supported under Decree 67 if they repeatedly violate.
For newly discovered ships violating foreign waters, it is necessary to urgently investigate, verify and clarify violations, and impose maximum penalties according to the legal framework prescribed for ship owners and captains who violate. At the same time, strictly handle cases of fishing vessels that do not comply with legal regulations on practice conditions, especially violations of IUU.
Translated by Uyen Linh (Source: Binh Thuan Newspaper)