Vietnam-Germany Hospital, considered Vietnam's largest surgical center, is looking forward to being able to carry out the head transplant, deputy director Trinh Hong Son told a seminar on January 12.
The hospital is therefore looking for disabled people whose body is paralyzed but brain remains active and those who are willing to undergo the surgery.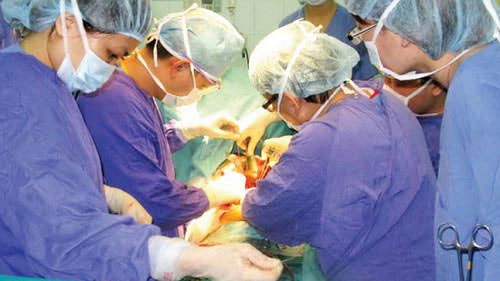 Doctors carry out an operation at Vietnam-Germany Hospital in Hanoi.
The active brain will be transplanted into the body of those suffering brain death, the doctor further explained.
Dr. Son said there are medical teams in the US and Italy who are close to mastering the transplant technique, as they are only waiting for the creation of a special knife to be used for the surgery in 2017.
Once the world begins performing such an operation and a Vietnamese volunteer is found, it is scientifically possible that Vietnam-Germany Hospital will invite an international doctor team to do the human head transplant, Dr. Son asserted.
He said a team of international doctors, consisting of as many as 150 people, have been working on the technique over the last two years.
The biggest obstacle is to maintain the oxygen exchange in the brain during the transplant process, according to the Vietnamese doctor.
While foreign scientists have already succeeded in doing the surgery on mice, it can only be done on humans when the technique is perfected, he underlined.
In June 2015, Italian neurosurgeon Dr. Sergio Canavero unveiled plans to perform the first human head transplant, saying he believes he has a 90% chance of success, according to Reuters.
A 30-year-old Russian, Valery Spiridonov, who has a degenerative muscle condition known as Werdnig-Hoffman, has volunteered to be the first person to undergo a head transplant.
Canavero's operation will be ready to go as early as Christmas 2017, sooner than anybody might have expected, according to The Guardian.
"We are closely watching the coming surgery and is ready to prepare a plan to bring that technique to Vietnam," Dr. Son was quoted by An Ninh Thu Do (Capital Security) as saying at the same seminar.
"I must emphasize that Vietnam is not prepared for performing head transplant surgery itself, but we are ready to seek people who will donate and receive the head.
"If the world's first-ever human head transplant is a success, we will be willing to invite the doctor team behind that surgery to do it in Vietnam, especially when there is a demand for it."
Tuoitrenews